For the second year in a row, the Calgary Flames head to British Columbia to kick off the rookie portion of their training camp. The Vancouver Canucks host the Young Stars Tournament in Penticton, B.C. from September 11-15, where five teams (the Canucks, Flames, San Jose Sharks, Winnipeg Jets and Edmonton Oilers) do battle in an eight-game round-robin engagement with prospect supremacy on the line.
While fans can browse the Calgary Flames' prospect tournament roster at the Abbotsford Heat's website, here are ten players playing on the squad that people should keep a particularly keen eye on.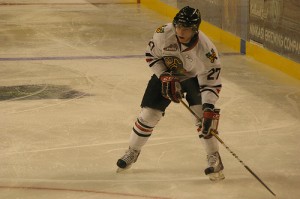 LW SVEN BAERTSCHI (#47)
Calgary's de facto top prospect after being chosen 13th overall at June's entry draft, Baertschi is renowned for his work ethic and his scoring touch. He was great during the WHL playoffs, being possibly the best Portland player in a losing effort. Likely headed back to Portland for the WHL season and representing Switzerland at the World Juniors, the tournament will be the first chance to see Baertschi compete in Flames colours.
D CHRIS BREEN (#54)
If there was one surprise on the Abbotsford Heat blueline last season, it was Chris Breen. A towering player (6-foot-7) signed, for lack of a better term, because Abbotsford needed more defensemen, Breen was singled out as the Heat's most consistent defenseman by head coach Jim Playfair, who referred to him as a player bound for the NHL late in the season. While T.J. Brodie might be the Flames most flashy player on the back-end, Breen is a dark horse.

D T.J. BRODIE (#42)
The story of last year's training camp, T.J. Brodie earned 3 games with the big club before going back to the AHL to round out his game. He posted good offensive numbers on an Abbotsford team that didn't score much. He's expected to push for a Flames roster spot once again and his showing in the tournament games should be a barometer of how far he's progressed.
G ANDREW ENGELAGE (#81)
Way back in 2008-09, the Windsor Spitfires won the Memorial Cup. Their goalie, Andrew Engelage, won 46 of the 54 games that he started. The following season, Engelage graduated to the pros while the Spitfires won another Memorial Cup. Engelage had a so-so 2009-10 season, but put up a strong record last season with the Utah Grizzlies, Calgary's ECHL affiliate. He's likely in camp to prime himself for another year in the ECHL, but he could be a long-term project for the Flames.
C ROMAN HORAK (#51)
Acquired this summer when Tim Erixon wouldn't sign and was dealt to the Rangers, Horak isn't wholly unfamiliar to Flames scouts. That's because he was Ryan Howse's line-mate and trigger man in Chilliwack, posting a great number of assists on Howse's goals. The Flames hope that the duo can replicate that magic this year in the AHL.

RW RYAN HOWSE (#64)
A brilliant offensive talent (he scored 50 goals last season with Chilliwack), Howse turns pro with a few questions regarding his conditioning and his defensive game. That said, he was singled out in several interviews by Flames brass for his commitment to getting in NHL shape (he moved to Calgary this summer to work with Flames trainers) and it'll be interesting to see if his brilliant WHL numbers can translate to the pros. Bryan Cameron had similarly great numbers two years ago in the OHL, but struggled last year with Abbotsford.
LW GREG NEMISZ (#48)
The last time a Flames prospect turned pro after winning back-to-back Memorial Cups, his name was Jarome Iginla. Sure, Nemisz didn't hit the pros with as much pomp and circumstance as the Flames captain did, but Nemisz was a consistent everyday player for the Heat and even suited up for the Flames several times towards the end of the season, earning his first NHL assist during a 6-1 victory over the Edmonton Oilers. Now with full knowledge of what's expected of him at the NHL level, Nemisz should be growing into his frame and learning how to use his size to his advantage.
C MAX REINHART (#59)
Son of long-time Flame Paul Reinhart, Max surprised many when he helped lead the Kootenay Ice to a WHL championship and a Memorial Cup berth, scoring a series of clutch goals in key games. The Flames weren't all that surprised, but were probably very pleased that they snagged Reinhart in the third round in the 2010 draft. Reinhart was one of two key prospects (the other being Sven Baertschi) to sign pro contracts this summer, but is probably headed back to hopefully lead Kootenay on another long playoff run.
C DUSTIN SYLVESTER (#63)
After spending his junior career with the Kootenay Ice, capping it off with a great 93 point 2009-10 campaign, Dustin Sylvester surprised many when he went to Germany last season. Not just Germany, but the secondary German league, playing for Freiburg EHC. Playing for a bad team in a secondary league, he was great – posting 60 points in 48 games. But how can he hack it against more accomplished competition?
C MITCH WAHL (#52)
After a great junior career with Spokane, California-born Mitch Wahl was hobbled by injuries throughout last season, including a crushing hit from Aaron Volpatti in November that broke a cheekbone and left a pool of blood on the ice. Now (hopefully) completely healthy, Wahl will hope to get back into his early-season form. If Wahl can somehow get back on track and hit the NHL at some point, it'll make the 2008 Calgary draft class (which includes Greg Nemisz, Lance Bouma and T.J. Brodie) look even better than it does now.
Ryan Pike has covered the Calgary Flames and the NHL Draft extensively since 2010 as a Senior Writer for The Hockey Writers and Senior Contributing Editor of FlamesNation.ca. A member of the Professional Hockey Writers Association, he lives in Calgary.