The backbone of surprise is fusing speed with secrecy — Carl von Clausewitz
Even the most nonplussed among us understands that a number of teams will surprise pundits from Santa Monica to Saskatchewan this coming NHL season.
Last year's Calgary Flames qualified as a pleasant surprise, as did the New York Islanders. On the minus side were the Los Angeles Kings (which I addressed at length four months ago), Boston Bruins and San Jose Sharks.
There are other teams on either side of the ledger, but the point is clear: no matter what the experts predict, things just won't go according to script.
Last year's surprise team predictions
Last year, I wrote an article featuring five teams that seemed likely to surprise us all during the 2014-15 season. How did I do?
Washington Capitals
The Caps missed the playoffs in 2013-14, and as a result exacted a management shakeup. Former head coach Barry Trotz was hired to replace Adam Oates, and the net results were dramatic, as the Caps went from a 90-point also-ran to 101 points (45-26-11) and a return to the playoffs. Washington defeated the Islanders in the opening round of the playoffs before bowing to the Rangers in seven games in round two.
Arizona Coyotes
I whiffed on this one. Arizona cratered last season, falling to 24-50-8. At least they are staying in the desert, for now.
Nashville Predators
Admittedly, the Preds weren't a huge surprise. After all, they had a nice run of regular-season success between 2003-04 and 2011-12, making the playoffs all but one season. Still, they had fallen short two years in a row, which made their 47-25-10 (104 points) campaign a solid bounce-back season. Nashville took the Blackhawks to six games before bowing out in the first round.
Toronto Maple Leafs
Another miss. Toronto went just 30-44-8, falling to 15th in the East in the process. Ouch.
Florida Panthers
After a 25-point improvement (66 to 91), Florida qualified as a nice surprise last year. They didn't make the playoffs, but they contended for the majority of the season.
This year's surprise team predictions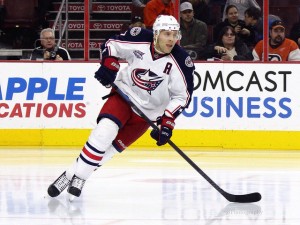 Despite missing badly on two of my five predictions last year, I remain undaunted. It's a challenge to assess the teams most likely to surprise us all, and given that the dog days are upon us, it's time to dream. In some cases, dream big.
With that said, the following are my surprise teams for the 2015-16 season.
Columbus Blue Jackets
The Blue Jackets posted a respectable 42-35-5 record in 2014-15, which despite being the third-highest point total in team history, was still not enough to make the playoffs in a crowded Eastern conference. Columbus has a long history of general regression, so it might seem more likely they'd fall back this year than step forward.
Think again. Injuries ravaged the BJs last year, so don't judge a book by its cover. As they got healthier, their play improved dramatically: Columbus went 15-2-1 during the last five weeks of the season.
The Blue Jackets may have lost Jeremy Morin, Jack Skille, Mark Letestu, Brian Gibbons, Corey Tropp, Artem Anisimov and Marko Dano, but they added a number of key players, most notably former Blackhawks forward Brandon Saad. Just 22, Saad should pair nicely with center Ryan Johansen for the foreseeable future.
If they can remain healthy, expect Columbus to make the playoffs this year.
Dallas Stars
Once upon a time, the Stars were a consistent contender, having won the Cup in 1998-99 and losing in six games to the Devils the following season. Times got hard in 2008-09, as the franchise failed to sniff the playoffs six times over the next seven years — including last season.
Things are about to get better in "Big D". After picking up Patrick Sharp (one season removed from a 34 goal, 78 point campaign) and Johnny Oduya from the Chicago Blackhawks, Antti Niemi from the San Jose Sharks, and a few other pieces, they are bound to be better. Good enough to make the playoffs? The Magic 8-Ball says "Outlook is Good."
Philadelphia Flyers
The Flyers flew low last season, putting up a pedestrian 33-31-18 record. They've been anything but consistent the past three years, missing the playoffs twice and falling in the first round to the Rangers the one time they did sneak in. Why expect more than mediocrity during 2015-16?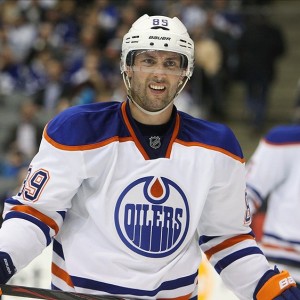 For starters, the signing of new head coach Dave Hakstol was a huge surprise, and there's a chance it will breathe life into a flagging franchise. Hakstol guided the North Dakota Fighting Sioux to seven top-four NCA tournament finishes and a 289-143-43 overall record. Secondly, their player additions were savvy: puck-moving defenseman Yevgeni Medvedev was signed out of the KHL, Sam Gagner adds tweener second/third line skill, Michal Neuvirth is an upgrade at the backup goaltender position and the other pieces (Colin McDonald, Evgeny Medvedev, Davis Drewiske) should fit in nicely.
Granted, hiring a rookie NHL head coach could backfire, but look for the Flyers to figure things out and contend for the playoffs this season.
Edmonton Oilers
How could the Oilers not improve this year? They added established leadership in former San Jose Sharks head coach Todd McLellan, selected generational talent Connor McDavid in the draft, signed highly skilled defenseman Andrej Sekera, added goaltender Cam Talbot from the Rangers and other complimentary players. Sure, they lost Derek Roy, Boyd Gordon, Keith Aulie and a couple of others, but overall, the additions clearly outweigh the subtractions.
There's nowhere to go but up in Edmonton. After years of frustration (the Oil last made the playoffs ten years ago), this is the year the fans have been waiting for. The playoffs may be too far of a reach, but the Oilers will improve dramatically this year. Count on it.
Buffalo Sabres
Following a 23-51-8 disaster, the "nowhere to go but up" mantra applies to the Sabres as well.
As is common with teams in the tank, the turnover was drastic this past off-season. Out the door were Anders Lindback, Matt Hackett, Andrej Meszaros, Patrick Kaleta, Mikhail Grigorenko, Cody Hodgson, and Zac Dalpe; in came Evander Kane, Jack Eichel, Sam Reinhart, Jamie McGinn, David Legwand, Ryan O'Reilly, Carlo Colaiacovo, Robin Lehner and Jason Akeson. The revolving door extended to the head coach, with Dan Bylsma replacing Ted Nolan.
Bylsma joins Buffalo after posting a 252-117-32 record with the Pittsburgh Penguins, the most wins of any head coach in franchise history. He'll have a very young, high-ceiling offense to work with, led by Evander Kane, Ryan O'Reilly and Tyler Ennis. The trio should provide a lift to an offense that ranked dead last in 2014-15.
The excitement is palpable:
The Improved Buffalo Sabres: from Joe Yerdon at http://t.co/gwHV6UoUod, Things are about to change for the better… http://t.co/ATtgsfsbW3

— Kukla's Korner (@kuklaskorner) August 2, 2015
On the questionable side, goaltender Robin Lehner must prove he's ready for full-time duty after serving as Craig Anderson's backup in Ottawa, and the defense (despite the signing of veteran Carlo Colaiacovo) will probably experience growing pains, especially with a new goaltender behind them.
It's unlikely Buffalo will sniff the playoffs this year. That being said, their future looks bright.
Thoughts? Leave your comments below, or message me @McLaughlinWalt.
Walter McLaughlin is a Los Angeles Kings correspondent for The Hockey Writers. He is an avid sports fan, having followed the Kings since living in L.A. in the mid-1970's, as well as suffering through Seattle sports teams' general futility. He has a Bachelor's degree in Finance and has worked in community banking for over 25 years, specializing in SBA loans. He is married and has two daughters.