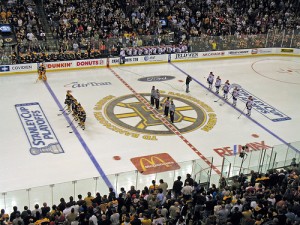 I'm 1-0 on running diaries for the season when the Bruins are playing an opponent from last season's playoffs. Or at least I was before Thursday night's shootout loss against the Montreal Canadiens.
The Bruins celebrated their first goal in 192 minutes and 6 seconds, a baffling amount of time between tallies if you think about it. In that stretch, the Bruins only allowed four regulation goals, a sign that their defensive abilities have strengthened. But the overall game play of the team? Not the best, especially when injuries are becoming more popular with each passing day now that Byron Bitz and David Krejci have been added to that list. The team is looking like an AHL club, with names populating roster spots that once were Marc Savard's, Milan Lucic's and even Chuck Kobasew's. Have things really progressed that far off course for the Bruins? Some might say yes. I might too.
Regardless of that, here's a running diary of Thursday's first Boston/Montreal clash of the season; all of the stuff you won't see in the box score.
6:10 PM: I'm not even up on Level 9 yet and there is already so much to write about. Between David Krejci being diagnosed with H1N1 and the new two-year extension on the horizon for Tuukka Rask, it's hard to imagine that on top of all this, the Canadiens are in town. Can I explain how ecstatic I am about Rask? The guy is already playing on his head, now we can see this for two more years and at cheap money too. Nice lock up, Chia. Mark Stuart should be next on your list of young guns to stay in Boston. Or, if you'd like to surprise and re-sign Marc Savard, I think that'd be okay too.
6:50 PM: This is the 700th meeting between Boston and Montreal. It's also the first of the season. The two teams last met in game four of the 2008-09 Eastern Conference divisional series. The Bruins swept that series. A pleasant reminder in this otherwise unpleasant beginning to the 2009-10 season for Boston. We were dominant once, after all.
6:56 PM: Latendresse, Plekanec, Lapierre, Spacek, Hamrilk and Carey Price in net for the Canadiens. Nothing but boos all around. Shocker.
6:58 PM: It's half empty at the Garden still, but it's incredible how loud it is in here. "Let's go, Bruins!" chants echo the walls during the opening video montage. I've always said, there's nothing like a Bruins/Canadiens game.
7:03 PM: This energy might be exactly what the Bruins need to get back on their to winning ways. If not, it's going to be a long night. There are plenty of red jerseys in the seats tonight.
7:05 PM: Any combination of Bitz/Paille/Sobotka with Begin and Thornton on the same line if okay with me. Their grit and toughness makes it difficult for any opposing line to attempt to score. Paille and Thornton were monsters during Tuesday night's game against the Detroit Red Wings. Paille registered the one check everyone was talking about the following morning, while Thornton led the team with nine hits, his most of any game thus far in the season.
19:19, 1st: Only 41 seconds in and the crowd has already begun their "Ca-rey, Ca-rey" chant. Price must hate playing here. Actually, with his current 2-6 record and 3.62 G.A.A., it seems as if he doesn't like playing much elsewhere either. He hasn't won in regulation since the second game of the season.
15:55, 1st: Totally different Montreal team from last season too. It's not as much as fun not being able to watch Michael Komisarek getting a Milan Lucic beatdown or even a round of boos once Saku Koivu gets possession of the puck. Wait a second, what's that? More "Ca-rey, Ca-rey" chants? Ah, it'll never get old.
13:14, 1st: Big, loose puck in front of the net after Brad Marchand whiffed in the crease. Opportunities like these are the ones that the Bruins need to capitalize on. You win hockey games starting with the small battles. We lost that one.
5:34, 1st: Mark Stuart and Andrei Kostitsyn almost tangled in front of Tim Thomas. A couple of jabs to the shin and shoves before Kostitsyn skates away. The booing ensues.
2:28, 1st: Horrible, horrible, positioning for the Bruins as Dennis Wideman and Matt Hunwick collide in center ice leaving Kostitsyn to easily move into Boston's zone and find Glen Metropolit in front after a wrap-around. I want to believe you're a good team, Boston, I really do. But plays like these, really have me second guessing.
0:00, 1st: The Bruins had four scoring chances in the 1st period, but let up a big first goal to end the period. The streak is now at 152 minutes and 58 seconds without a goal for the B's. The squirt youth hockey team I'm watching in between periods are showing better positioning and puck possession than the Bruins. I should mention there are seven skaters out there for one team–I should also mention that one team just scored.
20:00, 2nd: I'll never understand the fascination over the Dropkick Murphys. Maybe it's because I'm a non-Irish, Boston transplant. Or, maybe it's because my fellow Rhode Islanders and I don't have a local band that we can say has been in a movie about our capital city. We did have our own television show though! That counts for something, right?
19:50, 2nd: Coach Claude Julien switched up the lines a bit during the first intermission. Marchand is now skating with Begin and Paille while Thornton is on the Providence Bruins line with Trent Whitfield and Mikko Lehothen.
17:58, 2nd: Hard to believe the first penalty of a Habs/Bruins game comes in the second period to Montreal's Travis Moen. Very dissimilar to their last regular season meeting in Boston where it seemed like neither team was ever at even strength.
httpv://www.youtube.com/watch?v=xof3ILVb6XI
15:53, 2nd: I dread when we're on the power play now. What happened to last season? Are we cursed? The Bruins are last in the league in scoring while their opponents are down a man. Six goals on 52 chances, is absurd.
15:44, 2nd: One more try with the man advantage after Mathieu Carle hooks Steve Begin on Boston's closest scoring chance of the evening.
12:36, 2nd: Five-on-three for Montreal for 50 seconds after Zdeno Chara takes a cross-checking call. My list of grievances with the Boston captain is continuing to grow. Dare I say, he's playing with as much enthusiasm as Joe Thornton once did in the weeks leading up to his trade in 2005.
10:36, 2nd: Bruins kill off two penalties back-to-back in their most inspired play of the game. Bergeron, and even Brad Marchand, were instrumental in keeping Montreal off of the scoreboard. The rookie Marchand even had a shorthanded scoring break, complete with dangle and all!
5:23, 2nd: So many scoring chances this period, the Bruins are playing like they all have monkeys on their backs. Between, the weird bounces and missed rebounds, the Bruins just can't lucky right now.
2:25, 2nd: STREAK OVER! Bergeron with a tip-in goal that just squeaked underneath Price after an original Marco Sturm shot. Anti-climatic? Yes. Relieving? Incredibly. GOAL UNDER REVIEW?! No. No way. Please allow it?
2:25, 2nd: No goal, Boston. Seems like Sturm was shoved into the goal dislodging the net. Therefore, the scoreless streak continues and I will begin throwing up on the person seated next to me in disgust.
0:00, 2nd: The clock is now at 172 minutes and 58 seconds without a Boston goal. Other than that minor detail, the Bruins actually dominated the period, killing off two big penalties with some big hits and plays plus numerous scoring chances. My reasoning for the lack of goals? Phil Kessel has his voodoo dolls out. Doesn't seem too out of context, methinks. Toronto is off tonight.
15:01, 3rd: Nothing to note yet in the third other than a few icing calls and a few pucks shot out of play. The Bruins look listless and devoid of all emotion. This is the team that's supposed to be their biggest rival and here they are skating like they're playing in a preseason game against a lower tiered Western Conference team. It just looks they don't want it right now and honestly, I can't wait until this team is restored. Being without Marc Savard, Milan Lucic, Krejci and Byron Bitz is hurting them in a big way. I'll keep holding my tongue from mention two other former Bruins whose last names both begin with K.
11:10, 3rd: Bruins look lost in their own end. Hunwick and Wheeler couldn't even begin a textbook break until the puck popped up to Michael Ryder. Ryder has been impressive this game with his finesse but still, no goals for the six-year veteran.
7:39, 3rd: "Shoot the puck, you idiots!" – some fan in the bleachers below me. Sounds about right after a series of passes failed to produce a tally.
6:49, 3rd: Third chance for the Bruins to break their power play (and almost three-game, no goal) slump tonight as Guillaume Latendresse goes to the sin bin for high sticking.
2:00, 3rd: We have two minutes to get out of this goal scoring slump. The last time the Bruins were shutout three times in a row? 1929. The same year, they went on to win the Stanley Cup. The difference? There are now 30 teams in the NHL rather than ten.
0:56, 3rd: Oh, good. Someone brought an air horn. Thomas is out of the net and the Bruins will try their luck with a man advantage on the Habs.
0:51, 3rd: BERGERON. REDEMPTION. GOAL, ALLOWED! This building is vibrating. No seriously, it is. Jack Edwards wasn't kidding.
0:00, 3rd: I cannot believe that this game is actually going into overtime. Can I explain how important Patrice Bergeron has been for us? Has he not carried this team the entire season? Pardon me for saying, Patrice Bergeron is the real captain of this team. Streak ends at 192 minutes and 6 seconds. Literally, 50 seconds away from history. Amazing.
4:15, OT: Carey Price gloves Bergeron's wrist shot from the circle. Incredible save for a goalie who is more than likely shaking in his pads right now. Ca-rey, Ca-rey.
2:10, OT: Canadiens are 6-0 in games decided in extra time. Uh…hmm. So Montreal has only won once in regulation? Yikes.
0:00, OT: Now, for the worse possible way to end a hockey game, a three person shootout! Bergeron, Wheeler and Ryder are the likely choices for the B's, who will shoot first.
Here we go:
Wheeler: (Miss…way off.)
Cammalleri: (Goal, of course.)
Bergeron [Come on, come on, come on]: (MISS! AH!)
Gomez: (Miss. Nice deflect by Thomas)
Recchi [WHAT?]: (Miss. It really looked like Recchi could have had Price beat with one more move. Not so much.)
End game: The good news? The Bruins actually scored a goal and came away with a point, the bad? A loss is still a loss. I'm going to go cry myself to sleep on the train ride home.
The Bruins need to pick of their game offensively and play 60 minutes of solid hockey. This roller coaster of a season needs to start having more highs than lows.
Follow Mike at twitter.com/bruinsmike for updates and live tweets from the TD Garden at every Bruins home game. Questions, comments or infractions can be sent to bruinsmike@gmail.com