Each year, over 700 hockey players don the jersey of one of the 30 National Hockey League teams. Once they pull the sweater over their heads, they become a part of that team. Their nameplate still sits on the back, but what truly matters is truly the name on the front. Zach Parise is not the superstar signing when he scores, he is just a member of the Minnesota Wild. Jordan Staal is not the multi-millionaire when he kills penalties, he is just a member of the Carolina Hurricanes working towards the common goal of winning the game. Rick Nash is just a New York Ranger, John Carlson a Capital, Blake Wheeler a Jet. Nail Yakupov is a Russian.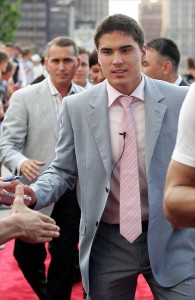 Yakupov, the highly-touted winger from Nizhnekamsk, Russia, hardly had the untraditional route to the big leagues. He opted to leave his home country and play for the Sarnia Sting at the age of 18. In just 2 years, Yakupov scored 80 goals and 170 points in just 103 games, a staggering average of 1.65 points per game. He made Sportscentre highlight reels game in and game out, and was considered the best draft-eligible player in 2012 by almost every scout. And despite the creation of a decision that nobody believed was any decision at all, the Edmonton Oilers left Ryan Murray on the board and selected Nail with the first overall pick. Yakupov, the first Russian drafted in the top five since 2004, was ready to take over the league with his competitive nature and undisputed talent.
But immediately the ignorant narrative began. Many believed that Yakupov was a potential flight risk, bound to bolt for the KHL once he was presented with a large enough contract. This claim was made despite no evidence supporting Nail would do such a thing, considering that he moved to Sarnia at a young age to help make his NHL dream a possibility. Questions emerged about his ability to fit in with the team, and his ability to be a team player. The rhetoric ramped up again at the World Junior Hockey Championships, where media availability to all Russian players was severed by the coaches. Yakupov, the 19 year old with a constant smile on his face and yet to step on the ice with an NHL team, was now labeled as the media-hating outsider that better straighten up and fly right if he wanted to hang in the league. When the league finally resumed play in early January, the media he talked to and his work ethic at practice could not remove what was already forcibly put upon him: Nail Yakupov was enigmatic, and there's nothing he could do to release himself of that title.
The climax of hate and anger started shortly into the young forward's career, following an exuberant celebration after Yakupov scored late in the 3rd period to tie the game against the Kings.
The goal itself was magnificent, a rare combination of positioning, skill, and a bit of luck. The celebration, while a tad excessive perhaps, was nothing too obscure. It was no different than with P.K Subban or Milan Hejduk, both of which were celebrations in regular season games. Especially evident with Subban's goal, the emotions of the game of hockey can overtake a person's rational mind sometimes, causing them to be somewhat extravagant and excessive in their celebrations occasionally. But no teammates wanted to shun him afterwards, and the Los Angeles Kings were not embarrassed because of the celebration either, despite what some media members have said without any specific sources to credit in their responses.
Most, if not all, of this hatred against Yakupov can be attributed to the market he plays in and he's Russian. Edmonton is a team in a relatively small market that is beyond passionate about hockey. The Oilers have created a brass that has provided them enough talent to be contenders very soon, with Yakupov considered to be one of the final pieces of the puzzle. With such pressure on him, any little thing the Russian does that could be considered "unorthodox" is subject to every man, woman, and child's opinion. This is put along with the fact that he is Russian, and therefore different. And when something is different it is hard to adjust. All of Edmonton's heroes have been skilled, talented, winners, and not Russian. A sense of xenophobia is still existent, whether it be from the heated rivalry of the cold war or simply that they are "invading Canada's game". Regardless, it subjects Yakupov to criticism to anything he does that is even close to out of line.
Yakupov never grew up in the backwoods of Saskatoon, skating on the rink his dad made with his bare hands. He never played in the GTHL, driving early Saturday mornings to Whitby to play in a tournament. He also can't speak perfect English, stumbling over words that he sometimes doesn't know. However, there is nothing wrong with that. Yakupov is a young, respectful, and most importantly talented player that will be a star in the NHL. He will score numerous goals and be a part of a lot of big plays. Nail Yakupov will be a core piece of the Edmonton Oilers, assuming he is not run out of town for being slightly different. Edmonton, and the rest of the hockey world, better soon adjust to Yakupov being an energetic Russian or they might risk losing him forever, as nobody wants to stay where they don't feel wanted.