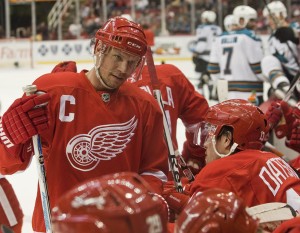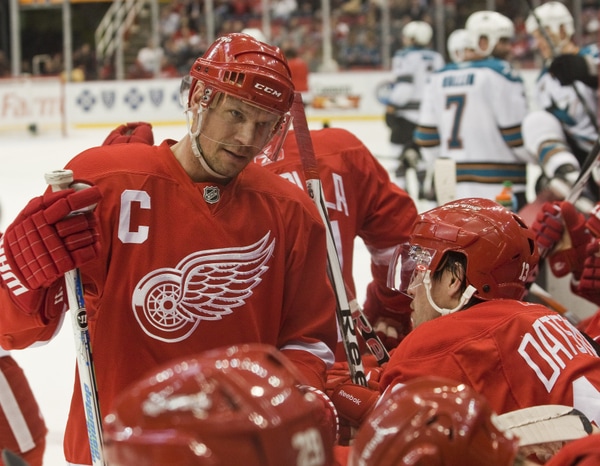 "They're too old." "They're soft."
Talk to a Chicago Blackhawks fan about the Detroit Red Wings and those are likely 2 of the first things they'll say, but are they really valid criticisms? The current league leading position of the Detroit franchise would seem to suggest otherwise.
While there is no question that the Red Wings have the oldest average age among NHL franchises, that doesn't necessarily equate to a lack of youth. With 12 players on the roster under that average age of 29.603, the Red Wings have seamlessly blended a youthful movement with a veteran presence for years. While you wont see a roster laden with youngsters like that of the Colorado Avalanche any time soon, that's by design, and probably for the better.
The 'Wings, an annual playoff team for the last 2 decades, have enjoyed success year after year following the same apparently "youthless" model. Thought they rarely debut their prospects at incredibly young ages, there's a perfectly thought out and logical advantage to this strategy, but what it boils down to quite frequently is Detroit's draft position.
When your team finishes near the top of the league year in and year out, your draft selections are going to be near the bottom of each round by design. This format keeps the league competitive by allowing the worst teams to select the most promising players and thus improve their squads (though the Minnesota Wild organization would likely argue that things don't always work out that way).
From 1992 to 2011 the Red Wings had just 1 pick above the 20th overall position in the draft (Jakub Kindl, 19th overall, 2005). This is important to note when discussing Detroit's prospect practices. It's debatable whether any player is ready to compete in the NHL at the young age of 18 or 19 years old. While some have clearly proven they are over the last several years (Sidney Crosby, Tyler Seguin, etc), those players were also very high picks. The higher the pick, the more promising the player, and the more likely they are to be ready for immediate immersion into the league. Detroit, frequently picking for the first time in the late 20's of drafts, is selecting players that are far less likely to be instant NHL'ers.
These players need development. They need time to grow and learn at lower levels of the game before they're ready to make the step onto the NHL stage. This player development is something the Red Wings have excelled at, and what allows them to continue doing so well, and in turn continue receiving late picks in the draft.
Rather than thrusting a youngster directly into the NHL from junior or college play, Detroit allows their players to adapt to a more NHL-like game in the AHL before bringing them up to the regular roster. The team has seen great success in doing so. Niklas Kronwall, now an alternate captain for the team, is perhaps the most notable of these players. Drafted 29th overall in 2000, Kronwall is now a top 4 defencemen and, as of January 24, is 2nd in the league among defencemen in goal scoring. Kronwall isn't alone in enjoying success with the Wings after stints in Grand Rapids though. 10 players currently on Detroit's roster all played for the Griffins.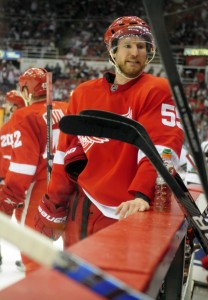 Jiri Hudler, Jimmy Howard, Valtteri Filppula, Jonathan Ericsson, Darren Helm, Justin Abdelkader, Jakub Kindl, Jan Mursak, and Cory Emmerton join Kronwall as Griffin's alumni currently playing with the Red Wings. 19th overall (Kindl) was the highest pick among them, yet all have developed into proven NHL talent under this system, a system that produces matured, experienced, NHL ready players.
That's something you can't say for every team's prospect system. In the last 2 years 3 fantastic talents have risen to the NHL by the names of Taylor Hall, Tyler Seguin, and Brad Marchand. While all have proven their skill sets are ready for the NHL ice, their mental preparedness is a bit more questionable. We've seen Hall calling into question his coach's decisions, Seguin missing a team function, and Marchand recklessly attacking other players. These are all symptoms of immature players that are not fully prepared to play the game at an NHL level. The skill set may be there, but mental toughness is not. That's what Detroit produces. Mentally tough players that are ready to play this highly skilled game.
Those players are then eased  into the line up. They're given short stints with the team in place of injured or under performing pieces, fostering a healthy competition among the Red Wings prospects in Grand Rapids. Everyone wants to play in the NHL, and so those players train harder, practice harder, and play harder in hopes that they'll be the next to be given a chance, and that once on the team, they'll be able to make themselves irreplaceable.
The ones that do crack the regular line up are already experienced by the time they get there, resulting in a Red Wings line up filled entirely with experienced and matured players. Players that are responsible in both ends of the ice. Players that are good both defensively and offensively. Players that rarely take retaliatory penalties. Players that wont lose their composure quickly.
It's that composure aspect that is perhaps the most important. Detroit has frustrated its opponents to the point of losing theirs on several occasions this season. They've seen it cost their opponents games, and they know the value in keeping it together. The most recent example of this was Monday's game against the St. Louis Blues. St. Louis is a talented team. They've proven that. It was a high intensity, highly emotional game. A game that was ultimately won by the team that kept their emotions in check.
As the Red Wings began to enforce their will upon St. Louis, the Blues were unsure how to react, and despite their best efforts to fight Detroit's puck possession style, quickly grew frustrated. The first time they let their emotions get the better of them was at the end of the first period, when Brad Stuart delivered a bone-crunching-but-legal hit to the Blues' Alex Pietrangelo.
http://www.youtube.com/watch?v=S6VMOORBKAU
Following the hit (about 30 seconds later) St. Louis made a line change and right-winger Chris Stewart made a beeline for Brad Stuart where he engaged him in a "fight".
It's clear from the video that Brad Stuart was both unprepared for and not particularly eager to engage in fisticuffs with Chris Stewart, and why should he have been? It was a clean, legal check, something that is a part of every hockey game, and something that didn't need to be defended. The referees agreed, assessing Stewart a fighting major, a minor for instigating, and a misconduct. Detroit scored on the ensuing powerplay, and thus began the unraveling of the St. Louis Blues.
This unraveling culminated in another ill-advised penalty late in the game. With Detroit up 2-1, Darren Helm legally leveled Alex Pietrangelo (poor guy had a rough night), but this time it was Carlo Colaiacovo who took exception, grabbing Helm in a headlock and refusing to let go.
http://www.youtube.com/watch?v=zLy5Hj7b-Gk
Helm kept his cool and simply skated away after St. Louis took one of the dumbest penalties I've ever seen committed. Detroit scored on the ensuing powerplay, putting the game all but out of reach for the Blues in the final minutes of the game.
In both of these examples most teams likely would have obliged the St. Louis aggressor and fought. Detroit's unwillingness to stray from their game plan benefited them, as the Blues took exceptionally poor penalties and ran themselves into the ground.
As Ryan from Nightmare On Helm Street put it,
"When a guy is draped all over you and taking liberties with you, it's hard to not swing back… Some call it spineless; I call is mentally tough."
And he's exactly right. Detroit's line up is filled with the mentally tough, and far too often people confuse a team's willingness to drop the gloves with how physical and "tough" they are.
If your definition of how tough a team is relies solely on the amount of fighting majors they rack up, then yes, Detroit is the weakest in the league with just 7 fighting majors this season. That's a bit of an absurd definition, when there is so much more to the sport than bench brawls and boxing matches.
While teams like the New York Rangers (38) and Boston Bruins (36) lead the way in fighting majors, you can't tell me every time they've dropped the gloves has been necessary. There haven't been 36 times another team took a cheap shot at one of your linemates. There haven't been 38 encounters with Sean Avery-esque pests that have warranted trying to pound that players face in. Those high fight occurrences come from  a lack of discipline. An inability to keep their emotions in check.
The Red Wings instead exude their physicality in legal ways. In the hard work of Danny Cleary and Justin Abdelkader along the boards. In the earth shattering hits from Niklas Kronwall that have turned his name into a verb. In the fearless shot blocking of Drew Miller and Darren Helm on the penalty kill. In the relentless abuse Tomas Holmstrom takes in front of opposing goaltenders every night. Even in the no-nonsense retaliations of Jimmy Howard that we've seen on several occasions this season.
These are hockey players. Their strength, their "toughness", both mentally and physically is tested every time their feet touch the ice. While you're not about see the kind of animosity or the number of throwdowns of the Avanlanche rivalry of old, that's okay.
http://www.youtube.com/watch?v=Kou0p5oI4Xk
The Red Wings don't need to be that team. They've found a successful system, a perfect formula, that allows them to circumvent the unnecessary glove droppings and the rough stuff after the whistles.
Is there anything wrong with the way that the Boston Bruins, for example, play their game? No (save a few dirty plays). That's their style, and it works for them. But this isn't a cookie-cutter league. No 2 teams are the same. If Detroit tried to play Boston's game, they'd fail miserably, and the same is true in reverse. It's not about playing the game a certain way. It's about playing to your strengths. This team has its own style. A style that works.
So are the Red Wings "too old" and "too soft"? I think the standings speak for themselves. Detroit is 7-4-0 when facing the 5 teams directly behind them in the standings, outscoring the opposition by a 30-18 margin. Their 67 points puts them atop the league, and they got there riding a 7 game winning streak and a 17 game home winning streak, both of which are still active. Seems like things are working out just fine for Detroit the way they are.