Throughout the 2014-15 National Hockey League season, the Calgary Flames defied the odds. With the club expected to finish very low in the overall standings, they instead rose to the challenge and made the post-season for the first time since 2009.
As they prepare for 2015-16, their challenge may be keeping that odds-defying team together.
Over the summer, Flames general manager Brad Treliving was busy. In addition to adding Michael Frolik and Dougie Hamilton to the fold, he made another bold move in doubling-down on his existing roster. The only significant players not returning to the club from last season's playoff roster are depth defenders David Schlemko, Corey Potter and Raphael Diaz – all of whom were part of the "replacing Mark Giordano by committee" approach the team used down the stretch. As a result of the retention of free agents, the addition of a couple bodies, and the maturation of young players into waiver eligibility, the Flames have a bit of a roster crunch on their hands – 26 players vying for 23 opening night roster spots.
As training camp is about to open, the roster situation sits like this:
Forwards (16): Michael Frolik, Jiri Hudler, David Jones, Mikael Backlund, Mason Raymond, Matt Stajan, Lance Bouma, Joe Colborne, Brandon Bollig, Josh Jooris, Johnny Gaudreau, Sean Monahan, Sam Bennett, Paul Byron, Drew Shore and Micheal Ferland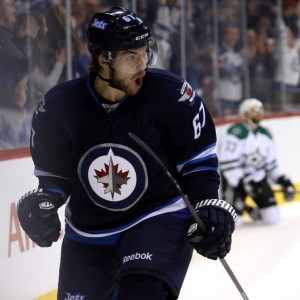 Defensemen (7): Mark Giordano, T.J. Brodie, Kris Russell, Dougie Hamilton, Dennis Wideman, Ladislav Smid and Deryk Engelland
Goaltenders (3): Jonas Hiller, Karri Ramo and Joni Ortio
Of the 26 players listed above, everybody except for Gaudreau and Bennett require waivers, though Bennett can only be returned to junior rather than minor-pro. Considering that Gaudreau was on Calgary's first line and Bennett was a top performer in the playoffs, both players are locks to be on the opening night roster. Unfortunately, that may be the only thing that's crystal clear about their roster situation.
That leads to good news and bad news for the club.
The good news is that they probably won't have salary cap troubles in 2015-16. The 26 players in the roster mix combine for a cap hit of roughly $70.9 million (ignoring performance bonuses) versus a salary cap ceiling of $70.4 million. Chopping out three bodies should easily make up the difference and give them a bit of breathing room, depending on which players don't end up in Calgary.
But Calgary's roster situation leads to two specific, and inter-related, pieces of "bad news."
First, the easiest players to eliminate from the team's roster – in terms of being players with lower cap hits or with lesser experience levels – are the players that the Flames probably don't wish to lose. Young netminder Joni Ortio makes just $600,000 at the NHL level, but has shined in brief stints in Calgary. Young forwards Micheal Ferland ($825,000) and Drew Shore ($851,000) have low cap hits but provide grit and versatility to the team's bottom six. Paul Byron ($900,000) has struggled to stay healthy, but he's one of the team's top energy players. Heck, veteran Brandon Bollig makes just $1.25 million, but is a savvy veteran and a former Stanley Cup winner whose ease in the locker room makes him an ideal 14th forward – he can slide in and out of the line-up easily without making waves.
On the flip side, the players the team would probably most like to part with – in terms of having cap hits out-stripping their on-ice contributions – are probably the players that are the toughest for the club to find new homes for. Mason Raymond carries a $3.15 million cap hit and struggled last season as he was lapped on the wings by some of the organization's younger players. Ladislav Smid spent the balance of last year on the shelf, and questions about his health and his $3.5 million cap hit may shy suitors away. Joe Colborne has a more modest $1.275 million cap number, but he's also a bit pricey for a depth option.
For the time being, it appears that the Flames are sticking with the group they have – all 26 of them – and hoping that they can find moves that make sense to maximize asset worth. They're looking for teams that have openings and a desire to make a deal, but with the summer that the NHL had – in terms of the salary cap and the free agent market – they may be waiting for awhile or they may have to settle for less than they had hoped in order to get a deal consummated (and avoid losing players for nothing on the waiver wire).
Regardless, for a team hoping to capitalize on some organizational momentum, their roster situation going forward is worth keeping in mind. For now, they're stuck playing musical chairs and hoping they can hold onto their players or at least figure out a way to maximize them as assets.