Christopher Ralph is a sportswriter with a focus on hockey prospects, the entry draft, as well as occasional Flames coverage here at THW.
This article goes along with the Home Page taking an in depth view of Hockey's Version of Christmas, appropriately on the 25th, of June that is, on this Friday.
*This draft preview has been featured on such web sites as Yahoo Sports via Puck Daddy.
Notes: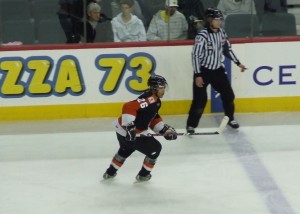 *The table is "sortable" – that is, if you click on any of the headings it will sort them.

*For detailed prospect profiles of the top 30 click on the link above for the Draft Preview or check out my archives.

*Just under the title, you can click "Show" and change the quantity you show on one page or you can simply click on bottom right hand corner of table to scroll through the rankings.

*This is not a mock draft. These rankings are the exclusive opinions of the author only and not predicting where prospects will get picked on draft day, but more of a product of how I project the player will turn out based on his potential.

*TSN's Final Rankings & The Hockey News (Top 60 only) are included as well for comparison.
[table id=15 /]
*You'll note I am much higher on WHL prospects Emerson Etem and Nino "El Nino" Niederreiter than other rankings.
*Stay tuned as I post my final version of my mock draft.
*For all the latest prospect and draft news follow me on Twitter: The Hockey Spy
This document is the intellectual property of Christopher Ralph and cannot be used or duplicated in anyway without expressed written consent. Any use of this document without the expressed written consent of Christopher Ralph will result in public exposure and legal prosecution.