New Jersey Devils: Playoff appearance nearly a given, but so is an early postseason exit
08-09 Season in a Nutshell: The Devils underwent some serious traumas that ended up resulting in some positive results. Goaltender Martin Brodeur sat out most of the season with an injury, and Scott Clemmensen filled in more than adequately. Zach Parise also further established himself as one of the best wingers in the game, racking up 94 points (45 G, 49 A) in the campaign.
Key Acquisitions: Yann Danis
Key Losses: Scott Clemensen, Brian Gionta, Niclas Havelid, John Madden, Mike Rupp
Player to Watch: Jamie Langenbrunner, RW- The key for the Devils will be puck movement if they want to continue to be successful on offense, and Langenbrunner is going to have to replicate his 40-assist form by moving the puck consistently to Zach Parise and Travis Zajac.
Must watch games: November 16th at Philadelphia (Versus), January 12th at Rangers (Versus), March 15th vs. Bruins (Versus)
Bryan Thiel has a preview of the Devils at Bleacher Report
Strengths:
-The top line of Parise, Zajac, and Langenbrunner is an absolute nightmare for opposing teams – If you want to look at a cause of the team's success last season, this line is easily the answer for it. They combined for a mind-boggling 92 goals and 131 assists, as well as  25 tallies on the power play. With Patrick Elias out three to six weeks, it will be up to this line to hold up to the pressure of increased scoring responsibilities.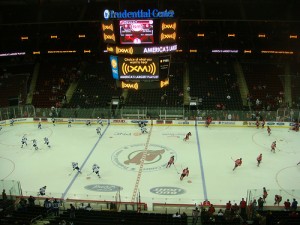 -Return of Jacques LeMaire should be good for the team's mojo – Any time a team can bring back in somebody who was responsible for their last sustained period of success, it can be assumed that there is a certain amount of good karma that goes along with it. LeMaire will demand a more balanced approach to the game, and with the team's blue liners given more responsibility, it should be an interesting mix in the loaded Atlantic division.
Weaknesses:
-Penalty kill took its lumps last year, and may this year too – The Devils were the 21st ranked penalty killing unit in the league last season, a surprisingly low number for a team that pretty much is synonymous with aggressive defense. They didn't exactly add anyone to help in that department, and the loss of John Madden will hurt them quite a bit here. Martin Brodeur having a healthy season could help, but the unit still looks pretty tame.
-Fewer chances= fewer successes: The Devils ranked last in the league in a pretty interesting statistic last year: power play chances. The 307 they had were utilized to a great degree, but the fact that they are drawing fewer penalties than anyone else in the league means that the twin-headed power play monster of Parise and Patrick Elias is limited in how much they can help the team.
Jim's Prediction: 3rd in division, 5th in conference
New York Islanders: Tavares and Okposo will help the Isles through these dark times
08-09 Season in a Nutshell:  The season was a complete waste from the start. Rick DiPietro was sidelined for most of the season with injuries, and Bill Guerin was traded to the Penguins. On top of that, increasing problems with the Nassau Coliseum added to the anguish.
Key Acquisitions: Dwayne Roloson, John Tavares
Key Losses: Joe Callahan, Yann Danis, Joey MacDonald
Player to Watch: John Tavares, D- Number one overall pick. Franchise in peril. Do the math.
Must watch games: December 5th at Tampa Bay, March 2nd vs. Chicago, March 9th at Philadelphia (Versus)
Strengths:
-Lower expectations could lead to greater results: With a  team as loaded with young players as the Islanders are, it is understandable that fans would have quite an appetite for successful play. The Islanders, however, seem to be tamping down those expectations, and with Kyle Okposo and John Tavares in the fold, it will be up to veterans like Doug Weight to keep them in line, and also to grow their talents for future success.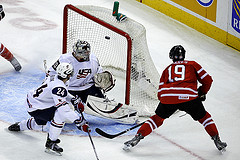 -Dwayne Roloson will provide a good back-up option to DiPietro: Last year, the Islanders were pretty much doomed when it was revealed that DiPietro was going to miss the season with an injury. They relied upon Yann Danis and Joey MacDonald to back him up, but they were largely ineffective. This year, with their star goalie still potentially be side-lined, they decided to invest in a back-up option. Roloson was decent as a starter with Edmonton last year, and so he will be looked to for a steady hand in goal while Rick fully heals.
Weaknesses:
-No defined go-to scorer could be a problem: The Islanders only managed to score 201 goals last season, which ranked last in the Eastern Conference, and no one player had over 20 goals on the season. Not one 20 goal scorer. That could prove to be a huge issue going forward, unless Okposo or Tavares can step up.
-Isles' special teams are hardly special: The Islanders were the last place team in the Eastern Conference last season, and a big continuing problem that contributed to that was their lack of success on special teams. The squad ranked 22nd in both power play conversions, and penalties killed last year, which obviously makes it difficult to win games. John Tavares should help on the power play, but the penalty killing unit will still be extremely taxed this season. It could be another long winter on Long Island.
Jim's Prediction: 5th in division, 14th in conference
New York Rangers: Will Gaborik the Gimp help the Rangers to Cup glory?
08-09 Season in a Nutshell:  The words "up and down season" can be readily bandied about by pundits, but the Rangers were the absolute epitome of this term. Starting out strong, the team struggled mightily to even make the playoffs, squeaking in with 93 points, good for a 7th seed and a first round dismissal by the Capitals.
Key Acquisitions: Tyler Arnason, Donald Brashear, Marian Gaborik, Ales Kotalik
Key Losses: Nik Antropov, Paul Mara, Derek Morris, Colton Orr
Player to Watch:  Marian Gaborik, RW- The key to the Rangers' entire season will rely on Gaborik's ability to stay healthy. If he can, the 100 point level is not necessarily out of reach.
Must watch games: October 19th vs. Sharks (Versus), November 17th vs. Washington, December 31st at Carolina
Strengths:
-Need a penalty killed? Call the Rangers: The Rangers, for all of their ups-and-downs last season, were the league's best team when it came to killing penalties. They used Henrik Lundqvist to their full advantage, and used physical play by Blair Betts as well. Fredrik Sjostrom also scored two short-handed goals to lead the team in that category.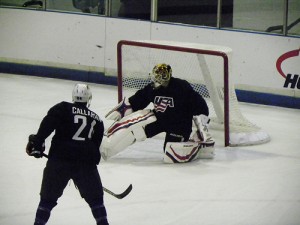 -Could the Gaborik gamble pay dividends?: Marian Gaborik has obviously had his fair share of health issues in his career, and by signing him to a significant contract over the summer, the Rangers have indicated that they are willing to make big splashes to help the team achieve a Stanley Cup championship.
Weaknesses:
-So, remember how good the penalty killing was? : The Rangers were ranked 29th in the entire NHL last season in power play conversions, a stunning total for a team with players like Nikolai Zheredev, Scott Gomez, and Chris Drury. They only converted 48 power play goals out of 346 chances. If the team's fortunes are going to improve over last year's first round ouster at the hands of the Capitals, they will have to improve dramatically in the man-advantage situations.
-A premier scorer needs to emerge quickly for the team to have success: The Rangers' top returning scorer from last year's squad only scored 23 goals. With that number as context, it is clear that the team needs someone to step into the role of top scorer. Ryan Callahan, Gaborik, and Drury will be looked at to fill this role for the Broadway Blueshirts.
Jim's Prediction: 4th in division, 9th in conference

Philadelphia Flyers: Pronger & the Snipers will have Philly flying high
08-09 Season in a Nutshell: The Flyers were a team victimized by a lack of solid goaltending and an occasionally sloppy defense. Their loss in the first round of the playoffs to the Penguins was a valiant effort that simply ran out of steam at the end.
Key Acquisitions: Brian Boucher, Ian Laperriere, Chris Pronger
Key Losses: Joffrey Lupul, Mike Knuble, Antero Niittymaki
Player to Watch: Claude Giroux, C- backing up centers like Mike Richards and Jeff Carter isn't easy, but Giroux is going to have to be a solid two-way player to help Philly succeed this season.
Must watch games: October 27th at Washington (Versus), December 15th at Pittsburgh, April 4th vs. Detroit (NBC)
Chris Shafer has the THW Flyers preview up. It's a good one.
Strengths:
-The Broad Street Bullies will live up to their name: The Flyers were quite possibly the most physical team in the NHL last season. They had four players with over 140 PIM last year (Hartnell, Carcillo, Asham, and Cote), and in the off-season, they also added physical D Chris Pronger, who racked up 88 penalty minutes last season with Anaheim. Oh yeah, did we fail to mention that he can score as well?
-Behind the brawn is some serious scoring touch: The Flyers scored a ton of goals last season to go along with their physical play. They had six players who scored over 25 goals, and they will look to continue to do the same things next season. Jeff Carter, Scott Hartnell, Brad Richards, and Simon Gagne will be looked to for their sniping capabilities, and Pronger will hopefully add to that scoring punch.
Weaknesses:
-The biggest question mark will certainly be in goal. Where else? : Philadelphia decided on a completely different track with their goaltender situation this season. Both Antero Niittymaki and Martin Biron are now gone, replaced by Brian Boucher and Ray Emery. These names don't exactly inspire confidence, as Boucher did play well but only in limited duty in San Jose, and Emery last played with Mytishchi Atlant, so his numbers aren't really a reliable barometer to his potential performance.
-The team's depth at right wing will be challenged: While the team is loaded with snipers at both center and left wing, the team is going to struggle at the right wing position. After last season, they lost RW's Knuble and Lupul, which could lend a crippling blow to the team's very realistic Stanley Cup aspirations.
Jim's Prediction: 1st in division, 1st in conference
Pittsburgh Penguins: A title repeat not out of the question for these Penguins
08-09 Season in a Nutshell: The Penguins were in such dire straits in February that they fired head coach Michel Therrien and replaced him with Dan Bylsma with 20 games left. This seemed to do the trick, and after landing Bill Guerin and Craig Adams before the trade deadline, the Pens steamrolled their way through the Eastern Conference playoffs and took down the Red Wings in Game 7 of the Stanley Cup Finals to claim the title.
Key Acquisitions: Brent Johnson, Mike Rupp
Key Losses: Mathieu Garon, Rob Scuderi
Player to Watch: Jordan Staal, C- Playing for a team as front-loaded with talent as the Penguins, the onus will be on Staal to help balance the offense and make sure that the third line is doing its fair share of scoring.
Must watch games: October 20th vs. St. Louis, December 5th vs. Chicago, January 11th at Minnesota (Versus)
Penguins Experience has an interesting preview for the Pens posted.
Rick Moldovanyi, THW Penguins Correspondent, also has his Pens preview up on the site. Check it out.

Strengths:
-Big headed champions? Not these Pens – The Penguins may have won the Stanley Cup last season, but you wouldn't know it by going to their practice facility. According to the Associated Press, the Penguins are trying to model themselves after their fellow Steel City denizens the Steelers, who made sure that all of their champion-duties were completed long before the start of training camp. Coach Dan Bylsma has said "that he doesn't consider this team to be No. 1 but, rather, only 1 of 30", according to the report. The Penguins' workmanlike attitude led to the team winning the Cup in the first place, so to see it still in place is good for their hopes.
-Blue line contributions look primed to increase- Sergei Gonchar is an established threat for blue line offense, and joining him this season will be fellow defenseman Alex Goligoski. Alex had a decent year, playing in only 45 games but notching 20 points, and if he can replicate that production his year, the Penguins should be gravy.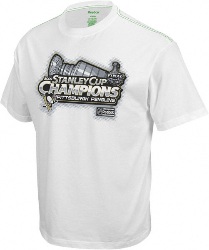 Weaknesses:
-Could an intrastate rivalry be the undoing of the Pens?- The Penguins bounced the Flyers from the first round of the playoffs last season, but don't look for a similar fate this season. The Flyers are a much improved team after last season, and they have the offense and physical toughness now to really compete with anyone in the NHL. This Keystone State rivalry will make a repeat performance in the Cup playoffs very difficult for the Penguins. May could be very interesting in Pennsylvania.
-Weaker defensive corps could be an issue – The Penguins were a very solid physical defensive team last year, but with the departures of Rob Scuderi and Hal Gill, the team could be looking at having issues defending the puck this season. Unless some of the younger guys in the stable step up, it could be feast or famine with the D this season.
Jim's Prediction: 2nd in division, 4th in conference