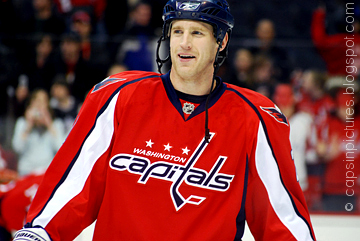 Brooks Laich's philosophy is simple: "If you want money, go to the bank. If you want bread, go to the bakery. If you want goals, go to the net." His strategy could not be more apparent than in the last few weeks of the season where secondary scoring will be crucial for a Washington Capitals team loaded with snipers and offensive play-makers.
Laich's most recent efforts stole a point from the Toronto Maple Leafs last night. With the Capitals down by a goal and with the extra skater, Laich was able to push the puck Martin Gerber into the net to tie things up with less than a minute left in the third period. It was Laich's 19th tally of the year, just two shy of his career high of 21 last season.
Brooks has enjoyed an increase in points the last three seasons, but went through a 13-game goal-less streak lasting through January where the Caps endured just the second three-game losing streak under head coach Bruce Boudreau. This has pretty much been the only blemish in Brooks' 2009 campaign as we take a closer look at his numbers compared to last year: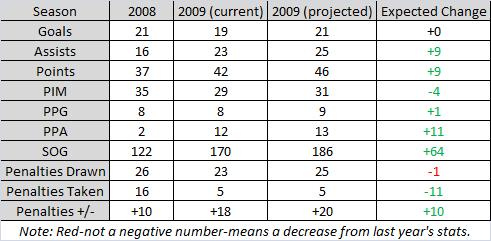 While an improvement in points is widely considered the most important category, Capitals fans are more excited about some of the stats that might be overlooked. The number that almost jumps off the page is Laich's extreme improvement in shot total, but we'll talk about that in a minute.
Caps fans are drooling over the consistent play of Brooks and his ability to stay out of the box. Which of course means he can be used on Washington's penalty kill-a job that he has excelled at this year. Laich currently leads all Capitals forwards in blocked shots per 60 minutes and has a shorthanded goal and assist as well.
But disipline and sacrificing your body for the team not only shows grit and heart, it also shows leadership, something the Capitals have missed since losing Chris Clark for the remainder of the regular season. Clark's status is still unclear, but he is under contract through the 2010 season. Some are speculating that he could be bought out as soon as this off-season, vacating the Captain role. Laich and Ovechkin are the main front runners when Clark's tenure as Captain is over.
What stands out about Laich's season is his dramatic increase in shot's taken. Here's a look at shots on goal the past two years by Washington's top offensive point-getters:

A few things to note on this chart: Alex Ovechkin has missed three games due to injury, Alex Semin has missed 19 games due to injury, and Mike Green has missed 14 games due to injury. This should not take away from the fact that Laich is making strides on both sides of the ice.
If he keeps it up, he can become the first Saskatchewan native to wear the 'C' for the Capitals.