0-2. Two games, three goals scored, two dispiriting losses.
Jeff Carter doesn't have a point. Devin Setoguchi, Teddy Purcell, and Dustin Brown haven't reached the score sheet either. Carter, Purcell, Matt Greene, Derek Forbort and Trevor Lewis are minus-2 or worse. Jeff Zatkoff is 0-2 with a save percentage of .891.
Adding injury to insult, Marian Gaborik is on the injured reserve list and isn't expected back until the end of November, while Jonathan Quick could be out four months with a groin injury.
Already expected to be heavily leaned upon after losing Milan Lucic during free agency, the defense has had its share of challenges during the first two games. Witness Matt Greene's cement skates and Derek Forbert's rookie mistakes as exhibit A and B in that regard.
With all that said, keep your chins up Kings fans. The situation is tough right now, but they aren't as bad as they seem. Here's why:
The Sharks and Flyers Are Good
Let's not forget that the Sharks came within two games of capturing the Stanley Cup last year, and the Flyers made the playoffs with a 41-27-14 record. San Jose didn't lose anyone of note and added Mikkel Boedker and David Schlemko, while Pittsburgh mostly stood pat.
The Kings were dealt a difficult hand based on the schedule and cap issues alone, further complicated by injuries to Quick and Gaborik. With the next two games on the road against the Wild and Stars, it may get worse, but after that, six of the next eight games are at home.
The Kings Play Their Game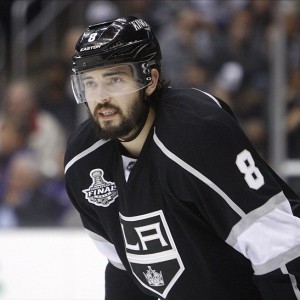 I looked up the Kings' possession numbers last year and, as usual, they were very strong.
Los Angeles led the NHL with a 56.4 CF% and a 56.2 FF%, and the margin wasn't all that close. The Kings have enjoyed tremendous success over the years utilizing possession to their advantage, and there is every reason to believe they will continue to do so this season.
Kopitar and Doughty Are Stepping Up
Amidst the chaos of bad line changes, odd-man rushes, turnovers and struggling chemistry, new Kings captain Anze Kopitar and franchise defenseman Drew Doughty are steady, rallying influences. Each has two points and both are showing the resolve a team needs in its leaders.
Kopitar broke the two games down succinctly, stating that they were close against the Sharks and were sunk by one bad period versus the Flyers:
No, we did not play OK. The one in San Jose was close, but not nearly as good as we have to play, and tonight, the second period was not good. We've got to definitely be better (LA Kings Insider).
Doughty pointed out that breakdowns hung Zatkoff out to dry:
Goaltending's been good. We just need to clean up a lot of things. We aren't playing well in our defensive zone. We're making too many turnovers. We're wasting a lot of energy in the D-zone because we're in there so often, and that makes us not able to create chances in the offensive zone. There are a lot of things that we need to improve on. We've addressed them and we all know what they are, so we're just going into Minnesota, looking for a big win.
Chemistry Takes Time to Develop
The Kings have several new faces this year, moves which haven't yet paid off but should down the line. Purcell is a four-time 40+ point scorer with highs of 24 goals and 41 assists in 2011-12. Setoguchi is a low risk/high reward gamble with 20-goal potential. Nic Dowd earned a roster spot with three goals in the preseason and is patiently waiting for his opportunity.
On the defensive end, Derek Forbort is a former first-round selection still earning his chops. Tom Gilbert adds veteran savvy and stability.
At least some of these new players will help stabilize things for the Kings.
Help Is on the Way
Although the Kings have not looked very good on either end of the ice, it's likely that the defense will settle in first. Any team with a top four of Drew Doughty, Jake Muzzin, Brayden McNabb and Alec Martinez — not to mention perennially strong possession percentages — has a good chance of keeping the puck away from their own net.
How will the offense improve? In addition to the brilliance of Kopitar, the continued emergence of Tyler Tofolli and the integration of Purcell and Setoguchi, look for the return of Tanner Pearson to the lineup in time for Tuesday's game against the Wild to help with the attack. No, Pearson isn't a proven 30-goal scorer, but he's a strong candidate for a breakout season. If he remains healthy, he's a reasonable bet for 20-25 goals this year.
Things may not look great right now, but Sutter and company have a few aces up their sleeves to help weather the storm.
Walter McLaughlin is a Los Angeles Kings correspondent for The Hockey Writers. He is an avid sports fan, having followed the Kings since living in L.A. in the mid-1970's, as well as suffering through Seattle sports teams' general futility. He has a Bachelor's degree in Finance and has worked in community banking for over 25 years, specializing in SBA loans. He is married and has two daughters.