The Washington Capitals have to be the most underrated team in hockey right now. They have been on a hot streak for the past month and are playing some great hockey.
The @washcaps have earned a point in 14 of their last 15 games, outscoring opponents 50-31 over that span. pic.twitter.com/cVOIU9tzQ3

— NHL Public Relations (@PR_NHL) January 8, 2015
This is not the Washington Capitals of the past where their success is dependent on if "The Great 8" Alexander Ovechkin finds the back of the net. This is a team that is deeper, grittier, faster, and much better than people anticipated going into this hockey season. First year head coach Barry Trotz has changed the identity of the Washington Capitals, and is bringing a winning culture to the team on and off the ice. This is one of the most resilient teams in the NHL this year and everyone has bought into the new system and style of play.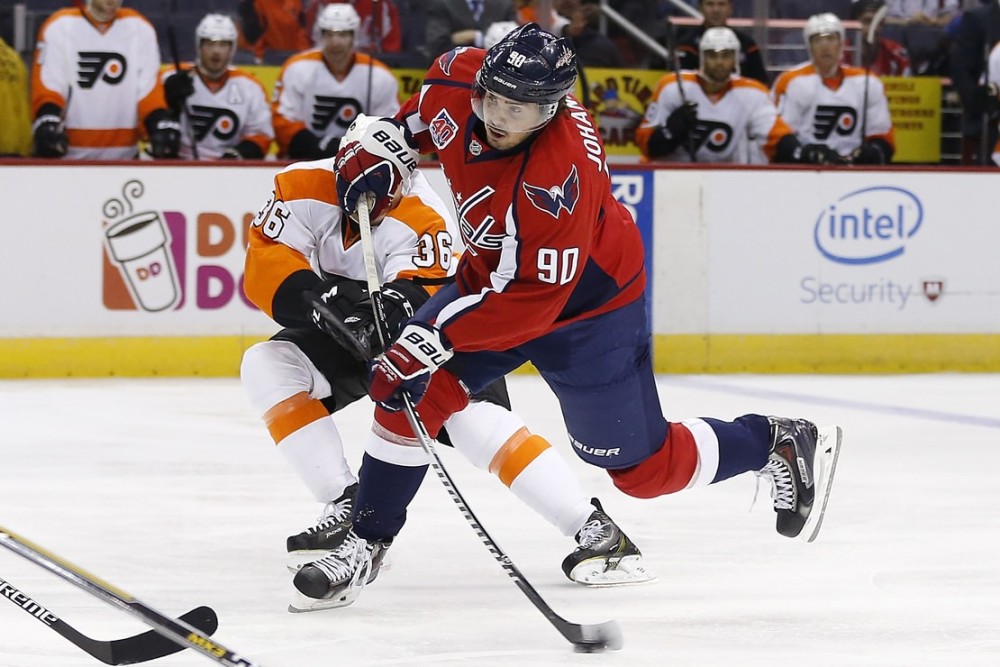 The Washington Capitals are Tough to Play Against
The Caps have become a team that is resilient, can score goals in bunches, and can protect leads. The Capitals struggled last season in that department and it resulted in 28 overtime games. This year the Capitals are protecting leads late in the game with shutdown defense and very good goaltending.
The team shows grit and true toughness. Barry Trotz demands a high work ethic and compete level every night from his group. He has them believing they can beat anyone and can overcome any deficit. It helps that they are such a close team in the room, and it showed on Epix with the energy and desire to win. Young players such as roommates Tom Wilson and Michael Latta add toughness to the Caps and will hit and fight on a regular basis. They are two young players that understand their role on the team and compete every night.
#TheRightWay
The Capitals of recent years had to rely on Alexander Ovechkin and their power play to win games. This year they are getting secondary scoring and contributions from each line. The Capitals have 6 forwards with 10 plus goals this season: Alexander Ovechkin, Nicklas Backstrom, Marcus Johansson, Eric Fehr, Troy Brouwer, and Joel Ward. The Capitals are currently 6th in the NHL in goals and are averaging 3 goals per game this season. Last year their power play was the best in hockey and clicked at 23.4 %. This season it is just as good (23.1%), but they are confident winning games at even strength.
  "Last year we were getting by. We weren't winning hockey games the right way. We were winning maybe on the power play or what not. We relied so much on that. Now we're winning the right way, and there's a consistency level that wasn't there last year," said Mike Green.
Mike Green is healthy this year and has been playing solid hockey for the Caps. Green has 21 points in 31 games and is a +5. Green is not relied upon to play as much as he did in the past and that probably takes a lot of pressure off him. The Capitals defense this year is much improved with the additions of Brooks Orpik and Matt Niskanen from the rival Pittsburgh Penguins. They have both been very consistent and reliable this season for the Caps.
I have not even gotten to their best defender. The addition of Brooks Orpik allowed Karl Alzner, the shutdown defensive defenseman, to play on the second defense pairing instead of the first. Brooks Orpik is currently playing on the top pairing with Norris Trophy Candidate John Carlson.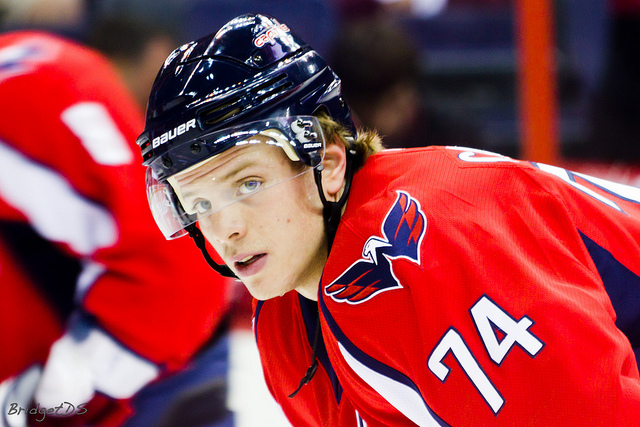 Carlson has been that good and is that good. He has been with the Caps since 2010 and at 24-years-old is enjoying a spectacular season this year. Carlson averages 23:19 of ice time per game for the Caps and is an excellent all-around defenseman. In 39 games this season Carlson has 4 goals, 26 assists, 30 points, and is a +15. He is 4th in scoring for defenseman this season in the NHL and only Kevin Shattenkirk, another great American, has more assists among NHL defenseman then Carlson.
#Caps defensemen have combined to register 84 points this season, ranking sixth in the NHL. For more, read CAPS TODAY http://t.co/FT8f830g7d

— CapitalsPR (@CapitalsPR) January 6, 2015
Braden Holtby has been Spectacular
Only in New York at Madison Square Garden is Braden Holtby known as "Holtttbyyyyy" among fans. The fact that he is ridiculed by the crowd is a complement to the young goaltender. Holtby made a name for himself in the 2012 playoffs when the young goalie led the Caps to a first round upset over the defending Stanley Cup Champions Boston Bruins in 7 games.
The Caps eventually lost to the New York Rangers in 7 games in the 2nd round. Despite the solid play in the playoffs, Holtby had not established himself as the true number one goalie in Washington yet. This season he has and at age 25 he is still entering his goaltending prime. Holtby has given the Capitals a chance to win every night this season and is only going to get better.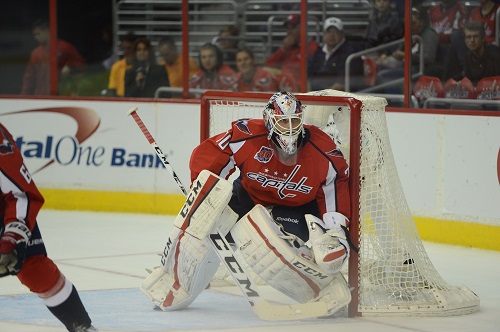 Holtby is a very confident goalie and is a calming presence in the crease .This season he has been a workhorse and has  played  22 games straight for the Caps, and 34 games total this season.
Per @EliasSports: Braden Holtby has appeared in 22 consecutive games for @washcaps, tying Wayne Stephenson's franchise mark set in 1979-80.

— NHL Public Relations (@PR_NHL) January 8, 2015
Holtby has a 19-8-6 record with a 2.29 goals against average and .921 save percentage. It's a very good feeling as a player knowing that your goalie is consistent and there to back you up night in and night out and Holtby has done that and more this season.
Discipline, Discipline, Discipline
The Capitals are an aggressive team this season. One of the concerns they have had lately is staying out of the penalty box. They have to do a better job moving forward of not taking as many penalties, their penalty kill is currently ranked 22nd in the NHL this season at 79.2%. The players know it as well.
"We've just got to take it upon ourselves and hopefully it doesn't take a game where we really get burned on it to realize it. We're probably recognizing that we're taking too many, but we're winning games regardless," said Matt Niskanen.
Niskanen is right, the team is winning games which is encouraging. However, taking penalties will eventually catch up with the team over the course of the 82 game grind of an NHL season.
Brooks Laich had an explanation of his own for the teams penalties.
"If it's careless, mindless, selfish penalties, those are the ones that are very difficult to kill. I don't believe we have players like that, but I do believe we need to do a better job moving our feet, keeping our stick on the ice, and checking the puck rather than reaching and getting behind players," said Laich.
Moving forward staying out of the penalty box is definitely a key point that should be stressed by Barry Trotz. In fact the Capitals have been excellent at even strength this season. Out of every regular in the starting lineup this year, only Tom Wilson (-1) is not even or better in plus/minus.
Capitals Will Keep Improving in 2015
The Caps are playing with a high confidence level and are having a lot of fun this season while doing so. Alexander Ovechkin has bought into the new system and is enjoying playing for Barry Trotz. Nicklas Backstrom has simply been excellent and leads the team in scoring  with 12 goals and 27 assists. Moving forward the Caps have to keep playing with the same confidence and high compete level that they have brought the last month. The team is 9-1-3 in their past 13 games and 3-0 in 2015 including their Winter Classic victory over the Chicago Blackhawks.
This game on Epix against the Columbus Blue Jackets is the story of the type of the team they are, and the season they are having . It shows their resilience, confidence, and ability to win close games against tough opponents. The 2014-2015 Washington Capitals are Eastern Conference contenders and they are a team that will not be content with just an invitation to the Stanley Cup Playoffs this spring.
Article Quotes- http://www.washingtonpost.com/blogs/capitals-insider/wp/2015/01/07/heavily-penalized-capitals-need-discipline-to-limit-whistles/
http://www.washingtonpost.com/sports/capitals/washington-capitals-have-been-here-before-but-this-time-feels-different/2015/01/05/e6908a5c-9521-11e4-aabd-d0b93ff613d5_story.html