*For all the latest prospect and draft news follow me on Twitter: Brian Huddle
Please "Click Here" for "Notes Up Front" and the "Legend" for various topics covered below in my "Live Updated" NHL 2011 Draft Preview article.

Ryan Sproul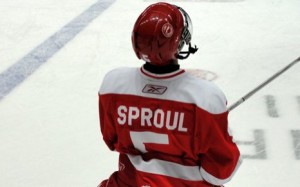 Born: Mississauga, Ontario, Canada
DOB: January 13, 1993
Height: 6'4"
Weight: 185 lbs
Position: Defense
Shoots: Right
NHL Draft Eligibility: 2011
One-Timer:
A year ago he was playing in Midget AAA with the OJHL's Vaughan Vipers, but this slick skating defenseman has quickly become one of the more exciting OHL blue liners to pay money for. It wasn't too long ago that he was a mere 6'0, and wondering where life was gonna take him. No more. Exploding as a top offensive rearguard in the latter half of the OHL Season, Sproul put himself on the map, and into the minds of scouts everywhere.
Hard to imagine such a short season putting him on the map, but it has. Various sources indicate a top 90 selection come June 24th and 25th. Whatever the case, his raw mix of tools, coupled with his high production from January on, should have teams eagerly awaiting his arrival in the NHL over the next few years.
Top Prospects Game: Did not attend.
Statistics:

Scout's Honor:
"Sproul is raw, yes- but whatever issues he may have with his defense and overall game, the fact remains that this kid scored most of his 14 goals after November. The right-shooting Mississauga native was originally going to go the NCAA route, but switched gears for the OHL, which we hear was the better move for him. Ultimately, he's going to get drafted higher than most think because guys who are as big, can skate and shoot like Sproul don't grow on trees. Boom or bust- probably. But homerun potential will be too tempting for him to remain on the board for long. This kid is going to be an off-the-board selection and we liked enough of what we saw of him in the U-18s to say it will happen in the second round."
– (Kirk Luedeke – BruinsDraftWatch2011)
Bio/Interview(s)/Link(s):
International Tournaments
No international experience.
ETA = 3-4 yrs
Risk-Reward Analysis:
Risk = 2.5/5 Reward = 4.5/5
NHL Potential:
Top Pairing Offensive Defenseman
Strengths:
*See "One Timer" section above.
Mobility
Acceleration (Skating)
Big Point Shot
Good On-Ice Vision
Strong passer
Powerplay Abilities
Flaws/Aspects He Needs To Work On:
Strength
Defensive Awaresness
Fantasy Hockey Potential: Offensive = 8.0/10 Defensive = 6.0/10
NHL Player(s) Comparison:
– At his best:
Video(s):
Off The Iron (Interesting Notes):
Started Season with Vaughan Vipers of the OJHL
Considers Drew Doughty his favorite NHL'er
Tampa Bay Lightning Fan
THW's The Next Ones prospect profile template design architect: Chris Ralph
This document is the intellectual property of Brian Huddle and cannot be used or duplicated in any way without expressed written consent. Any use of this document without the expressed written consent of Brian Huddle will result in public exposure and legal prosecution.
An NHL Draft and Prospect Junkie. I'm an avid follower of the CHL, and my primary focus is on scouting and player development of prospects through all leagues. I work for a prospects focused site and my work can be seen in the Future Considerations Draft Guide (http://futureconsiderations.ca/)
Check me out on Twitter as well: @BrianHuddle