Alexander Khokhlachev
Date of Birth: September 9, 1993
Place of Birth: Moscow, Russia
Ht: 5-10 Wt: 172
Shoots: Left
Position: Center
NHL Draft Eligibility: 2011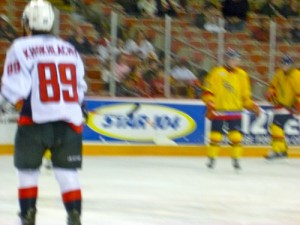 One Timer:
Alexander Khokhlachev is incredibly skilled, there is no denying that. But like many other skilled Russians he will come surrounded by questions. Will that skill translate to the NHL ice? And if things aren't going his way will he bolt back to his native Russia?
-From New York Rangers Draft Preview
Despite being one of the youngest players in the draft, Khokhlachev was able to put up similar point totals to many of the top guys in this draft. Finishing with 34 goals and 76 points was incredibly impressive when you consider his age at the time. Even more impressive has been his playoff performance. Khokhlachev has posted 20 points in 18 playoff games.

The obvious concerns with Khokhlachev are the same as they have been with any Russian Player. If he is not happy here, he can bolt to Russia, be in his native country and make a comparable salary. The team that drafts him will have then wasted their pick, like Nashville did with Alexander Radulov.

Khokhlachev has stated that the NHL is his priority unlike many other players of Russian descent. Because he is already playing in North America there is almost no concern of his signing a KHL contract. In an interview with Hockey's Future writer Alessandro Seren Rosso Khokhlachev discussed this, "to test yourself overseas is always interesting. Any player strives for the world's best league, and today that's the NHL."

Despite carrying the Russian tag, Khokhlachev is a North American player. A lot of highly talented Russian Stars in the NHL have been criticized for floating and taking shifts off, but you don't see that with Khokhlachev. He works hard and uses his body whenever he can.
Top Prospects Game
Alexahnder Khokhlachev was not invited to participate in the top prospects game.
Statistics

Scout's Honor
The first thing that jumps out about Khokhlachev's game is his heart. With a grinder-like style, Khokhlachev hustles on both the forecheck and backcheck. Watch Khokhlachev closer and one will see that he has a terrific hockey sense. Khokhlachev has no problem driving to the net without the puck and banging home a rebound or setting up backdoor for a pass. This style worked great for the center that saw a lot of playing time with wingers Tom Kuhnhackl (Pittsburgh) and Jake Carrick. Khokhlachev also displays a great release that makes him not only a scoring threat just outside of the crease but inside of the zone as well.
–The Scouting Reports Andrew Weiss
"Khokhlachev is pure skill, baby. I wouldn't at all be surprised if he goes top-10 in the NHL Draft come June. He's a game-breaker, and like Alexander Burmistrov, by coming over to North America has shown a commitment to playing here and will alleviate concerns about signability by doing so. He's one of those guys who, although is small, could be in the NHL next season because his speed and puck skills top shelf"
–Kirk Luedeke on Bruins Draft Watch
Bio/Interview(s)/Link(s):
Russian Prospect Interview
The Scouting Report
Hockey's Future Article
International Tournaments:
Khokhlachev simply dominated at the U-17 WHC with 5 goals and 8 assists in just 6 games.
ETA= 2/3 years
Risk-Reward Analysis:
Risk – 1.5/5 Reward – 4/5
NHL Potential:
A dynamic scoring first line center at his ceiling, or a guy that doesn't last too long in the NHL and ends up being a dynamic player in Russia.
Strengths:
*See "One Timer" Section Above
Soft hands
Dynamic skater
Creative offensive force
Finisher
Physical despite his size
Above average playmaking skills
Dangerous if given room
Flaws/Aspects He Needs to Work On:
Needs to add strength
Defensive responsibility
Stronger on the back-check
Better in front of the net
Fantasy Hockey Potential: Offensive = 9/10 Defensive = 7/10
NHL Player(s) Comparisons:
–Alexander Radulov, Alexander Semin
Video(s)
Off The Iron (Interesting Notes):
Studied English in school so he speaks it pretty well
Moved to North America so more scouts could watch him play
Nick-named "Koko"
THW's The Next Ones prospect profile template design architect: Chris Ralph