If you have been paying attention to the hockey world lately, you may have realized that international hockey has been front and center. The World Cup of Hockey is an exhibition showcasing the world's finest talent and it has produced some wild and exciting games so far, the type of hockey that will make your heart race.
That's all great, but it is still nowhere near the excitement that is put on a team and player's shoulders during Olympic play. If the World Cup of Hockey were the first round of the playoffs, then Olympic hockey would be game seven of the Stanley Cup Finals. Both intense. meaningful hockey, but still worlds apart.
If there's one thing that can be taken from all of the commotions of the World Cup, it's that the NHL still needs the international stage of Olympic hockey. Why? Let's take a look.
All Eyes on You
Some would like to say that the World Cup was the NHL preparing for the end of player participation in the Olympics. That might be true, but it will never replace the intensity and pride that comes with playing for your country.
Hop in your time capsule and head back to February of 2010, and travel to Vancouver, Canada. The American's came in as just a group of kids backed by some veterans, with little expectations to pose a threat to the host country of Canada.
Those 'kids' quickly made a name for themselves, going undefeated in group play, capped off by a statement win over the host country, and capturing the interest of Americans, as reflected in the TV Ratings.
The emotion of that group game was captured perfectly in Doc Emrick's call of Ryan Kesler's outstanding empty net goal to seal a win for Team USA.
That game left Canada hanging on for dear life. They were left to play in the qualification playoffs and then came ever so close to being knocked to the Bronze Medal game by Slovakia. They nearly came back from a 3-0 deficit to tie the game, but Canada held on, setting up a gold-medal game for the ages between the two long-time rivals
The American's had rolled through the playoff rounds with no trouble, were still undefeated, and had a goal differential of plus-17. Wildly impressive.
The championship game itself was something that seemed like it came straight out of a movie script. The American's went down early then battled all the way back, with Zach Parise netting the tying goal with 24 seconds remaining.
Ultimately, the American's lost the game off of Sidney Crosby's golden goal, but if anything, this game put USA Hockey into the spotlight and gave people a reason to watch the sport.
Despite the loss, it was still a win for hockey in the states. That game averaged more than 27 million viewers and peaked at almost 35 million viewers. Just how impressive is that? From the New York Post:
The 27.6 million viewers put the game ahead of such recent high-profile sports contests as the Masters golf tournament (14.3 million), the Daytona 500 (16 million viewers), the top game from last year's N.B.A. Finals (16 million), the N.C.A.A. basketball final (17.6 million), Game 4 (the most watched) of the 2009 World Series (22.8 million) and the 2010 Rose Bowl (24 million).

And most of those games were played in prime time. The hockey game went on at 3 p.m. Eastern time — noon Pacific. The audience reached a high point of 34.8 million viewers from 5:30 to 6 p.m. when the game was sent into overtime by the U.S. team.
Did that give the NHL a rating boost for the rest of the season? It sure looked like it. That year's Stanley Cup Final between the Chicago Blackhawks and Philadelphia Flyers averaged 5.2 million viewers on Versus and NBC, easily the highest post-lockout numbers to that point. That also included a game six that averaged 8.3 million viewers, the sixth most watched NHL game ever to that point (now seventh).
If that wasn't enough to convince you, then look no further than the 2014 Sochi Olympics. Russia and the United States were involved in a heated game that ultimately came down to a shootout. T.J. Oshie made himself a household name.
Once again, American's were falling in love with their hockey team. That game averaged over four million viewers and peaked at nearly six and a half million viewers. That in itself isn't overly impressive, but you have to remember, that game was being finished up at nearly 9:00 am on the East Coast on a Saturday morning. That makes it extremely impressive. And if that weren't enough, reactions around the States will certainly prove just how excited people were.
The US went on to play Canada in the semi-final and ultimately falter, but that game, which was played on a weekday afternoon, averaged 3.9 million viewers, and set an NBC streaming record, topping Super Bowl XLVI.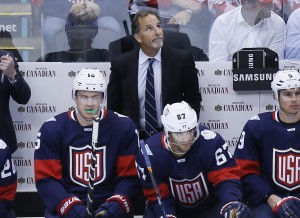 That year's Stanley Cup between the New York Rangers and Los Angeles Kings also posted good ratings, averaging nearly five million viewers in a series that was largely one-sided. The following year also saw a rating boost, with the Cup Final averaging 5.6 million viewers, impressive considering it included a Floridian team.
Where does the World Cup of Hockey stand in all of this? Well, the USA vs. Canada game averaged a measly 766,000 viewers, which pales in comparison to viewership even from group play of the Olympics. Things get even worse when you put it into context.
The World Cup is being broadcast on ESPN networks as opposed to the Olympics which are broadcast on NBC networks. ESPN reaches 10% more households than NBCSN and about the same as MSNBC (which had the USA/Canada group play game in 2010), yet their ratings aren't even in the same league. Compounding that is the fact that ESPN had the World Cup game in primetime on a Tuesday night, where the only sport competing with it was the MLB. Nearly all of the Olympic games were at odd times, and the 2010 gold-medal game was on a Saturday afternoon.
Missed Opportunity
While everyone is still focused on the mangled mess that Team USA became after the World Cup, there is plenty of optimism waiting in the wings for American hockey. Most of that talent was largely stuck on Team North America, so we didn't get a glimpse of how these guys would play with the guys currently on Team USA.
What would a theoretical Team USA in 2018 look like? Well here's my best guess at what they could put together for lines:
Offense
Auston Matthews-Jack Eichel-Patrick Kane
Johnny Gaudreau-Joe Pavelski-Phil Kessel
Zach Parise-Tyler Johnson-T.J. Oshie
James van Riemsdyk-Ryan Kesler-Max Pacioretty
Extras: Bobby Ryan, Alex Galchenyuk , Brandon Saad
Defense
John Carlson-Ryan McDonagh
Shayne Gostisbehere-Justin Faulk
Kevin Shattenkirk-Ryan Suter
Extras: Dustin Byfuglien, Seth Jones
Of course, due to the presence of Team North America, Team USA missed out on the opportunity of having all of these guys play together at once. But just take a step back and ponder, how would this team stack up against Team Canada?
Pretty well, but will it ever happen? That question remains to be answered, but right now, things aren't looking good.
That really doesn't set up well for Team USA. The past few international appearances for them have been less than stellar. The 2014 Olympics started out very well, and then abruptly ended after the offense fell apart against Canada, and the team as a whole was man-handled by Finland, leaving them with no medal.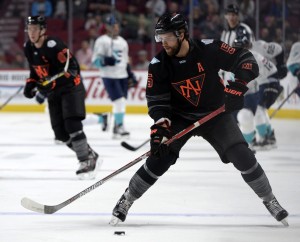 Then there was this World Cup, which quickly turned into a disaster. It remains to be seen if Team USA is going through a rebuilding phase, a case of mistaken identity, or just bad management, but if one thing is certain, it's that this team is going to be much better if they get to play in 2018.
The fact that the NHL would even toy with the notion of not having these young superstars play on an international stage is just downright silly. Forget Sidney Crosby and Alexander Ovechkin, can you imagine Auston Matthews and Connor McDavid going head to head in a gold-medal game, with Matthews trying to bring America their first gold in 38 years? That's something straight out of a movie.
Of course, stuck in all of this is the fact that amateur hockey is still very good, but would these guys have any business even competing? Russia would almost certainly become a favorite almost overnight. The KHL is rife with talent, and Russia would certainly still pull from this talent pool.
Team USA, most of all would be missing out on a huge opportunity if the NHL does not go back to the Olympics. The youngsters I mentioned in those lines above are extremely exciting to watch, full of speed, and chomping at the bit to get their shot to bring America a gold medal.
Conflict of Interest
The most important thing in all of this is probably the fact that if the NHL decides not to send their players, they're going to have some big issues to deal with.
Alexander Ovechkin has already made it very clear that he will go play in South Korea in 2018, regardless of whatever punishment the NHL threatens him with. That could cause a whole mess of controversy in the Washington Capitals organization. Mid-February is just about when playoff races start to heat up and if the Caps are in the midst of it and lose the centerpiece of their team for two weeks, how would that go over? Not too well.
I'm sure Ovechkin won't be the only one to hop on this train, other players would likely follow suit.
Then, of course, there would be the conflict of an NHL season going on concurrently with the Olympics. Would the NHL really want to deal with that?
As I mentioned above, International Hockey (at the Olympic level) has consistently produced higher ratings than NHL games. I also mentioned that NHL playoff races start to heat up in mid-February. Well, if the NHL decides not to go to the Olympics, and Team USA were to make some sort of run akin to what happened in 2010, the NHL would quickly find their playoff races on the backburner to Olympic hockey. Don't forget, they would also be sharing airtime with the Olympics since both are broadcast on NBC networks. Forget about any Wednesday Night Rivalry or Saturday NBC games while the Olympics are on-going.
They could take the easier route, which would be to shut down for two weeks, give the Olympics center stage, and then present themselves as the highest level of hockey to watch post-Olympics, and feature players that just played their heart out for their country.
That's something they should want, and should take advantage of.
The NHL has grown significantly in popularity since 2010. Can that be attributed to the 2010 Vancouver Olympics or the 2014 Sochi Olympics alone? Probably not. But having NHL players participate in them certainly allowed the best possible competition to be presented to the world, and that has produced many unforgettable games.
If history has proven anything, it's that when America is competing on an international stage, people will tune in and take notice. The NHL has the advantage of being the only one of the four major sports that is very competitive in international play. Basketball has its place, but it's lopsided. Baseball is returning to the summer Olympics, but without MLB players, which makes it significantly less competitive, and Football doesn't even hold a place in the Olympics.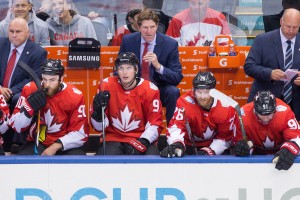 Regardless of if the NHL decides to go, Olympic hockey will remain very competitive. The US and Canada may not be part of the upper echelon of teams anymore, and Europe may prosper, but like I said, it will still be good hockey, and that's why the Olympics don't need the NHL.
Of course adding in NHL players gives the league that much of a boost. If a casual hockey fan sees T.J. Oshie locked in a battle with a Russian goaltender with the game on the line, don't you think he or she might be more likely to tune in and catch Oshie in an NHL game take the ice with St. Louis (now Washington)? I'd sure think so.
There are plenty of kids that saw Oshie in that shootout or Zach Parise tying the game, nearly jumping through the glass at Canada Hockey Place, and were inspired or just found their new 'hero'. That's not to say that can't happen with amateur players, but it's not the same. You may never hear of that amateur player again, but that same kid could watch Zach Parise or T.J. Oshie play in the NHL every night through his childhood, and now the league has just gained another lifelong fan.
If the NHL ultimately decides not to go to the Olympics in 2018, they are not only keeping their players from representing their countries, they are doing themselves a disservice by not seizing the opportunity for the game to grow, and that is why the NHL needs the Olympics.
Matt is a contributor for the Philadelphia Flyers at The Hockey Writers. He has previously covered the Flyers for GrandstandU. He enjoys playing hockey and making music in his spare time.