There's a reason why most pro hockey players don't often partake in extracurricular activities outside of the rink. These guys are some of the most gifted athletes in the world, who are so dedicated to their craft that anything that doesn't involve a stick and a puck is just unnecessary noise. They're also making millions of dollars to compete in the NHL, so sticking to hockey makes a lot of sense.
Some players, however, need something outside of hockey to ease their minds from the daily grind that is the hockey season. It gets hot in the spotlight, even for the toughest of customers. Many players turn to music to provide the necessary escape they seek.
While NHL players like to use music in their warm-up routines or while celebrating a win, few are known for actually making music. Believe it or not, the NHL has seen a lot of musical talent on its rosters over the years. Some of it is pretty cringe-worthy (let's just say it's a good thing Phil Esposito stuck to his day job), but others are legitimately good. Let's take a listen to a few.
MIKA – "Forever"
After being sent from the Ottawa Senators to New York last summer, Rangers centerman Mika Zibanejad had a good year under the bright lights of Madison Square Garden, producing 37 points in 56 games, with a couple of big playoff goals to boot. Somehow during that time, the 24-year-old also managed to work on his budding music career as a DJ/Producer.
As an avid follower of techno and electronica, Zibanejad has a side gig as DJ Z-Bad, where you'll find him at various parties dropping beats like a clumsy farmer and spinning songs by his favorite artists like Avicii, Swedish House Mafia, and Zedd. In November 2016, he made his Broadway debut on the one's and two's at a fundraiser for teammate Henrik Lundqvist's Foundation, and earlier this June, Zibanejad released his first single under the moniker MIKA titled "Forever."
Listening to the sleek production on "Forever," you wouldn't know it was produced by a guy who spends most of his time playing professional hockey. It sounds fresh and modern; a simmering banger that wouldn't feel out of place in today's Top 40 radio.
Featuring vocalist Sara Milligan, "Forever" is about "the ups and downs of a relationship. You want distance, but you can't stand being away from the other person. There are always things you like and don't like, but in the end your feelings always make you want to stay." I assume he's talking about hockey, right?
Darren McCarty and Grinder
Former NHL forward Darren McCarty is best known as one of the game's toughest enforcers for the Detroit Red Wings, not to mention the four Stanley Cups he hoisted as a member of the team. While he wasn't throwing punches at the likes of Claude Lemieux, McCarty was getting his kicks as frontman for his band "Grinder."
As a self-proclaimed Iggy Pop fan, McCarty always had a love for hard rock, which is represented well in his style of play. Grinder, named after the "Grind Line" he played on in Detroit, was founded as a way of helping former teammate Vladimir Konstantinov and Red Wings' masseur Sergei Mnatsakanov after they were paralyzed in a limousine accident in 1997.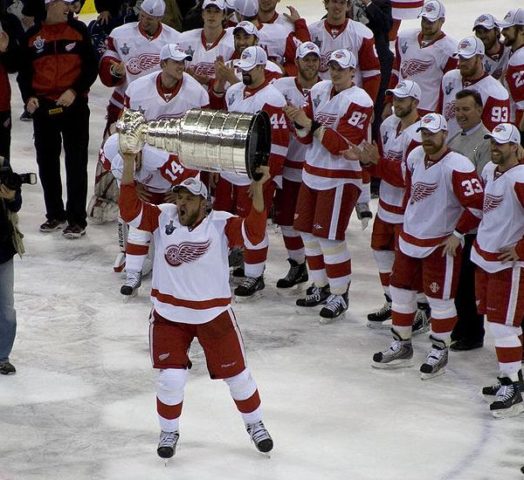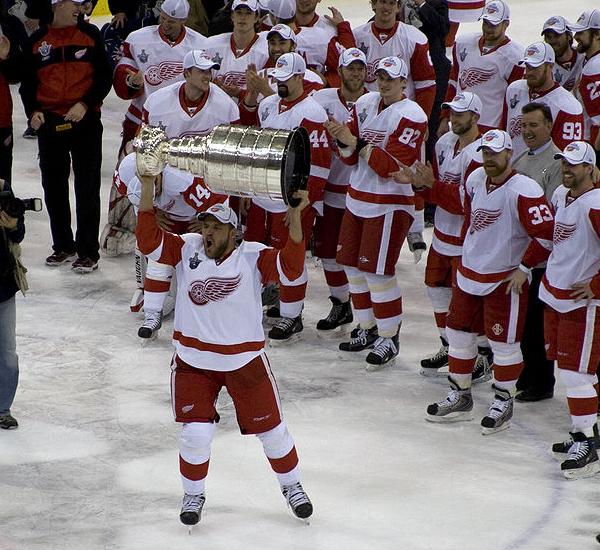 In 2003, Grinder decided to record a full-length album. McCarty got himself a vocal coach to improve his singing, and with the band, he wrote five songs that reflected his influences of 60s and 70s garage rock. "I'm not very musically [savvy]. I play a couple chords, [enough] to put the music together. But I always loved English and stuff like that. I could write poetry and put words together," he said at the time.
During the offseason, the band recorded their debut album Gotta Keep Movin' at the Chophouse, the studio owned by McCarty's good friend Kid Rock. Produced by Al Sutton of Rustbelt Studio, Gotta Keep Movin' is a solid set of loud, punk rock and roll.
You'd be forgiven for assuming rock songs by a hockey player (who is also friends with Kid Rock) would be kind of bland, but when an album also includes covers by The Stooges and The Damned (hey, the guy's got good taste), the result is a pretty fun listen.
Hockey-Playing Guitarists
Not everybody in the NHL has the ability to write a song or produce a banger, but there are still quite a few players who know their way around a 6-string. Guitars and hockey just go hand-in-hand, right? Who doesn't love to pretend to rip a wicked solo with a hockey stick? Just me? At any rate, it seems only natural that a lot of hockey players would pick up the guitar. Some might argue it helps with their hand-eye coordination (I wouldn't doubt this), but for others, it's simply a fun little hobby.
Joffrey Lupul
Joffrey Lupul is no stranger to the benefits of living in a music city, having played for the Philadelphia Flyers and now the Toronto Maple Leafs. He first picked up a guitar in 2003 as a member of the Anaheim Ducks, and now his guitar is something he can't live without. "It's a good way to take my mind off work," he says.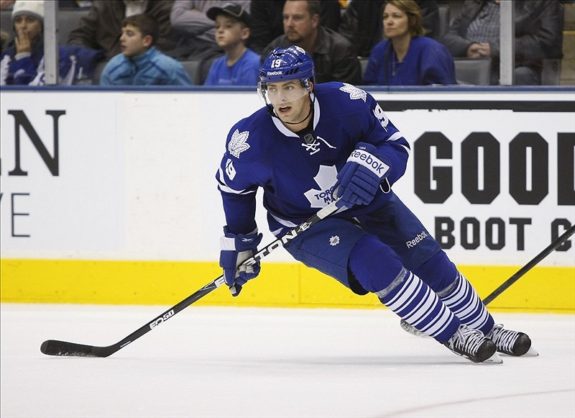 While he isn't in a band just yet, he isn't adverse to a little mellow singing and strumming in his downtime. Aside from playing, Lupul also devours and collects all kinds of music, including that of Jack White, his favorite guitarist and a man he met a few years ago in Toronto. I guess playing hockey in Toronto DOES have its perks.
Drew Stafford and Ryan Miller
As teammates in Buffalo, Drew Stafford and Ryan Miller were also known for their musical talents. Stafford is a self-proclaimed metal-head, who took up the drums at the age of 7. While getting behind the kit will always be his first love, he has since become a metal guitarist as well.
Stafford has been in two bands – Invisible Children and Real Seal Peach – for whom he still writes and records demos. "If I wasn't playing hockey, I'd probably be on tour right now," he has said in the past. "There is no doubt that I'd be doing music full time if not for hockey." Funny enough, Stafford did get a small taste of the touring life at one point.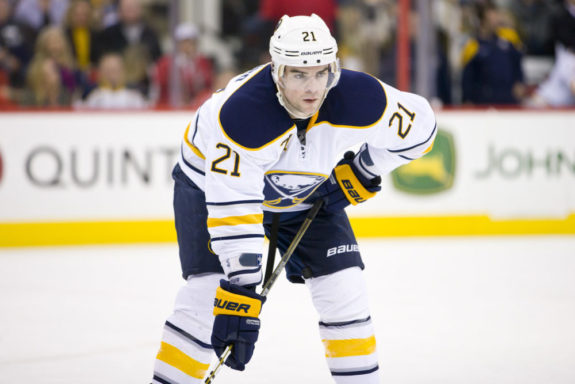 In the summer of 2008, he saw his favorite band Every Time I Die play a show on the Warped Tour, and he ended up befriending the band, who also happened to be from Western New York. "I met them in Chicago last week, hopped on the bus with them and drove to the next show," Stafford said. "They are the real deal. To see them in person and learn a couple of things was just really cool."
While Stafford aimed for the mosh pit, Miller was more of a stoic guitarist, much like his presence in net. Unlike Stafford, he didn't have a band to fall back on, although he would sometimes moonlight as the rhythm guitarist in Buffalo's number one Tragically Hip cover band: Strictly Hip.
As teammates for the Sabres, the two players did team up on stage at one point for a slightly awkward performance at a charity event in Buffalo, but that was as far as their collaboration would go.
"I'm not a good enough musician," Miller said back in 2007. "Give me some chords and a simple song, and I'm good. Beyond that, I'm not as good as [Stafford], or anything. He's totally good enough to do it professionally. Me, I'm happy to play rhythm guitar."
Henrik Lundqvist
Some people have it all, don't they? It sure would seem that way for New York's Henrik Lundqvist (well…there is that ONE thing). Aside from his good looks, sharp suits, gold medals, and goaltending accolades, Lundqvist is also known for his love of music and playing the guitar. It started when he was 7 years old in Sweden, and he even started a band back in the day with his brother on bass and sister on drums. Since then, he's made the most of his time in New York City when it comes to music.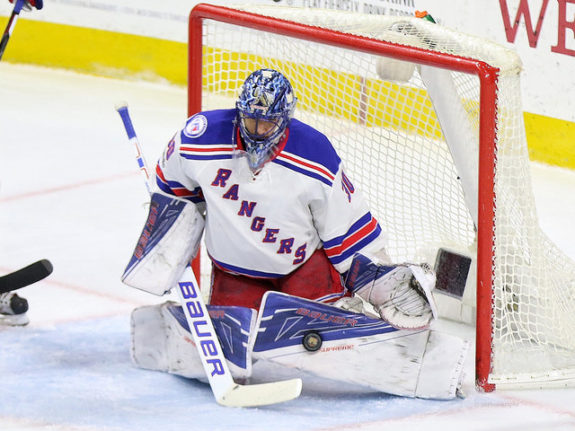 "It's more of an escape mentally to relax and think about something else," Lundqvist told NHL.com. "Music to me is a release; you are just relaxing and enjoy it and don't think about the game, and that kind of helps me save energy and come back to the rink."
Ah yes, what better way to relax than to play some Guns N' Roses on The Tonight Show with Jimmy Fallon or jam in a band with tennis legend John McEnroe?
Hey Lundqvist, save some the talent for us, okay?
Kris Versteeg Busts Rhymes
So, maybe rock or electronica isn't your thing. Don't worry, it's cool. The NHL boasts a diverse musical landscape, and I'm not just talking about country music or jovial theme songs either. Believe it or not, the NHL has a little hip hop cred too (because, you know, when I think hockey, I think rap). One NHLer, in particular, has been known to bust a rhyme or two. Meet your new favorite rapper, straight outta Lethbridge, Canada: Kris Versteeg.
You see, Versteeg is an NHL journeyman. He's been everywhere, and he's seen a thing or two. He's also put up some respectable numbers as a Chicago Blackhawk. So, it only makes sense that Versteeg has a flow like no other player in NHL history (and I'm not talking about hair, which for the record, would be Carl Hagelin's). To get up and freestyle in front of the entire city of Chicago takes a hefty amount of courage and a negative amount of shame. Versteeg has both, and then some.
If the whole hockey thing doesn't work out for him, Versteeg can always become the fifth member of the Black Eyed Peas. And if THAT doesn't work out, he can always go solo. Hey, maybe he can convince his fellow countryman P.K. Subban to do a duet! It would be a shame to waste all that talent.