Since the 2008-09 season, one team has played the most boring hockey you're going to find in the NHL.
This team is the prototypical "low event" hockey club, where there are so few shot attempts going either way that their games grind to a halt and become less a riveting chess match than a game that lacks the kind of watchability other teams have even when the score is low.
I'm talking about the New Jersey Devils.
What They Do
It's not news that the Devils have a glacial style, suppressing shots incredibly well, but not having the offensive force to take the puck back in the other direction in a threatening way.
Since the 2008-09 season, no team has conceded fewer shot attempts to opponents and no team has taken fewer shot attempts themselves. Those two numbers combine to create some very slow hockey annually.
At even strength this season they've had 91.2 shot attempts (for and against) per 60 minutes of play. That's the second lowest total shot attempt rate of any team since 2008-09. The fewest? The 2012-13 New Jersey Devils. Third fewest? 2013-14 New Jersey Devils. Fourth fewest? 2011-12 New Jersey Devils. Seventh lowest? 2010-11 New Jersey Devils.
Home is Where the Heart Is
Many people have likened their game — across coaches and now with a new GM — to watching paint dry, to grass growing, thawing turkey, driving across Kansas, watching Shia LeBeouf do anything at all… but like many teams do, they are better at playing their style of game at home.
But playing better for the Devils doesn't necessarily mean a more exciting game for the fan.
Let's make up a season ticket holder who has had tickets and gone to every home game since the 2008-09 season.
We'll call him Devin.
Devin has seen 280 Devils home games. Roughly the same as every other team, with a couple game swing for where teams are in their schedule this season.
Devin has seen 24,798 shot attempts for and against the Devils in those 280 games. That's nearly 4,000 shot attempts fewer than any other team's season ticket holder.
The next lowest total is Columbus's 28,655.
4,000 shot attempts is a crazy number. No other two teams are separated by even 1,000 shot attempts.
At the far end of the spectrum, Devin has seen nearly 10,000 fewer shot attempts than his counterpart in Toronto.
Here's how that gap looks graphically. Each bar represents a team, with the Devils on the far left.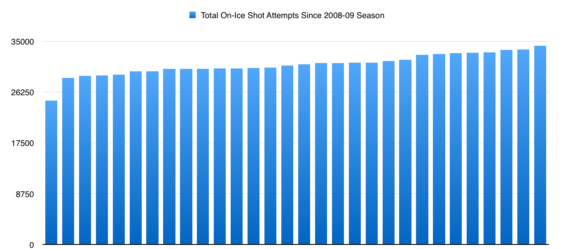 It's maybe easier to understand how that gap plays out as a game rate. A Devils game, on average, features 15 fewer shot attempts than the team with the next fewest on-ice shot attempts per game. (That's shot attempts for and against per 60 minutes of all situation play.)
This is what that looks like across the league. That's the Devils all the way at the far left, again.

This is What Boring Means
What it's about is their watchability. If you're flipping through Gamecenter on a busy night trying to find a game to watch, if you're not a Devils fan, you're probably not tuning into a Devils game. It's far from being hard and fast that the fewer shot attempts the more boring a team, but the Devils produce so little on the ice that it's noticeable to the most casual of fans.
While the majority of hockey fans can enjoy a low-scoring game, this kind of game is a different beast.
This doesn't mean by any stretch that the team is terrible. They've suppressed shots at an incredible rate over the last eight seasons and it's worked well for them. They've posted a +99 goal differential, which is the 14th best mark in the league over that stretch.
High event hockey may be exciting, but it doesn't make any team great. As we said in the Devin example, the team with the most shot attempts in that time is the Toronto Maple Leafs and they have not been great over the last eight years.
As much as many go the easy route a blame Jacques Lemaire, blame the trap, find something to blame, they're a team with an identity that has worked very well for them. And it's worked across quite a few coaches with Brent Sutter, Lemaire, John MacLean, Lemaire (again), Pete DeBoer, a combo of Scott Stevens and Adam Oates and then John Hynes.
The common thread was largely Lou Lamoriello, but the team has maintained that identity in their short time under new GM Ray Shero. Is that the result of the roster he was left with from Lamoriello? At least in part. But it's a style they're going with and has worked for them. Few franchises have such a strong identity and while it can win games, it's often a boring affair.