The Nuck Stops Here is a Vancouver Canucks news and analysis column that runs every Sunday throughout the season.
NEWS
Alex Biega Extended
The following is a press-release from the organization:
Vancouver, B.C. – Vancouver Canucks General Manager Jim Benning announced today that the club has signed defenceman Alex Biega to a 2-year, one-way contract extension.
Biega, 27, has registered 4 assists and 12 penalty minutes in 25 games with Vancouver during the 2015.16 season. He made his debut with the Canucks during 2014.15, appearing in seven games and notching a game-winning goal.
That same season, Biega collected 19 points (3-16-19) and 24 penalty minutes in 62 games with the Utica Comets, ranking second in scoring among defencemen on the team. He also played in 23 Calder Cup playoff games for Utica, collecting four points (0-4-4) and 16 penalty minutes. Biega has played 347 career AHL games with three teams.
The 5'10", 193-pound defenceman was selected by the Buffalo Sabres in the 5th round, 147th overall of the 2006 NHL Entry Draft. He originally signed with Vancouver as free agent on July 5, 2013.
So can everyone finally see why/how Alex Biega beat out Frankie Corrado for a job? Well deserved contract extension. Solid/cheap 5-6 guy.

— JAY JANOWER (@JayJanower) February 3, 2016
Yannick Weber Assigned to Utica
The following is a press-release from the organization:
Vancouver, BC – Vancouver Canucks General Manager Jim Benning announced today that the club has reassigned defenceman Yannick Weber to the AHL Utica Comets.
Weber, 27, has appeared in 35 games for the Canucks this season registering five assists (0-5-5) and 24 penalty minutes. In 2014.15, Weber played in 65 games for the Canucks, where he notched 21 points (11-10-21) and led Vancouver defencemen in goals and powerplay goals (5).
The 5'11", 200-pound defenceman has appeared in 264 career NHL games split between the Canucks and Canadiens, recording 68 points (22-46-68) along with 122 penalty minutes. He has also registered four points (3-1-4) in 12 career playoff games.
A native of Morges, Switzerland, Weber was originally selected by Montreal in the third round, 73rd overall, at the 2007 NHL Entry Draft.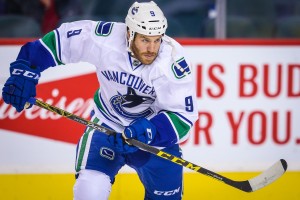 Brandon Prust Assigned to Utica
The following is a press-release from the organization:
Vancouver, B.C. – Vancouver Canucks General Manager Jim Benning announced today that the Canucks have reassigned forward Brandon Prust to the AHL Utica Comets.
Prust, 31, has appeared in 35 games for the Canucks this season, where he has registered seven points (1-6-7) along with 59 penalty minutes. In 2014.15, Prust notched 18 points (4-14-18) and 134 penalty minutes in 82 games with the Montreal Canadiens. The left winger also tallied four points (1-3-4) and 35 penalty minutes for Montreal during the 2015 Stanley Cup Playoffs. Since his debut in 2006.07, Prust has recorded 115 points (40-75-115) and 1,036 penalty minutes in 486 NHL regular season games split between the Canucks, Canadiens, Rangers, Flames, and Coyotes.
A native of London, Ontario, Prust was acquired from Montreal in exchange for Zack Kassian and a 2016 fifth round pick on July 1, 2015. He was the Calgary Flames' second pick (third round, 70th overall) at the 2004 NHL Entry Draft.
Scores of the Week
Vancouver Canucks – 1 : Columbus Blue Jackets – 2 (SO)
Vancouver Canucks – 1 : Calgary Flames – 4
Current Record: 20-20-12 (52 Points ~ 5th in Pacific Division, 11th in Western Conference, 24th in NHL)
ANALYSIS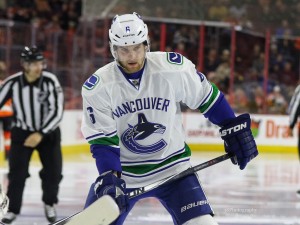 Waiver transactions a big positive for Canucks
These past handful of weeks have been full of change on the Canucks roster. With the likes of veteran forwards Chris Higgins and Brandon Prust, as well as depth defenceman Yannick Weber being placed on waivers, it appears as if this is a team dedicated to the youth movement. These moves, which are essentially just trimming down the roster of unneeded depth pieces, may be just the tip of the iceberg for the Canucks. With big names such as Dan Hamhuis and Radim Vrbata set to hit the open market this summer, it seems realistic, if not likely, that both of them could be gone by February 29th (the date of the NHL's trade deadline). In addition to the free agents, Jim Benning and Co. may see it worth their time to explore trade options for a player such as long-time Canuck Alex Burrows, who doesn't become a free agent at season's end. In any case, the willingness to waiving three veteran, NHL-caliber pieces represents at least some sort of dedication to the youth movement, as younger and more worthy players such as Jake Virtanen and Alex Biega are given more of an opportunity to shine. On paper, waiving three guys with a combined three goals to their names is nothing particularly noteworthy, but in the case of the Canucks, it could signal the start of something bigger, and be a significant turning point in the direction of the organization. The implementation of youth is what the fans have been clamoring for, and it looks like management has caught on.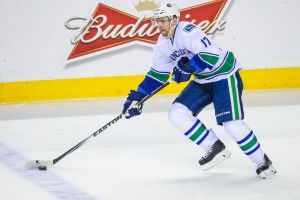 Losing Radim Vrbata would not be a hit to the Canucks
As mentioned above, it seems probable that the Canucks will be looking to move Radim Vrbata at this year's trade deadline. While the 34-year-old has the reputation of being a goal scorer, with a couple of 30-goal campaigns under his belt, he has struggled badly this season, with just 11 goals in 50 games, and many of those coming in multi-goal efforts. For a guy who has played top-six and PP1 all season, Vrbata has not been nearly consistent or productive enough, and for a team that would like to further showcase it's up-and-coming talent, trading Vrbata is an absolute no-brainer. Thing is, the team likely wouldn't lose much short term either. Vrbata has yet to score a goal in 2016, and has just two assists in that same time frame. It's hard to argue that an Emerson Etem, a Jake Virtanen, or even maybe a Hunter Shinkaruk (who is lighting up the American Hockey League) wouldn't be a more exciting option for the club, and a more productive one at that. The Czech winger has the talent, as evidenced by his 31 goals and All-Star appearance last season, but he's just not working on this team right now. Trading him now for an early-round draft pick would have almost no effect on the short-term gain of this club, and is nothing but an absolute positive for the future.
AROUND THE BLOG-O-SPHERE
Fun links about the Vancouver Canucks from all around the internet
An analysis of the Canucks through the neutral zone through the month of November [CanucksArmy]
Canucks fans better be prepared for a roller coaster ride as the youth movement commences [National Post]
How should Canucks fans react to the Alex Biega signing? [Pass It To Bulis]
In a typical Sedin-like manner, Daniel Sedin gave away all his earnings to Canucks trainers [Vancity Buzz]
What Brandon Prust's exit means for the Canucks [The Canuck Way]
Vancouver Canucks prospect report for the month of January [Sportsnet]
Also, a special shout-out to Jeff Paterson, former TSN 1040 radio host who has found work again:
A great day. Really excited to be joining both @theprovince & @CanucksArmy https://t.co/SJnd4lojis

— Jeff Paterson (@patersonjeff) February 5, 2016
Markus is a Vancouver Canucks columnist out of Victoria, BC. Markus is also a Staff Writer for Last Word on Hockey, an Editor and Staff Writer for country music website The Shotgun Seat, and founder of This Is Country Music.