'The Nuck Stops Here' is a Vancouver Canucks news, opinion and analysis column that runs every Sunday throughout the regular season.
News
Jordan Subban Re-Assigned to Utica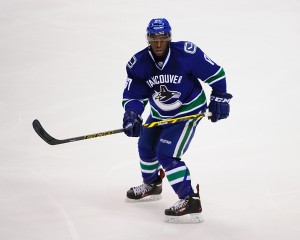 The Canucks announced Thursday that the club has reassigned defenceman Jordan Subban to the Utica Comets of the American Hockey League. The 21-year-old has scored nine goals and 22 points in 34 games, with six power-play goals and 83 shots on goal. This puts him on pace to best his 2015-16 campaign (that saw him score 36 points in 67 games). Subban was drafted 115th overall (4th round) of the 2014 NHL Entry Draft, and has yet to make his NHL debut.
Scores of the Week
Chicago Blackhawks – 4 : Vancouver Canucks – 2
Colorado Avalanche – 2 : Vancouver Canucks – 3
Arizona Coyotes – 3 : Vancouver Canucks – 0
Current Record: 23-21-6 (52 Points ~ 6th in Pacific Division, 10th in Western Conference, 19th in NHL)
Analysis
Reid Boucher Deserves a Shot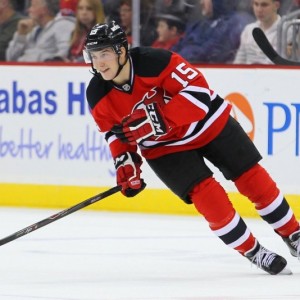 The Canucks' offensive struggles have been well documented at this point. The club has scored just 15 goals in their past nine games, winning just three of those games in the process. The power play has struggled to gain any sort of momentum, while the team's big names — the Sedins, Loui Eriksson, and even Bo Horvat — haven't seen any sort of regular offensive output of late.
With this in mind, one would think that the coaching staff would make any sort of adjustment to squeeze out as much offence as possible. However, that does not appear to be the case with head coach Willie Desjardins. Despite claiming Reid Boucher, a former OHL scoring champion, off of waivers, he hasn't been given a chance to succeed thus far. Desjardins has appeared to favor the uneventful styles of Michael Chaput, Jayson Megna and Brendan Gaunce which, if the team was scoring, isn't a bad strategy. That said, the Canucks are not scoring, and playing the aforementioned three players, of a combined four goals, ahead of Boucher seems counterproductive.
While Boucher has failed to make a huge impact at the NHL level (he has a respectable, though unremarkable, 30 points in 86 games), he has shown that he at least has the ability to put the puck in the net. At this point, with the club pushing for a playoff berth, they should be willing to try anything that will give them even a slight edge over their opponents. Giving the 23-year-old a chance to succeed would be a good way of doing so, and it's up to the coaching staff to make the right call on this matter.
The Sedins Should Be Deployed Differently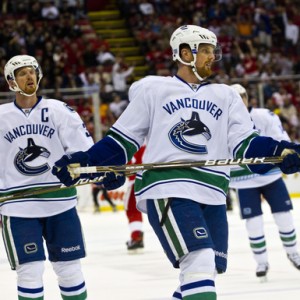 The Sedin twins have had two of the most illustrious careers of any NHL players from their era. They have both taken home respectable hardware, and both will certainly finish their career with over 1,000 points (as Henrik has already accomplished). While the idea of splitting the two up has been discussed many times, it has very rarely been taken to action. That being said, with the two having put up just a handful of points each over the past several weeks, it may be time to give something else a try.
These days, the pressure isn't necessarily on Henrik and Daniel to be producing at the rate they're normally accustomed to, simply due to the emergence of Bo Horvat and Sven Baertschi as regular offensive threats. However, the coaching staff must always be looking for new and innovative means of success, and that could include splitting the twins up. Whether that be by playing Daniel alongside Horvat as a regular fixture, or the occasional shift playing alongside someone other than Henrik, it could prove to be the change needed to kickstart the Swedish stars (who are on pace to put up their worst offensive campaigns in years).
One could also put forward the proposition of simply playing them on different power-play units. This would force them to perhaps see the ice in a different manner, and would also spread the wealth of talent across two separate units. It's certainly possible that splitting the two up wouldn't prove effective, and that the team would be forced to revert back to their habitual strategy of pairing them together. However, it couldn't hurt and could be a creative solution to get the Vancouver offence running smoothly again.
Around the Blog-O-Sphere
Fun links about the Vancouver Canucks from all around the internet.
A look at how the Canucks got into the playoff mix [National Post]
Limited offence earns the Canucks a middling grade [TSN]
How are the Canucks exceeding expectations? [Sportsnet]
A Canucks trade deadline roundtable [The Canuck Way]
Pavel Bure named one of the NHL's top 100 players of all-time [Daily Hive]
Bo Horvat not the only sports standout in the household [The Province]