DEVILS PROSPECT HEADING TO THE OHL?

New Jersey Devils' 2010 second round pick (38th) Jon Merrill was suspended twelve games prior to the season by the University of Michigan Wolverines for violating team rules. Recently, Jon Merrill was seen visiting the Plymouth Whalers (the OHL team holding his rights) and as Guy Flaming (Coming Down the Pipeline) reports it is leading to speculation that Merrill could be the next NCAA player to jump ship to the CHL. Merrill only has a few weeks to make the jump (if he chooses so) if he wants to play in the OHL.
 UPDATE (3:45pm Oct 24):  @HockeyProspect reporting that "Jon Merrill is staying at U of M and will not be signing with Plymouth"
BARRIE COLT WELCOMES BACK MARK SCHEIFELE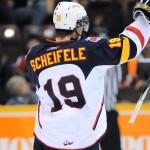 The Winnipeg Jets have returned Mark Scheifele to the Colts after playing seven NHL games and scoring one goal. Claude Noel ate his previous words when he stated before the season that "he would be stunned if Mark Scheifele did not stick with the team this year". That was a little bit premature Mr. Noel. Colts get a huge boost with Scheifele's return and it will be interesting to see how the lines shake up with the trio of Behenna, Hall and Pearson playing so well. Former Winnipeg Jet turned Colt head coach Dale Hawerchuk will surely provide Scheifele with all of the chances to develop.
WHAT ELSE CAN BE "SAAD"?
Since re-joining the Saginaw Spirit, the Chicago Blackhawks camp standout Brandon Saad has been red hot scoring in each of his five games played to date. Saad had an extremely strong week notching a 5-point game and 4-point game to go along with another single point game. As I tweeted last night,
"@rossyoungblood Saad with 1g&3a tonight gives him 13 points in only 5 GP. His pt/game pace (2.6) is higher than Yakupov's"
Those are some pretty impressive stats for Brandon Saad and his performance has helped out the struggling Spirit who have went 4-1-0 since his return. Look for Brandon Saad to become the OHL Player of the Week later today.
CONFIRMED: Saad named OHL Player of the Week. Congratulations Brandon!
SPITS VOICE THEIR OPINIONS ON THE USHL & NCAA DEVELOPMENT ROUTE?
This story will certainly strike up some controversial debate. Last Friday, the Windsor Star released an article (Schmaltz on Spitfires' radar) featuring Jordan Schmaltz (2012 Draft prospect) who currently plays in the USHL for the Sioux City Muskateers. Schmaltz' OHL rights are owned by the Windsor Spitfires and Schmaltz has made it clear that he's going to honour his NCAA commitment to North Dakota University who offered him a full ride scholarship. On Friday, Spitfires GM Warren Rychel and Head Coach/President Bob Boughner made their opinions public that the college route is not in the best interest of the American defender.
The article has several very forward quotes by the Spitfires GM and Coach that will certainly stir the NCAA vs CHL debate even more. In this situation, Boughner and Rychel should have kept their opinions of Schmaltz quiet as they have no right to decide what route is in the best interest of Jordan Schmaltz.
2012 OHL DRAFT ELIGIBLE –Joshua Ho-Sang
Sean Lafortune (Scout) made his opinion very clear on who should be the top OHL Pick of the 2012 OHL Priority Draft,
"Ho-Sang will be the top player selected in the 2012 OHL Draft and may be the most skilled player ive seen in the past five years at this age"
More on Ho-Sang…
Josh Ho-Sang was one of the best players on the ice as an underage player for the Toronto Marlboros when they won the OHL Cup at the AAA Midget tournament last spring. I was extremely impressed with his skating and puck handling abilities and he was probably ready to be drafted into the OHL last season. As Lafortune stated above, Ho Sang will not have to wait long to hear his name called at the OHL Priority Draft next April.
Neate Sager posted a "Getting to Know" feature on Ho-Sang last month.
And……one more Ho-Sang article from Saturday, October 22nd – "Toronto teenager the 'elite of the elite'".  Many scouts feel that Ho-Sang should have been granted "exceptional status" with Aaron Ekblad last year and that he would have been a top pick in last year's OHL Priority Draft.  Warren Rychel had this to say about him (from TheSpec article above),
"He gets you out of your seat," Rychel says. "I think of all the guys I've seen since I've been here — (Steven) Stamkos, (Taylor) Hall, (John) Tavares — he's the deadliest I've ever seen one-on-one with a goalie. He puts pucks away like nobody I've seen at that age."
The Erie Otters (1-10-0-0) and the Kingston Frontenacs (1-10-1-1) appear to be the front runners in the Ho-Sang sweepstakes.
2012 WORLD JUNIOR CHAMPIONSHIPS APPROACHING
Knights' Michael Houser Hoping for Team USA Inclusion
Houser's 2011-2012 OHL Statistics should catch the attention of Team USA personnel when they are contemplating their 2012 WJC Roster but there is certainly no guarantees for the London goaltender who went undrafted last summer at the NHL Entry Draft.

The puck stops with Knights' Houser
World Junior Hockey Championships Power Rankings
Sportsnets' Patrick King recaps the hottest and coldest players getting consideration for the upcoming World Junior Championships in Alberta. OHL names appearing in this week's edition include Freddie Hamilton, Jamie Oleksiak, Mark Visentin, Matt Puempel and Ryan Murphy so check out to see who is trending in what direction.

2012 NHL ENTRY DRAFT
Draft Tracker: 5 Questions with Michael Clarke, Windsor Spitfires
Michael Clarke recently moved way up TSN's Craig Button's October Rankings for the '12 NHL Draft and has started very strong for the Windsor Spitfires. Get to know him better with Neate Sager's latest Draft Tracker edition.
OHL Player Profiles Entering the '12 NHL Draft
Mathew Campagna, Sudbury Wolves (2012OHLDraftEligiblePlayers.blogspot.com)
Jarrod Maidens, Owen Sound Attack (IntheO…Blog)
Scouting Report: London Knights vs. Mississauga Majors
OHLprospects.blogspot.com posts their scouting report on some 2012 and 2013 prospects from the London Knights vs. Mississauga St.Michael's Majors game last Wednesday. Featured players include: Olli Maatta (2012), Max Domi (2013), Matt and Ryan Rupert (2012), Chris Tierney (2012), Dane Fox (2012), Josh Anderson (2012), Andreas Athanasiou (2012), Trevor Carrick (2012), Sergey Kuptsov (2013), plus some already drafted prospects (Scott Harrington, Vladislav Namestnikov and Stuart Percy).
Major Injuries Hit 2012 Draft
MAJOR INJURIES HITTING 2012 DRAFT CLASS
At Coming Down the Pipeline, the injuries of forwards Alex Galchenyuk (Sarnia Sting), Martin Frk (Halifax Mooseheads) and top defenseman Ryan Murray (Everett Silvertips) are discussed and will certainly make decisions tough on NHL scouting departments at the 2012 NHL Draft. Furthermore, the injuries also put their respective nations into limbo on the upcoming World Junior Championships as well.
TSN's Release on the Galchenyuk Injury
 You can check out the Alex Galchenyuk (fluke) preseason injury that caused the ACL injury and surgery below.  Alex caught a rut in the ice and crashed hard into the net.  Tough break for a talented young kid and his draft placement next June will be one to watch.
2013 ELIGIBLE SEAN MONAHAN
The 2013 NHL Entry Draft features some promising names including Nathan MacKinnon (QMJHL), Max Domi (OHL), Seth Jones (WHL) and many others but Ottawa 67's Sean Monahan continued with his strong season on Sunday when he tallied four points (2G, 2A) in Ottawa's 6-3 win over the Kitchener Rangers. The young center has scored a point in every game of the season except for one (vs. Niagara last Thursday) and has 6 goals, 9 assists for 15 points in 12 games. Monahan currently sits fifth in league scoring behind Yakupov and the Colts' trio of Hall, Behenna and Pearson.

THE PROSPECT NOTEBOOK
Brian Huddle with the latest news around the CHL is becoming a favourite Monday morning read of mine.

SUBWAY SUPER SERIES COACHING STAFFS ANNOUNCED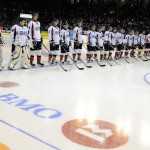 The Canadian Hockey League (CHL) has announced the coaching staffs of the six game series for the upcoming 2011 Subway Super Series.
"Head coaching duties for the series have been assigned to Yanick Jean of the Victoriaville Tigres and Patrick Roy of the Quebec Remparts who will split games for Team QMJHL. In Ontario, National Junior Team Assistant Coach Scott Walker of the Guelph Storm will lead Team OHL, while Team Canada Head Coach Don Hay of the Vancouver Giants will serve behind the bench for Team WHL."
BMO CHL MASTERCARD TOP 10 RANKINGS
As of Wednesday, October 19th, 2011
1. London Knights (8-2-0-0)
2. Mississauga St.Michael's Majors (8-1-0-1)
3. Baie-Comeau Drakker (9-4-0-0)
4. Saskatoon Blades (7-2-0-1)
5. Saint John Sea Dogs (9-5-0-0)
6. Quebec Remparts (8-2-1-1)
7. Regina St.Pats (7-3-0-0)
8. Sarnia Sting (8-1-0-1)
9. Medicine Hat Tigers (8-3-0-0)
10. Victoriaville Tigres (10-5-0-0)
Honourable Mentions: Ottawa 67's (6-2-1-0), Kamloops Blazers (7-2-0-0), Shawinigan Cataracles (8-5-1-1)
OHL SIGHTS & SOUNDS
RADIO INTERVIEW: Nail Yakupov shows his improvements in the English language during this CBC Radio interview last week.

FIGHT: Knights' Jared Tinordi gets rocked by Otters' Maguire


FIGHT: Lightweights – Rangers' Max Iafrate vs. Sting's Justice Dundas (Friday, Oct 21, 2011)

FIGHT: Spitfires' Tyler Bilke vs. Storm's Ryan Horvat

HIGHLIGHTS: Belleville @ Sarnia Shootout win featuring some beauty snipes from Sarnia's Reid Boucher, Yakupov's 3 point game and a fantastic shootout goal by Bulls' rookie Jordan Subban
TIME FOR THE OHL IN THUNDER BAY?
The Sault Ste. Marie Greyhounds visited Sarnia this past Thursday and I got into a conversation with some people at the game about how isolated the Sault Ste. Marie Greyhounds are in the Western Conference and how difficult it must be for this team. Actually, the Greyhounds have a season filled of long bus rides as their closest opponent is the Saginaw Spirit who are located four hours and 250 miles away. After that discussion I came across this interesting letter to the OHL by Dave R. (posted by Guy Flaming, Coming Down the Pipeline) suggesting that Thunder Bay, Ontario should be considered for an OHL franchise. Give it a read.
THE HOCKEY GUYS' TOP 30 2012 NHL DRAFT RANKINGS

In collaboration with Todd Cordell (@ToddCordell), we have formed our Top 30 NHL Draft Rankings that will be released in PDF format over at http://thehockeyguys.net/. The rankings are extremely appealing visually and we are both happy with the placement of several OHLers. Be sure to head on over to the website and download the rankings on November 1st. Every month, Todd and I will be updating the rankings and providing you with plenty of knowledge on the upcoming draft prospects.
LEAFS' STUART PERCY INJURED
Mississauga Majors' defenseman and Maple Leaf prospect Stuart Percy was seen leaving the arena on crutches on Sunday after being the victim of a hit-from-behind by Plymouth's Mitchell Heard (who was a recent invite to the Leafs' camp also). The injury doesn't appear to be good and it will likely diminish any chance Percy had of making Team Canada's WJC team. Sunaya Sapurji has more on the injury in "Percy's injury 'doesn't look very promising' for Majors".
OFF TO THE QMJHL
The 2013 NHL Draft features Nathan MacKinnon (Halifax Mooseheads) and he recently matched up with 2012 NHL Draft prospect Mikhail Grigorenko (Quebec Remparts) in a game last week. Check out the video below to see how each fared.

TOP OHL SCORERS (ending Monday, October 24th)
1. Nail Yakupov (Sarnia Sting): 13GP-9G-20A-29P
T2. Zach Hall (Barrie Colts): 11GP-11G-17A-28P
T2. Tanner Pearson (Barrie Colts): 11GP-10G-18A-28P
3. Colin Behenna (Barrie Colts): 11GP-7G-17A-24P
TOP OHL DEFENCEMEN SCORERS
1. Dougie Hamilton (Niagara Ice Dogs): 11GP-6G-14A-20P
2. Matt Petgrave (Owen Sound Attack): 15GP-4G-12A-16P
3. Alex Basso (Sarnia Sting): 13GP-2G-12A-14P
TOP OHL ROOKIE SCORERS

1, Max Domi (London Knights): 13GP-7G-8A-15P
2. Michael Clarke (Windsor Spitfires): 15GP-8G-4A-12P
T3. Bo Horvat (London Knights): 13GP-5G-6A-11P
T3. Artur Gavrus (Owen Sound Attack): 13GP-5G-6A-11P
T3. Sergey Kuptsov (Mississauga St. Michael's Majors): 13GP-7G-4G-11P
T3. Patrik Machac (Brampton Battalion): 12GP-4G-7A-11P
OHL PLAYER OF THE WEEK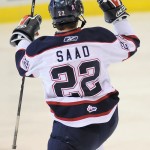 The Ontario Hockey League will announce the OHL Player of the Week later today (Monday, October 24) and the post will be updated at that point. I expect that Brandon Saad's 10 points and plus-3 over the past week will earn the big forward his first OHL POW Award. CONFIRMED (as stated above).