HAPPY HALLOWEEN TO ALL THE OHL FANS OUT THERE!
ATTACK OWNERS HAND OUT CHAMPIONSHIP RINGS
The Owen Sound Attack received their long-awaited championship rings in a private ceremony where 56 silver boxes were distributed to all members of the 2010-11 OHL Championship team.
OHL ANNOUNCES ROSTERS FOR SUBWAY SUPER SERIES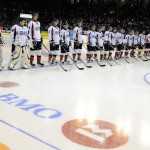 Last week, the CHL released the rosters for Team OHL, Team WHL and Team QMJHL that will compete in the 6-game series against Team Russia starting November 7th. Team Russia has announced their lineup and I posted the star-studded roster over at the DH Forums. The OHL Team will play on November 10th in Ottawa and November 14th in Sault Ste. Marie and both games will be televised on Rogers Sportsnet. Please follow the Team OHL link above for further scheduling and team rosters.
Ottawa 67's forward Sean Monahan will be the youngest player competing in the Subway Super Series.
TIME FOR A OHL TEAM USA SQUAD IN THE SUBWAY SUPER SERIES?
Blue Chip Bulletin's Thomas Wharry has a great article at the potential team that the OHL could field if the CHL decided to include a Team USA team in the Subway Super Series . Wharry also outlines the possibilities for many American players as they choose their future in hockey, whether it be the OHL, WHL, QMJHL, USHL, BCHL or NCAA route. Good read
TRICK OR TREAT: SPOONER FULL OF TRICKS AND A REAL TREAT
The Kingston Frontenacs have been struggling this season, to no surprise, and it's expected that the star forward and Boston Bruins prospect will eventually be shipped out to a contending team for a combination of prospects and draft picks. There are several teams rumoured to be in the hunt for Spooner's services and this situation bears watching. Something Bruin takes a look at the Ryan Spooner situation.
TIME FOR LEADERS TO EMERGE
The Kitchener Rangers are not playing horrible but there are a few veterans on the team that have disappointed in the early start of the OHL Season. IntheOBlog examines a few star players who aren't meeting expectations.
2012 NHL DRAFT PROFILES
Warren Steele (D) –Kingston Frontenacs (IntheOBlog)
Eric Locke (C) – Barrie Colts (IntheOBlog)
Adam Pelech (D) – Erie Otters (2012OHLDraftEligiblePlayers)
Artur Gavrus (F) – Owen Sound Attack (2012OHLDraftEligiblePlayers)
Seth Griffith (F) – London Knights (2012OHLDraftEligiblePlayers)
THE OHL ROOKIE WATCH
The In the O Blog crew features five Ontario Hockey League rookies that you should know. The fans are well aware of the Max Domi's, Aaron Ekblad's and Jordan Subbans but these other 5 freshmen should not be taken lightly.
PAUL KELLY RESPONDS TO SPITFIRES REMARKS ON SCHMALTZ' NCAA DECISION
Last week, The OHL Rundown posted an interesting story where Windsor Spitfires President/Coach Bob Boughner publicly stated that Jordan Schmaltz (highly touted 2012 prospect) is better off playing in the OHL than at the University of North Dakota (where he's committed to playing). Former NHLPA representative Paul Kelly speaks out on behalf of College Hockey at how the Spitfires are going about luring Schmaltz to the Windsor Spitfires. BTN's Neate Sager takes a closer look at the Schmaltz debate in "Paul Kelly fires back over Spitfires' push for U.S. draft prospect."
THE NINE GAME THRESHHOLD
In the past few weeks, the OHL has seen Chicago, New York Islanders, Carolina and Winnipeg return top prospects Brandon Saad (Saginaw), Ryan Strome (Niagara), Ryan Murphy (Kitchener) and Mark Scheifele (Barrie) to their respective OHL clubs. The Anaheim Ducks currently have Devante Smith-Pelly still in their lineup and it appears that the Mississauga St.Michael's Majors might not be getting his services back any time soon.
2012 PROSPECT RANKINGS: PLENTY OF TREATS EMERGING
OHLprospects.blogspot.com Releases OHL Top 30
There is no shortage of draft rankings being released as the hockey season gets underway. Brock Otten from OHLProspects.blogspot.com gives us his Top 30 OHLers eligible for the 2012 NHL Entry Draft

@Rossyyoungblood & @ToddCoredell Release The Hockey Guys' Top 30
In collaboration with my THG's colleague Todd Cordell, we will be releasing our Top 30 Ranking for the upcoming '12 NHL Entry Draft. Be sure to check out our first release (November) in a snazzy easy to navigate PDF file at The Hockey Guys later tonight. Todd and I are extremely proud of the package and our highly debated rankings.
PUCK DADDY CHATS WITH YAKUPOV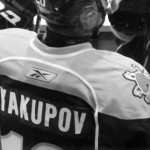 Sarnia Sting superstar Nail Yakupov is a fantastic hockey player on the rise but people are starting to realize the fantastic attitude that accompanies his skill set. Yakupov displays his positive outlook on life in this Puck Daddy interview. Nail discusses what it would mean to be chosen number one, his world junior plans, the KHL and his hockey idols. Great read.
HOW DOES YOUR OHL ARENA RANK?
The staff over at Stadium Journey are rating sports venues across North America and have completed their analysis for several OHL rinks including the Guelph Storm's Sleeman Centre, Kitchener Rangers' Dom Cardillo Arena and Saginaw Spirit's Dow Event Center.
UNDER-20 WORLD JUNIOR CHAMPIONSHIPS
U20 Reinforcements Needed for Canada
The combination of early season injuries and stellar NHL play has put Hockey Canada into an interesting spot as they will need to fill the void left by those injured and others not returning to junior hockey this season. Guy Flaming from "Coming Down the Pipe" takes a look at some players who likely won't be available for Team Canada this holiday season.
World Junior Power Rankings
Sportsnets' Patrick King releases his weekly Power Rankings and there are plenty of OHLers making the list as the hottest and coldest players in consideration for the upcoming World Junior Championships.  Featured in the article are OHLers Mark Scheifele (Barrie), Ryan Murphy(Kitchener) and Brett Ritchie (Sarnia).  Tons of competition in the CHL this season.
OHL PROSPECT REPORT: WINDSOR SPITFIRES VS. BARRIE COLTS
Todd Cordell of thehockeyguys.net breaks down the action during last weekend's Spitfires and Colts. Cordell examines the strong play of Mark Scheifele, top prospect Nick Ebert and several other key players.
OHL SIGHTS & SOUNDS
VIDEO: Erik Gudbranson talks about playing past the 9-game mark (Wednesday, Oct 26)

VIDEO: Ryan Strome scores a beauty vs. Brampton

VIDEO: Rookie Artus Gavrus (Owen Sound Attack) scores a highlight reel goal

FIGHT: Owen Sound's John Bowen vs. Windsor's Daniel Zweep

SUSPENSION: OSHAWA's CHRISTIAN THOMAS
New York Rangers' prospect Christian Thomas received a ten-game suspension for his high sticking incident last Sunday.
MORE CHL ACTION COMING TO SPORTSNET TELEVISION
The CHL and Rogers Sportsnet have announced that beginning November 11th they will be televising "Friday Night Hockey" showcasing a CHL every Friday. The first game will feature the Barrie Colts and Mississauga Ice Dogs.
TOP OHL SCORERS (ending Monday, October 31st)
1. Nail Yakupov (Sarnia Sting): 16GP-12G-22A-34P
2. Tanner Pearson (Barrie Colts): 14GP-12G-21A-33P
3. Colin Behenna (Barrie Colts): 14GP-9G-21A-30P
TOP OHL DEFENCEMEN SCORERS
1. Dougie Hamilton (Niagara Ice Dogs): 14GP-7G-16A-23P
2. Matt Petgrave (Owen Sound Attack): 15GP-4G-12A-16P
T3. Alex Basso (Sarnia Sting): 16GP-2G-13A-15P
T3. Cody Ceci (Ottawa 67's): 14GP-5G-10A-15P
TOP OHL ROOKIE SCORERS
1. Max Domi (London Knights): 16GP-8G-9A-17P
2. Artur Gavrus (Owen Sound Attack): 16GP-8G-7A-15P
3. Patrik Machac (Brampton Battalion): 15GP-5G-8A-13P
OHL PLAYER OF THE WEEK
The Ontario Hockey League has announced that Ottawa 67's forward Shane Prince is the OHL Player of the Week (Monday, October 31st).  Prince notched seven assists on nine Ottawa goals last week in their two games.  Shane Prince was a second round selection of the Ottawa Senators in last year's NHL Draft and currently has 3 goals and 14 points in 8 OHL games this season
My passion for the game has led me to writing about hockey, specifically dealing with the future of hockey and it's prospects.
You can find more of my work at DobberProspects.com, TheHockeyGuys.net and OHLWriters.com
Outside of the rink, I enjoy spending time with my friends, golfing, kayaking and fishing as well as competing in several of my own hockey leagues.
If you so do choose, please feel free to follow my thoughts and work on twitter @RossyYoungblood