The Ottawa Senators need help on defense. They have a terrible penalty kill and are one of the worst teams in terms of puck possession in the entire league. However, despite these failings they currently sit 2nd in the Atlantic Division. Yet given their poor underlying statistics they are bound to tumble-down the standings sooner rather than later. Thankfully for Ottawa Senators' fans, General Manager Bryan Murray is seemingly aware of Ottawa's problems and is seeking to address them through the trade market. The problem is that his current trade target is Chicago Blackhawks defenseman Trevor Daley. Especially given Chicago's reported asking price of a 2nd round pick and one of either Shane Prince or Matt Puempel, making this trade would be a disaster for Ottawa. Not only would they be acquiring a player who would not make their team meaningfully better, either one of the two prospects who they would give up are both already capable of playing in Ottawa's top six and each has the ability to become a legitimate top six winger in the next few years. Yes, the Senators needs defensive help, but desperate deals will only come back to haunt the team.
Who Is Trevor Daley?
Chicago Blackhawks defenseman Daley was drafted by the Dallas Stars in the 2nd round of the 2002 NHL Draft and up until this summer, played his entire career with the Stars' organization. Many casual hockey fans will recognize his name though as he, along with Ryan Garbutt, were trade by Dallas in the off-season to Chicago in exchange for Patrick Sharp and prospect Stephen Johns. In Dallas, Daley was a top pairing defenseman and last season set career highs in goals (16), assists (22) and points (38). However, seeing as Chicago already has Duncan Keith, Brent Seabrooke and Niklas Hjalmarsson, Daley has seen his ice time cut by seven minutes a game – down to around 16 minutes – and is no longer playing on the first unit powerplay. As a consequence, he has only registered 3 assists in 18 games and now he is on the trading block.
Daley Is Not Who Ottawa Needs
The problem is that Trevor Daley is an offensively minded defenseman who is a negative possession player and relies on his teammates to move the puck up the ice. Take a look at his HERO Chart:

As the horizontal bars show, Daley puts up points at the rate of a first pairing defenseman, which he was in Dallas. However, his possession statistics are terrible. Since the start of the 2014-2015 season, Daley has played 87 games and posted a total 47.72 SAT% (Shot Attempt Percentage) which is identical to Cody Ceci and well below any of Erik Karlsson, Marc Methot or Patrick Wiercioche. Daley's numbers are even worse when you consider the fact that unlike Ceci, Daley started the majority of his shifts in the offensive zone. If Daley is supposed to be an upgrade on Ottawa's top 4 then he should be an actual improvement over the existing top four.
Furthermore, for a team like Ottawa, that has struggled with puck possession, any new defenseman should, at minimum, be a positive possession player. Daley's unsuitability for Ottawa becomes particularly clear when you compare his HERO chart with Erik Gryba's (here). While Gryba produces less offense and plays less, the two players have almost identical possession stats and yet Gryba started only 45% of his shifts in the offensive zone. This past summer Ottawa traded Gryba away for a fourth round pick and a throw in prospect and now wants to ship out a 2nd round pick and a top prospect for almost the same caliber of player.
Now, defenders of Trevor Daley will point to his impressive goal and point totals from last year. However, those represent a massive deviation from his career averages and are unlikely to ever be repeated. While Daley managed to score 16 goals, he did so by scoring on 14.2% of his shots, a full 8 percentage points higher than his career average. Instead, 25 points is a more realistic expectation for Daley and again, that does not represent a substantial upgrade over Ottawa's existing defense corps. Finally, Daley is also 32 and will not develop further, but will be taking ice time away from Ottawa's developing defensemen. Not a problem if he contributes, but Daley does not represent a meaningful upgrade.
Cost Is To High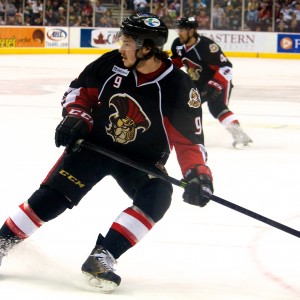 Chicago knows that a number of teams are looking for help on the blue-line and that the other defenders available either have terrible contracts (Matt Carle), are not very good (Luke Shenn) or both (Andrew MacDonald). So it is a seller's market and the Blackhawks are trying to capitalize on a good season last year from Daley and his cap friendly hit of $3.3 million this year and next. However, their asking price of a 2nd round pick and a top forward prospect is way too high for the type of player Daley is. If he was available for a late round pick then such a deal would make sense for Ottawa. Daley is an upgrade on Jared Cowen or Mark Borowiecki and would give Ottawa another option on the power-play. But Chicago is asking that Ottawa pay for a top 4 defender and Daley simply isn't that.
Matt Puempel and Shane Prince have both shown flashes of brilliance so far in their short careers and are already playing useful roles for the Senators. Until Tobias Lindberg and Nick Paul develop and demonstrate whether they are legitimate professional prospects, Puempel and Prince are the future for Ottawa on the wing. Mortgaging that future for a short-term return that doesn't actually solve your most pressing problem is a panic move and one that Bryan Murray should stay away from at all costs.
I am a Canadian historian studying at UBC and currently living in Ottawa ON. who grew up watching and playing hockey. I write about the Ottawa Senators, past and present, for The Hockey Writers. I think fancy stats are great. Also a huge soccer and Rugby fan.