The Ottawa Senators' season is all but over. Sure, they still have 29 games left to play, but since returning from the All-Star Break, the Ottawa Senators have effectively played themselves out of contention in the Eastern Conference.
When the puck dropped on their first game back against the Pittsburg Penguins the Senators were three points out of the final wildcard spot in the East. After losing to Pittsburg and Edmonton in spectacular fashion, the Senators managed to salvage the week with a win against provincial rivals the Maple Leafs. However, they now sit five points and four teams behind the Pittsburg Penguins for the last playoff spot, with the Penguins holding two games in hand. Plus, as the past week demonstrated, fans never know what team is going to show up on any given night.
They might get the team that beat the Leafs 6-1, but then the team that got blown out by the Edmonton Oilers might also show up. Without some degree of consistency, playoff teams are going to pull further and further ahead of Ottawa.
As I argued earlier in the month, Ottawa needs to write this year off and start preparing for next season by selling at the trade deadline. I'll detail in this column what moves the Ottawa Senators need to make between now and the deadline to set themselves up for next year.
Trade Jared Cowen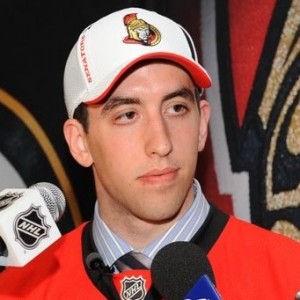 Jared Cowen has had every possible opportunity to earn a spot on Ottawa's blueline. After playing 54 games in 2014-15 and largely being a healthy scratch during Ottawa's stretch run, Bryan Murray traded Eric Gryba to the Oilers to free up room on the blueline for Cowen and AHL standout Chris Wideman to prove their worth as NHL defenders. Over the course of this season, Wideman has largely proven his worth as a bottom pairing defenseman with an offensive upside.
Alternatively, Cowen has played his way out of Ottawa's top six. Of defensemen who have played at least 20 games this season, Cowen ranks in the bottom five in the NHL in terms of puck possession. He also consistently turns over the puck, ranking second among Ottawa defensemen in giveaways, despite playing fewer games than every other blueliner not named Fredrik Claesson.
With Claesson and Wideman playing well at the NHL level, plus with promising Swedish prospects Mikael Wikstrand and Anders Englund looking likely to play in North America next year, Cowen's spot on the Senators' backend has all but disappeared.
As a result, Ottawa needs to trade him and fast. With the pedigree of a former first round pick, Cowen has some value despite his large contract and poor play. If Ottawa waits until the summer it is most likely that teams desperate for defensive help will not be willing to take a chance on Cowen. However, at the trade deadline, a team like Boston who is desperate for defensive help may be willing to pick up Cowen for added depth. At this point, any return, even a late round draft pick, would be good and a better option than spending money Ottawa doesn't have to buy Cowen out in the summer.
Trade Chris Neil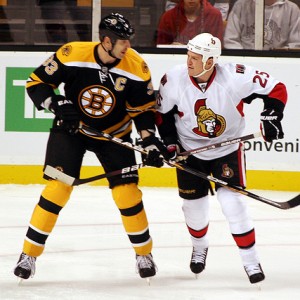 Chris Neil is a fan favorite and one of only two Senators still around from Ottawa's run to the Stanley Cup finals in 2007. However, Neil is slated to become an unrestricted free agent come July 1st and given Ottawa's surplus of grinding bottom six winger, most likely will not be re-signed by the Senators.
Despite his advancing age, Neil is having a strong season after years of declining play. Helped by playing with Shane Prince for large portions of the year, Neil has posted positive possession numbers and even reduced the number of penalties he takes. Given that teams were interested in Neil last year, his strong play this year should boost his value across the league.
A first round pick is certainly out of the question for Neil, but it is possible that Ottawa could get a second or third round pick in this years draft. Not a bad return for an asset they will lose for nothing come July 1st.
Ottawa Senators and The Kids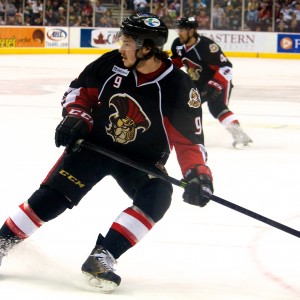 With the playoffs most likely out of the question, it is time for Bryan Murray and the rest of the management team to figure out the caliber of prospects the Ottawa Senators have in their system. Numerous Ottawa prospects are all slated to become free agents at the end of the season and it is worth deciding who should be released, who should be resigned, and to what length of contract.
On defense, Fredrik Claesson has proven his worth, as has pending unrestricted free agent Chris Wideman. However, forwards Max McCormick, Shane Prince, Ryan Dzingle, and Matt Puempel are all restricted free agents while David Dziurzynski and Cole Schneider are unrestricted free agents. McCormick and Prince have already earned substantial playing time and deserve to be re-signed to multi-year deals, while Puempel's combination of AHL scoring and first round pedigree earns him another deal.
The future of Dzingle, Schneider and David Dziurzynski is less clear though. It is encouraging to see Ottawa give Dzingle playing time against the Leafs, but it is still an open question as to whether he can be an NHL regular. The  same is true with Schneider. Signed out of college, Schneider is in his fourth year with the Senators and this is probably his make or break season with the franchise. A physical player who has demonstrated some scoring ability in the AHL, it would be good to see how he performs in the NHL, especially given that he appears to have more offensive potential than a player like David Dziurzynski, who has already had his chance to impress with the big club.
Much as Ottawa found out that Erik Condra was a solid NHL player during the tail end of the 2010-11 season, the remaining 29 games gives The Senators a good chance to evaluate their prospects and plan for the future. If they can also free up some money and roster spots in return for a few draft picks, that is even better. Ottawa still has a talented core who, with a few key additions, can compete in the Eastern Conference next year. However, to ensure the 2016-2017 Ottawa Senators are competitive, management needs to start planning right now.
I am a Canadian historian studying at UBC and currently living in Ottawa ON. who grew up watching and playing hockey. I write about the Ottawa Senators, past and present, for The Hockey Writers. I think fancy stats are great. Also a huge soccer and Rugby fan.