When NHL hockey is back, Brad Stuart will once again don the teal colour uniform in which he started his professional career. On October 2, 1999, at the age of 19, Stuart played his first game in the strongest hockey league in the world. In 21 shifts (20 minutes, 51 seconds of ice time, 4th on the team), he managed two shots on goal, two penalty minutes, and a powerplay goal – his first of 29 and counting. Even though he ended up with a minus-one rating, Sharks fans were glad and hopeful – a great, young defender was finally wearing the Sharks uniform.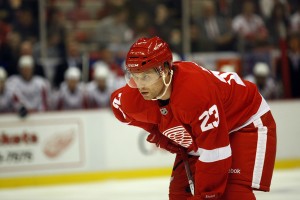 Fast forward a few years, and it's November 30, 2005 – the day when Stuart leaves the San Jose Sharks, temporarily. On that day, Sharks Executive VP and GM Doug Wilson acquired Joe Thornton from the Boston Bruins in one of the most important transactions in the history of the franchise. The return for 26-year-old "Jumbo Joe" was hefty – lightning fast Marco Sturm, dedicated grinder Wayne Primeau, and a rock solid defender in Brad Stuart. By that time, Stuart played in 377 regular season games for the Sharks, scoring 36 goals and adding 117 assists while eating up big minutes in almost every game. While Stuart might not have been a fan favourite, he was loved by most fans. However, the arrival of superstar Thornton was too big to properly reflect on the loss of Stuart – evidently a temporary loss at that.
The next three years were a roller coaster ride for Brad Stuart. He spent the remainder of 2005-06 and the first half of 2006-07 with the Boston Bruins. Later in the 2006-07 season, he was traded to the Calgary Flames where he finished the season. His next stop was in California, where he played for the Los Angeles Kings, but did not last for the entire season, as he was traded to the Detroit Red Wings for a couple of draft picks. That same year, Stuart became a Stanley Cup Champion as a member of the Detroit Red Wings while playing on the second defensive pair unit with Niklas Kronwall. He spent more than 300 games wearing the white and red uniform of the Motor City.
On June 18, 2012, Stuart signed a three-year, $10.8 million contract with the San Jose Sharks, meaning that after six and a half seasons he will be having his "homecoming". Unfortunately, due to the ongoing CBA negotiations, fans have yet to see Stuart pair up with either one of Brent Burns or Dan Boyle in an official NHL game. With the lockout ongoing, Stuart has been seen practising in San Jose with potential defensive partner Dan Boyle and teammates from his first stint with the Sharks in Patrick Marleau, Thomas Greiss, and Evgeni Nabokov of the New York Islanders.
Pending any unforeseen circumstances (injury, trade, or lockout for longer than one season), Stuart will play his 1000th game as a member of the Sharks.
While the San Jose Sharks have longevity bragging rights, Stuart's most cherished hockey memory and arguably his career highlight was winning the Stanley Cup with the Detroit Red Wings. Here is hoping that he can repeat that feat with the Sharks, and thus solidify his legacy as a Sharks player who just happened to play for other teams in between.