Welcome once again to The Hockey Writers-Pittsburgh Penguins Mailbag. This is where you, the reader, get to submit your questions via email (TorraoTHW@gmail.com), or @TorraoOnPucks on Twitter, and ask anything you'd like pertaining to the steel city's professional ice hockey team.
During the season we'll do this around the second week of each month. As we approach the trade deadline we"ll ramp things up with one edition each of the two weeks prior to deadline day. Once the offseason hits we'll have a draft edition prior to the first round; then a free agency edition the Monday after the draft. We'll do one more around the beginning of August to sum up the big offseason acquisitions, and then a preseason kickoff edition.
There's the schedule. So you now have no excuse for not getting involved!
Without further adieu, let's get to your questions:
Who do you think the Pens have the best chance against in the playoffs?
– Katie M. (Pittsburgh, Pa.)
Well Katie, I would say that right now no one in the East wants to see the Pittsburgh Penguins in the first round.
Not after the month they've just had.
Thanks to a 12-4-0 mark for the month of March, the Pens are now just two points shy of clinching a playoff berth. Either a loss of any kind by Detroit tonight against Minnesota, or a win in Brooklyn Saturday afternoon against the Islanders will sew up a spot for Pittsburgh.
To go along with that 12-4-0 mark, the Pens have also won four in row currently, and eight of their last nine. They've scored 57 goals in the month, which is the most in the NHL. Their 12 wins in March also led the league.
If I had to pick one team to see in the first round that is a logical choice (meaning the small handful of teams that they're likely to face) I'd go with the New York Islanders. Two weeks ago that answer would've been the Florida Panthers; but at this point to be honest, if the Pens play the way they've played this month no one really worries me.
Tannor, do you think Mike Sullivan should be considered for the Jack Adams Trophy (coach of the year) considering the job he's done through his first 49 games?
– Luke M. (Manassas, Va.)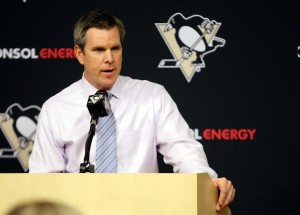 While the job that Mike Sullivan has done in turning this team around after nearly half a season of unproductive, un-entertaining hockey is arguably nothing short of miraculous, its hard to argue with a few other great coaching jobs around the league for the entirety of the season.
If I had a vote in such things, Gerard Galant of the Florida Panthers would get it.
Others to consider above Sullivan in my opinion are Lindy Ruff  (Dallas), Peter Laviolette (Nashville), and as much as I hate to say this (but its true): Dave Hakstoll in Philadelphia.
That said, I do think that Sullivan will get some consideration for the award; as well he should. After taking over for Mike Johnston on December 12, the Penguins have averaged 3.10 goals per game under Sullivan. Their shot totals are consistently over 30 per game, including a recent stretch of averaging nearly 38 shots while holding opponents to just under 24 shots per game.
Perhaps Sullivan's biggest accomplishment however, has been getting Sidney Crosby back on track. Since Sully took the reins, Crosby has scored 61 points. Thats nearly 1.25 points per game. And since December 26, Crosby has 26G-32A-58P. That's the best mark in the league during that span.
Continuing the Crosby talk…
If Sidney Crosby finishes second in the league in scoring (behind the Blackhawks' Patrick Kane), should he be in the running for the Hart Trophy (league MVP)?
– Noah L. (DuBois, Pa.)
My guess is Crosby ultimately finishes third in scoring behind the aforementioned Kane, and the Dallas Stars' Jamie Benn.
That said, I absolutely think that Crosby should win the Hart Trophy.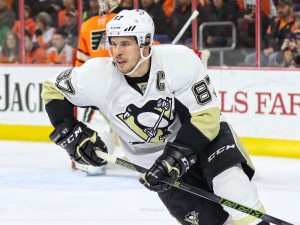 Considering his absolutely abysmal start to the season, coupled with the fact that most of his points have come with no Evgeni Malkin in the lineup, it's almost a no-brainer to me.
I already mentioned this once, but in the 49 games that Mike Sullivan has been behind the Penguins' bench, Crosby has 61 points. Once again an average of nearly 1.25 goals per game. He has 80 points total for the entire season.
So let's do the math here. Crosby has played in 76 of the Pens' 77 games so far. Prior to Sullivan's hire, he had 19 points in 27 games played under Mike Johnston. For the season while playing for Johnston, Crosby averaged significantly less than a point per game (.70 ppg).
Crosby looks like the Crosby of old. As in pre-concussion Crosby. He's skating fast, getting to the net, and utterly dominating the opposing defenses at times. And he's doing this usually against the opposing team's best forward line and defensive pairing. Not having Malkin to take some of that pressure off adds to his case in my opinion.
The fact is: Crosby has been the best player in the NHL, hands down, over the past three and a half months. He's put the Penguins on his back and carried to them (nearly) to a playoff berth single-handedly.
Of note: Crosby's assist on Kris Letang's power play goal against Nashville last night was the 599th of his career.
With Hagelin, Bonino, and Kessel playing so well together right now, who do you see skating alongside Malkin should he return from his injury during the playoffs?
– Randy T. (Pittsburgh, Pa.)
This is a question that is on a lot of minds right now.
First things first: the Pens need to wrap up a playoff spot, then probably win their first round series before Malkin can realistically get back into the lineup.
While it's not a forgone conclusion that Malkin would slide back in between Hagelin and Kessel – dropping Bonino down a line – don't underestimate Mike Sullivan's desire to stick with what's been working for him.
All of a sudden Phil Kessel has found his swag. Two goals last night in the win over Nashville (he has 25 now on the season) gives him nine points in his last four games. Its beginning to look like this is the Phil Kessel that the Penguins were hoping they'd get when they acquired him last July 1.

My thought process on Kessel is that he seems to flourish when he is the main threat on a line. He's also a very "north-south" type of player. That works very well with Carl Hagelin's speed. Those two have developed a very nice chemistry since Hagelin was acquired from the Ducks.
Lets also not downplay the effect that Kessel and Hagelin have had on Bonino.
Bonino was thought to be a bust here in Pittsburgh after being acquired via trade from Vancouver. He's been centering Kessel and Hagelin in Malkin's absence since March 13, a span of 11 games.
In those 11 games Bonino has 4G-5A-9P, which is good for exactly a half a point more per game (.82 ppg) than in his previous 47 games played (.32 ppg).
Sullivan has referred to Bonino as a very "cerebral" hockey player. Hagelin and Kessel are both very fast skaters and play the game in a straight a line. Malkin – and this is in no way a knock on him – is neither of those things. He's a big guy who uses his natural ability to make plays and score.
To finally answer this question, I can see Malkin playing with guys like Beau Bennett, Eric Fehr, or maybe Bryan Rust. Bennett and Fehr are both guys who like to play an east-west type of game, much like Malkin. If I were the head coach and Malkin returned from injury, I'd give that line (Fehr-Malkin-Bennett) a good, long look.
That's it for this edition of the mailbag. Thanks to everyone who participated. The next edition will be up a day or two prior to the beginning of the Stanley Cup Playoffs, so get your questions in now!
Pittsburgh, Pa. Class of 2000 graduate from Robert Morris University with a B.A. in Mass Communications. Full-time objective sports fan.