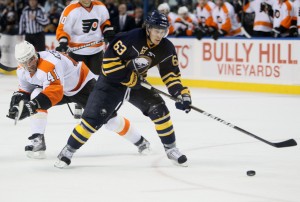 Hockey season came to a halt sooner than most Sabres fans probably would have liked this year. While the NHL Playoffs rage on, the Buffalo Sabres are anticipating one of the most eventful off-seasons in recent memory as new owner Terry Pegula brings his winning attitude and deep pockets to the table.
And so I thought: while we're stuck watching the remainder of the tournament as the Sabres sit idle (assuming most of you are over the first-round disappointment to the whiners, uh.. I mean, Flyers, after witnessing their brutal demise in round two — which almost certainly eased the pain), Buffalo hockey fans could use a little something to preview what is likely to come this summer.
Me being the nice guy that I am, I decided I'd put together just that. Over the next week or so, I will discuss the many decisions the Sabres could — and likely will — consider this summer, beginning with the 2011 NHL Entry Draft.
The Sabres currently hold the 16th overall selection in the first-round. This means the Blue and Gold will be in an interesting spot come draft day on June 25th. This year's group of prospects — although seemingly talented up front — is widely considered to be a "weak" class depth wise and is incredibly top-heavy. With that said, it is very likely that when the Sabres pick rolls around, the talent remaining could well be considered late-first or early-second round worthy picks in most other drafts. In short, if the Sabres hold on to the pick they will likely be drafting a second round talent with their mid-first round pick.
It is this reason that I believe trading out of this pick would be the best option for the Sabres especially if they are able to parlay an additional pick or player out of the deal from a willing trade partner. Out of everything I've heard and read thus far, my favorite option for the Sabres is one laid out by HockeyBuzz.com and Ottawa Senators blogger Travis Yost, which is as follows: 
OTT gets:
1st-round pick(16th Overall)
3rd-round pick(76th Overall)
BUF gets:
Nick Foligno, LW
2nd-round pick(36th Overall)
3rd-round pick(66th Overall)
Would Buffalo move back nineteen spots for Nick Foligno? What if Ottawa dangled another one of their second or third-round picks? Does the deal sound sweeter for the B-Lo now?

Essentially, the Senators move the Sabres up ten spots in the third-round – a very minimal upgrade – and flip a LW with 40+ point potential and a strong second round pick for a middle first-round pick.

The Senators fill a void and keep their draft status within reasonable strength, but more importantly get to go out and fill that glaring void down the middle. Now, the team has a ton of flexibility with two picks in the first sixteen.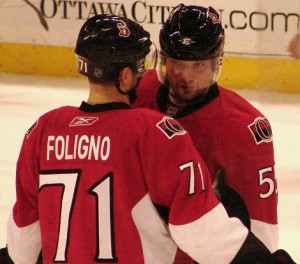 Foligno is a very solid third-line winger with 20-goal potential in the NHL. Although he hasn't really lived up to his draft selection thus far (28th overall in '06), the first son of former Sabre great Mike Foligno and older brother to Sabres prospect Marcus Foligno would likely be a great fit in Lindy Ruff's system. The change of scenery could bring out the best in the Buffalo native, who is still very young at 24 and has good upside. He is very accountable on the defensive end as well, an area that Ruff values immensely. The Senators might see this as giving up too much for the 16th overall pick but they are certainly in all-out rebuilding mode and I think would welcome the chance to add another high draft choice into the fold.
This scenario doesn't only have to play out with the Sens. I would welcome any sort of trade out of the 16th slot that would bring a top-half second round choice and a good third line player with upside in return. The Sabres need to win now. Franchise player Ryan Miller isn't getting any younger and the team's window of opportunity is slowly closing. Sabres fans should not be afraid to give up a few draft picks or un-proven prospects if they can return a good player who is ready stand out and help this team now.
So what if the Sabres decide they wish to remain at the 16th slot in the draft?
They obviously will be looking to take the best player available — regardless of position — especially since their current influx of young talent should see the NHL roster next season or be traded away, a sign that the team doesn't have too many glaring holes within the organization. It would be time for the Sabres to begin re-stocking  their farm system. Here are five prospects I could see the Sabres pulling the trigger on provided they are still on the board at 16:
C Boone Jenner, Oshawa (OHL)- This would be my favorite pick for the Sabres (no, not just because he has a sweet hockey name). Jenner is a big power forward type player who is hard to move off the puck. He is young at only 17 so he still has a lot of development to do, but teams built for success now have the luxury to mold a player like Jenner over time. I love that the kid commands the puck when he's on the ice and if all goes as planned, I could see him developing into one of the league's premier big men down the line.
RW Tyler Biggs, USA 18U (USHL)- Another big guy with a cool name (could you think of a more perfect name for a power forward?), but he's more than just a big body. Biggs skates pretty well and also possesses good leadership qualities. Again, this would be more of a developmental player with a high ceiling as most players are midway through the first round. The Sabres obviously lack forwards with big bodies and despite prospects Zack Kassian and Luke Adam likely making their way into the fold in the near future, the Sabres still could use more guys who use their size as a strength.
C Zack Phillips, Saint John (QMJHL)- Phillips is a good prospect in a lot of ways. The kid has come a long way  and put up very nice numbers (95 points in 67 games) in the QMJHL. He has really good hands and his skating ability is also pretty good. Unlike the last two, Phillips is not a big body, but he's not small either. I see Phillips as a guy who has potential to develop into a second or third-line center in the league at the very least. To me, this would be good value for a guy who has so much scoring upside — especially since the Sabres are so thin down the middle.
RW Ty Rattie, Portland (WHL)- Rattie certainly has the potential to become a top-6 forward in the NHL one day, which would be a nice value for the Sabres if he's there at 16. Despite being slightly undersized, he played at a point-per-game pace for most of the season for Portland. Rattie is very skilled at creating scoring chances and is equally as good at finishing off those opportunities. I could see Rattie developing into a Tyler Ennis type of player for the Sabres with 30+ goal seasons a real possibility.
D Joe Morrow, Portland (WHL)- It might be a bit surprising that I only listed one defenseman here seeing as the Sabres biggest weakness is arguably at the position but I feel a lot of the best D-men will have already been taken before the Sabres get to pick. With that said, Joe Morrow might be the steal of the draft in my opinion. He is an offensive-minded D-man who can effectively quarterback a power play with his smooth skating and great passing abilities. He is a smart player who consistently plays big minutes for his team and would be a very nice prospect for the Sabres to get their hands on.
Obviously this is all based upon the assumption that some of the players who are more highly rated than the ones I have listed are off the board by the time the Sabres pick at 16.
With all that said, my ultimate opinion on the matter would be for the Sabres to trade out of this spot and who knows, maybe one of the prospects I mentioned above will fall to them in the second round. That would be best case scenario for a team that will be looking to improve immediately rather than waiting around for talent that is "on its way". Either way, I'm sure Darcy Regier and Mr. Pegula have already begun forming the blueprints for a plan to make the Sabres a serious contender — a plan that will likely begin to play out come draft day. Let me know what you think the best way to go with the 16th pick would be.
Be sure to check back for the next part of my Sabres off-season preview as I highlight which direction may be best for the team may go in re-signing their UFA's and RFA's.
Travis Yost: Will Buffalo and Ottawa Make Some Trade Noise at the Draft? – HockeyBuzz.com
The Buffalo Sabres correspondent for THW. I'm an aspiring journalist based out of the Buffalo area. I specialize on the Sabres and the NHL but cover all things sports for many other venues such as SabresHockeyCentral.com and BuffaloWins.com. I also serve as the associate sports editor at a local newspaper called "The Record". Feel free to email me any questions/comments you may have: brandon.schlager@yahoo.com or follow me on Twitter @THWGoldSchlager