Please "Click Here" for "Notes Up Front" and the "Legend" for various topics covered below in my "Live Updated" NHL 2011 Draft Preview article – The Next Ones.
Ryan Murphy
Date of birth: March 31, 1993
Place of birth: Aurora, Ontario
Ht: 5-10 Wt: 176
Shoots: R
Position: Defenseman
NHL Draft Eligibility: 2011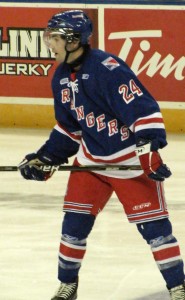 One-Timer:
While fellow 2011 eligible prospects Ryan Strome, Jonathon Hurbedeau and Mike Zibanajed have rocketed up the draft rankings this season and subsequently stolen a chunk of the limelight, undersized blueliner Ryan Murphy remains perhaps the most intriguing and unique prospect in this year's draft.
NHL Central Scouting has Ryan rated 9th amongst North American skaters. In this writer's opinion, if he falls outside the top 10 (which CSB's rankings suggest), the respective team that drafts him will be elated after grabbing the prospect with the most pure skill other than possibly playmaking dynamo centre Ryan Nugent-Hopkins.
There's no denying his off the chart skill level. There's no denying his elite skating ability and silky smooth elusiveness.  There's no denying his almost obscene level of creativity and hockey sense. There's no denying his rocket of a shot and accurate playmaking.
There's no denying his intelligence, willingness to improve the defensive aspect of his game and his fantastic attitude towards the game.
Why then won't Murphy be contending for 1st overall as HNIC's Don Cherry proclaimed earlier in the hockey season (see video section below)?
The obvious major red flag is the fact that he is considered an undersized defenseman. Although different players, I liken Murphy to Ryan Ellis, who I admittedly raved about excessively in his draft year, and now I seem to be equally enamored with Murphy. Like Ellis, Murphy needs to become part of an organization that will tailor a game plan to best exploit the elite talent he possesses. The kid is a highly intelligent game-breaker who will overcome any size issues since he simply processes the game at an extremely high level.
One can only hope Ryan gets drafted in a situation in which he will be properly utilized, developed and deployed to show exactly how Murphy's Law can impact the NHL from the blueline.
Top Prospects Game:
Murphy suited up for Team Cherry at the 2011 CHL Home Hardware Top Prospects Game and was named Player of the Game for Team Cherry in a 7-1 loss to Team Orr.
Scout's Honor:
"Ryan's work on the power play is outstanding, He sees the ice very well and is creative, [has] excellent passing ability and a great shot that he gets through to the net. (He's) also an excellent all-round skater. He's got real good mobility. He's a bit of a gambler. He does move the puck well, but he's going to have to concentrate on making good plays."
– NHL Central Scouting's Chris Edwards
"His hockey sense is off the charts," Spott says when asked to describe what sets Murphy apart from other players. "He's probably two steps ahead of everybody mentally on the ice. He sees plays before they develop. You put his vision, his skating ability, his hands and his shot with that hockey sense and you've got one heck of a hockey player."
– Kitchener Rangers coach Steve Spott
Bio/Interview(s)/Link(s):
International Tournaments:
After being snubbed on for last year's Ivan Hlinka Tournament squad as well as Canada's 2011 WJC entry, Murphy got the call recently for this year's World U18 tourney and lit up the score sheet, notching 4 goals and 9 assists in 7 games for 13 points. He led all blueliners in goals and points and was, in fact, named the top defenseman in the tournament.
ETA = 3yrs
Risk-Reward Analysis:
Risk = 1.5/5   Reward = 4.5/5
NHL Potential:
Dynamic offensive defenseman, with two-way ability and top pairing upside.
Strengths:
*See "One Timer" section above.
Outstanding vision
Brilliant creativity
Elusive puckhandler
Exceptional playmaker
Rocket shot
Scintillating skater
Capable of breathtaking end-to-end rushes
Defensive awareness
Despite his size, he is apt to deliver a good hip check when the opportunity presents itself.
Flaws/Aspects He Needs To Work On:
Continue to train to increase strength and add mass to frame to handle the rigors of the NHL, especially as an undersized blueliner. Will NHL power forwards simply bounce him around or will Murphy's elusiveness and intelligence allow him to overcome?
Continue to develop his neutral and defensive zone acumen.
Fantasy Hockey Potential: Offensive = 9/10   Defensive = 8/10
NHL Player(s) Comparison:
– Brian Rafalski, Paul Coffey, Dan Boyle
Video(s):
Off The Iron (Interesting Notes):
Murphy states he has patterned his game after Bryan McCabe, Mike Green, Dan Boyle and Duncan Keith in a couple of different interviews.
In 2010-11, Murphy finished first among Ontario Hockey League defensemen with 26 goals and second with 79 points (26-53–79) in 63 games. He was voted into the top three by the league's Western Conference coaches in the Smartest Player and Best Offensive Defenseman category this season. (NHL.com)
Favourite Celebration: "No celly (celebration), always classy." (NHL.com)
THW's The Next Ones prospect profile template design architect: Chris Ralph
Christopher Ralph is THW's prospect and draft analyst
Chris is THW's senior draft/prospect analyst and a Managing Editor. Watch for "The Next Ones" Prospect Profile series, exclusive rankings, mock drafts, as well as the annual THW NHL Entry Draft Guide. Follow @ChrisRalphYQ on Twitter as he infiltrates, dissects and analyzes all happenings of hockey prospects and the NHL entry draft. Email: cralph[at]thehockeywriters[dot]com