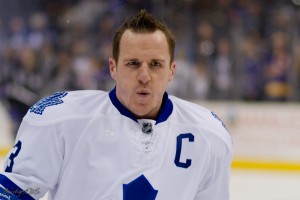 The Toronto Maple Leafs had two twenty-goal scorers and two thirty-goal scorers last season, to go along with a rookie goalie who stole the spotlight away. When a team receives production like that from its top players, it's often hard to determine the most valuable player; so who was the Maple Leafs' 2010-2011 MVP?
Nikolai Kulemin scored a career-high 30 goals in 2010-2011, many of which came by going straight to the net and using his great shot. The 24-year-old's career year surprised many, and was a pleasant one for the Maple Leafs organization.
Phil Kessel's 32 goals and 64 points led the team. While he was still as streaky of a player as he was before, Kessel led a group of forwards that surprised just about everybody last season.
Mikhail Grabovski was the Leafs' other 20-goal scorer, just one shy of 30 with a total of 29. He transformed from being the cannot-win-a-faceoff, puck-hog player he was known as to the contributing, team-first guy everyone wanted.
Clarke MacArthur signed with the Maple Leafs for just over $1 million during the summer of 2010. He was expected to take on a second/third line checking role, but instead got off to a quick start and never looked back. He finished with a career-high of 21 goals and became a prominent goal scorer for the Leafs.
Add on the fact that all but one of those four played in all 82 games─Grabovski being the other with 81 games played─it would be easy to make a case for each one of them to be the MVP. However, let's not forget that goalie I mentioned above.
James Reimer made his first start on New Year's Day, when he stopped 32 of 33 shots in a 5-1 road win over the Ottawa Senators. Despite his impressive game, people still weren't completely sold on him. So what did he do? Stopped 31, 41, 30 and 40 saves in his next four starts, three of which he won. He kept that going all season long.
The 23-year-old native of Morweena, Manitoba finished the season with a 20-10-5 record, a .921 save percentage and a 2.60 goals against average. There are a lot of veteran NHL goalies who wish they had those numbers. But is that enough to make him the team's MVP?
Even though Reimer was overly impressive during the season, I still feel that there is one player who did just a bit more than he did.
Dion Phaneuf didn't have a good first half. In fact, it was well below par. There was even the odd rumbling about him being involved in a trade, not that that should surprise anyone considering we are talking about the Toronto Maple Leafs. Nevertheless, once Tomas Kaberle was traded, Phaneuf quickly became one of the most underrated players on the Leafs' roster.
In 24 games after the Kaberle trade, Phaneuf scored six goals and 15 points. He ended up finishing the season with eight goals, 22 assists and 30 points. One of the main reasons why Phaneuf was so lethal offensively was the fact that he led the Maple Leafs' power play after Kaberle was sent packing.
With Kaberle, every team knew what was coming 90 percent of the time. While on the power play, he would either carry it into the offensive zone and pass it off, or shoot it in so the forward could try to pick it up in the corners. When he got it at the point, he would pass just about every time.
Once Dion took charge of the power play, no one knew for sure what he was going to do. He could either let a bomb go, pass it off or do something crafty. This made teams a little more cautious while killing penalties against the Maple Leafs, because they knew not to expect the same thing every time the puck went back to the point. Taking control of the power play was just one of many leadership qualities Phaneuf showed throughout the second half of the season.
Perhaps his leadership was most evident in the development of Keith Aulie.
Aulie averaged 19:07 of ice time per game, eighth on the team and fifth among defecemen. Although he still made some rookie mistakes, Aulie proved to be a big-body presence that isn't afraid to back down and is willing to stick up for his team. That, and his solid play on defence, has to make Leafs management and the coaching staff optimistic about the 21-year-old's future in the NHL.
Those three characteristics, big-body presence, not being afraid to back down and willing to step up for the team, are just three that describe Dion Phaneuf and his 2010-2011 campaign. Others that describe Phaneuf include hard hitter, good leader and energy guy. All of which the Maple Leafs needed, and got, out of Phaneuf.
Follow Lukas on Twitter @LukasHardonk for more Maple Leafs coverage.
Lukas, a student at the University of Ottawa, covers the Toronto Maple Leafs on a part-time basis for The Hockey Writers. Contact Lukas at lukas.hardonk@gmail.com or follow him on Twitter, @LukasHardonk.