The Franchise Four. The Mount Rushmore. Four players who tell the story of an organization. In this series, I'll be taking a look at the history of all 30 NHL squads. For criteria, I'm choosing one forward, defenceman, goaltender and a wild card from any position.
Since entering the NHL in 1991, the San Jose Sharks have qualified for the postseason 17 times.
During said time frame, the Sharks have iced the likes of Patrick Marleau, Joe Thornton, Evgeni Nabokov, Marc-Edouard Vlasic, Joe Pavelski, Owen Nolan, Logan Couture, Jonathan Cheechoo, Jeff Friesen, Dan Boyle, Vincent Damphousse, Ryane Clowe, Mike Rathje, Scott Hannan, Brad Stuart, Antti Niemi, Arturs Irbe, Steve Shields and Vesa Toskala.
So, which players make their "Franchise Four?"
4. The Defenseman – Marc-Edouard Vlasic
Vlasic has been a longtime rock on the blueline with the Sharks. Though it doesn't always show up in the box score, Vlasic is constantly consistent and does all of the little things well. Since breaking in with San Jose in 2006, Vlasic has shown to be a consummate workhorse. As of this writing, Vlasic ranks third with 691 games played, tenth with 155 assists, second in plus/minus at 116 and first in defensive point shares at 45.3.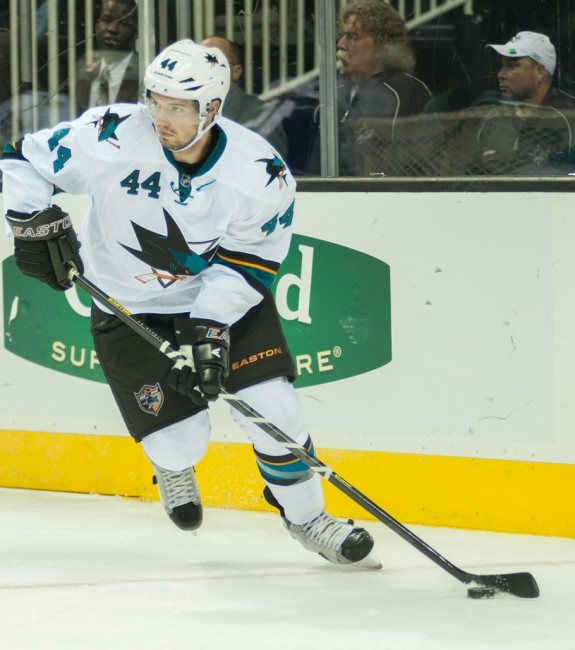 3. The Goalie – Evgeni Nabokov
In his first full campaign with the Sharks, Nabokov earned the Calder Memorial Trophy in 2000-01, posting six shutouts. Across ten seasons in San Jose, Nabokov was twice an All-Star and finished in the top six in Vezina Trophy voting six times. During the 2007-08 season, Nabokov led the league with 77 games played and 46 victories, finishing second in Vezina Trophy voting. In Sharks franchise history, Nabokov is first in games played (563), wins (293), shutouts (50), fourth in save percentage (.912) and third in goals-against average (2.39).
2. The Wild Card – Joe Thornton
Thornton may well find himself in the Hockey Hall of Fame one day. As of this writing, Thornton has played eleven seasons in San Jose. During that time span, Thornton has been a three-time All-Star. During the 2005-06 campaign, Thornton earned the Hart Memorial Trophy and the Art Ross Trophy. It was that season when Thornton registered a league best 96 helpers and 125 points. Following that, Thornton would lead the league in assists in the next two seasons. In Sharks franchise history, Thornton is second in games played (774) and points (819), first in assists (627) and plus/minus (158), fourth in goals (192), power play goals (67) and game winning goals (30).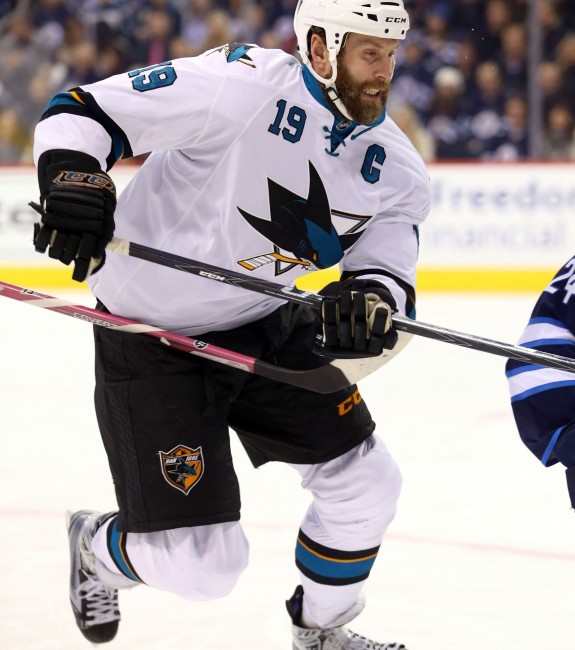 1. The Forward – Patrick Marleau
Another player, who, if he doesn't reach the Hockey Hall of Fame, should have his number raised to the rafters with the Sharks. As of this writing, Marleau recently eclipsed the 1,000 point plateau and has 1,003 on his career. Playing all 18 seasons of his career in San Jose, since breaking in as an 18-year-old, Marleau is a three-time All-Star. In addition to his regular season accolades, Marleau has recorded 103 points across 147 postseason contests, including four overtime game winning tallies. A solid two-way forward, Marleau ranks first in club history in games played (1,350), goals (463), points (1,003), even strength goals (304), power play goals (143), short-handed goals (16), game-winning goals (90) and second in assists (540).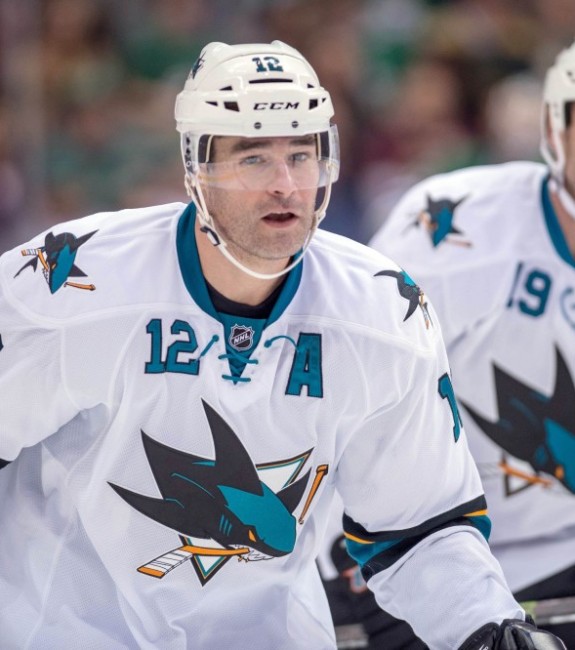 Michael Gwizdala covers the New York Islanders for The Hockey Writers. Michael is also an Associate Producer at WNYT NewsChannel 13. Additionally, Michael was once a Media Relations intern for the AHL Albany River Rats. Michael is a graduate of The College of Saint Rose in Albany, NY.