It is getting closer and closer to free agency and every fan is wondering what their General Manager will do. Jim Nill, along with a few Dallas Stars, is currently wrapping up a successful run for Team Canada at the IIHF World Championships. Now Nill is focused on the Dallas Stars and some of the various ways he can improve the club. The glaring needs are defense and goaltending but they will potentially be in the market for a top-6 forward as well. Here are my top five choices in free agency and who I think Nill needs to give some strong consideration.
Michael Frolik – Right Wing
Michael Frolik is coming off back-to-back 42 point seasons with the Winnipeg Jets, which is pretty impressive considering the team as a whole is in the middle-of-the-pack scoring wise. He is fast, he can finish, and he can play the penalty kill. I think he could finally be the fit on the right-side of Tyler Seguin and Jamie Benn that the Dallas Stars have been searching for. Patrick Eaves filled in quite nicely with them this past season but Frolik has more skill and upside to his game. He also possesses a very strong defensive game which would undoubtedly help one of the more porous teams in the NHL. This past season with the Jets, Frolik was first on the team with 44 even-strength takeaways. His 55.15 corsi-for-% at even strength was good for second on the Jets, only falling behind Mathieu Perreault. Frolik's excellent speed, skill and two-way game make him a very attractive option for a top-6 role.  At age 27, he is still relatively young and is poised to grow into a better player, given the right role.
Frolik is coming off a contract that came with a $3.3M cap hit and is likely due for a raise should he hit free agency. That being said, the Stars may be able to land him for a contract similar to Ales Hemsky's $4M per season for 3 years. That is a really good deal if Frolik excels in a top-6 role. His 42 points last season would have been good for fourth on the Stars so even if he scores at the same rate as he did with a less offensive Jets team, the production would still be worth the contract. Frolik is certainly worth a look from Jim Nill.
Zbynek Michalek – Defenseman
The Stars are in desperate need of a stay-at-home, top-4 defenseman who quietly goes about his job and doesn't make a lot of mistakes. Enter Zbynek Michalek. He played in 68 regular season games this year between the Arizona Coyotes and St. Louis Blues. Despite missing those 14 games, Michalek finished 18th in the NHL in total blocked shots. Although he played most of his season on a very bad Coyotes team, his corsi-for-% was still 51.77 with a 2.9 corsi-for-% relative to his teammates. He is steady with the puck, as only five defenseman who played as many games as Michalek did had less giveaways. Michalek's veteran and steady presence could be exactly what the Dallas Stars need.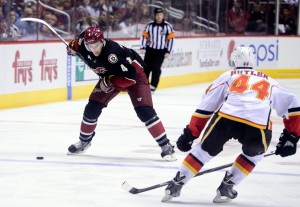 The Stars don't need another defenseman who can score, as they have several of those already. Michalek's right-handedness would also bring complete balance to the Stars blue line, giving them 3 right-shots and 3 left-shots. His current cap hit is at $4M and he will likely command similar money in free agency, especially considering how weak this year's free agency pool is. The Stars are likely shipping out a defenseman this season and Michalek could easily assume a top-4 role. This is what the Stars blue line could look like with Michalek:
Alex Goligoski – John Klingberg
Patrik Nemeth – Zbynek Michalek
Trevor Daley – Jason Demers
That leaves players such as Jordie Benn, Jyrki Jokipakka and Jamie Oleksiak all fighting for a roster spot. With the right moves, Nill could easily fit Michalek in and provide a lot of steadiness to an unstable back-end.
Paul Martin – Defenseman
Now I'll be the first to say I'm very on-the-fence with Paul Martin as an option for Dallas.  He won't come cheap as he is probably the best defensive-defenseman on the market this year and is coming off a $5M cap hit. He's 33 years old and has played at least 80 games in a season just twice in his long career. He is definitely a risk. That being said, there are very few options out there and he would instantly improve a Stars defense that saw 257 goals go by them this season.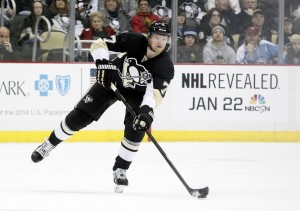 Although Martin chipped in 20 points this past season, his main focus is on defense. Kris Letang is an extremely active defenseman in the offensive end, so Martin had to excel at a more defensive game. Martin posted the second-highest corsi-for-% among Pittsburgh Penguin defensemen this season with only Letang ahead of him. His 139 blocked shots was not bested by anyone on his team as he was a force in front of his own net. His playoff experience is also something that can't be discounted, especially in a blue-line that has not seen a ton of playoff action.
What would the Dallas Stars look like with Martin?
Paul Martin – Alex Goligoski
Patrik Nemeth – John Klingberg
Trevor Daley – Jason Demers
Goligoski has played the right-side before so he would be the prime candidate to move over. With Martin coming off a $5M cap hit and likely getting a raise in free agency, I think Michalek would be a better player for the cost it will take. Martin will be an intriguing option, however.
Jeff Petry – Defenseman
The buzz surrounding Jeff Petry simply cannot be ignored if you are Jim Nill. He's young and shows a ton of promise, as his game has continued to improve despite being on a lot of bad Oiler teams in the past. He was traded to Montreal at the deadline and many expect that he will return to Montreal through free agency. With the market the way it is, Petry will likely hit free agency because he is able to command some big-time money from a host of potential teams.
Now why is Petry a good fit for the Dallas Stars? He's 27 years old, so he will fit in with the young core that the Stars are developing. He is another right-handed shot which would bring balance to the blue-line. His possession stats are not fantastic at a 47.36 corsi-for-% at even strength, however some of that could be attributed to the team he played with for most of the season. His corsi relative to his teammates is a -0.72. Not great, but not terrible for a player who is starting to grow. Many thought Petry was the second-best defenseman in Montreal for their stretch run and playoff run. He will likely be getting a hefty raise, especially considering the market for free agent defensemen is incredibly slim. It is certainly a risk for the Stars considering this past season was really he best run so far, but he could prove to be a dynamic player in the years to come.
Dougie Hamilton – Defenseman (Restricted Free Agent)
Let me start by saying there is little-to-no chance of this actually happening. That, however, does not make it a bad option if you are Jim Nill of the Dallas Stars. Dougie Hamilton will be a restricted free agent this offseason and will be looking to cash in on his best season as a pro. Offer-sheets rarely happen in the NHL, as it can strain the relationship between two teams and general managers. However, Nill already snagged Tyler Seguin from Boston so what does he really have to lose? (I kid, I kid)
If there ever was a time that an offer-sheet might work it is now. Gary Bettman has come out and said he expects the salary cap to be around $71 million next season. According to hockeyscap, the Boston Bruins will have a little over $63 million already committed with players such as Hamilton, Niklas Svedberg, Matt Bartkowski, Ryan Spooner, Carl Soderberg and Brett Connolly to sign. That completely leaves out some of their unrestricted free agents like Daniel Paille and Gregory Campbell. You might think, "Well the Bruins can just trade someone with a higher salary in order to ensure room for Hamilton's contract" and that would be a good idea. The problem is that practically every Bruin with value has a no-trade clause and movement will be very difficult. There may not be a more opportune time to offer-sheet a player than Dougie Hamilton this offseason.
Hamilton is the future #1 defenseman of the Boston Bruins, if he hasn't already reached that status. The statistics are absolutely stunning for a defenseman of his age. The one thing that you can't teach is size and Hamilton possesses that. He's listed at 6'5″, 212 pounds and he is only 21 years of age. His 42 points is better than any defenseman on the Stars or the Bruins and is good for 23rd in the entire NHL among defensemen. His possession numbers are equally impressive. His 54.91 even strength corsi-for-% was better than any defenseman on the Bruins and only bested by Jason Demers on the Stars. His team had a total of 626 scoring chances with him on the ice, only Alex Goligoski had more than that for Dallas. He can score and defend with the best of the best and once again, he's only 21 years old. The cost could potentially be 3 draft choices in 2016, but true #1 defenseman at Hamilton's size and age rarely come around. It may be a worth a shot for the Dallas Stars.
Who do you think the Stars should target in free agency?
Jordan has been covering the Stars for The Hockey Writers since February 2015. He is originally from Iowa City, Iowa. You can follow Jordan on twitter @jordan_dix