The St. Louis Blues have historically been conservative at the trade deadline due to many factors, including salary issues. However, this season is still up in the air as the February 29th trade deadline rapidly approaches. What will the team do, if anything, and what will the repercussions be?
What Makes this Year Different?
Though GM Doug Armstrong may very well decide to stay par for the course and not make any moves leading up to the deadline because of previously injured players returning and an ever shifting team dynamic, he may also choose to stay quiet because of recent deadlines past. The one time the organization tried to make waves near the deadline they acquired goaltender Ryan Miller and agitator Steve Ott from Buffalo in exchange for Chris Stewart, Jaroslav Halak, William Carrier (prospect), a first round pick in the 2015 draft (17th overall, which ended up going to WPG who selected LW Kyle Connor with it), and a conditional 2016 3rd round pick that still remains.
This deal didn't go anywhere near the way it was planned, as Miller has been largely inconsistent ever since leaving Buffalo and was only with St. Louis for a short period of time. With that wound still fresh in Army's memory he may decide trying something of that magnitude is not worth it, especially given the team's current health issues. However, with the Blues upcoming contract conundrums he may not have a choice but to move some key players at the deadline to free up cap space for those stars who deserve a raise, and for entry-level deals that are expiring to up-and-comers.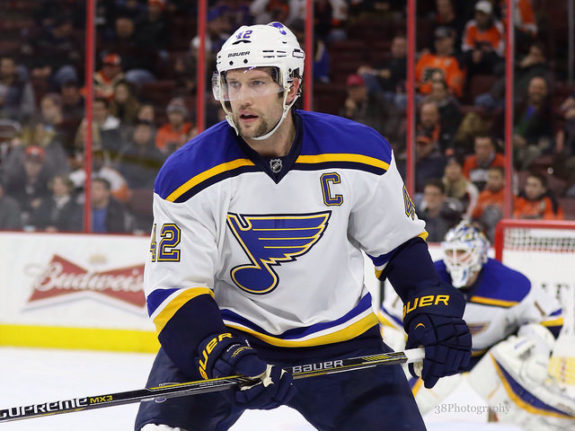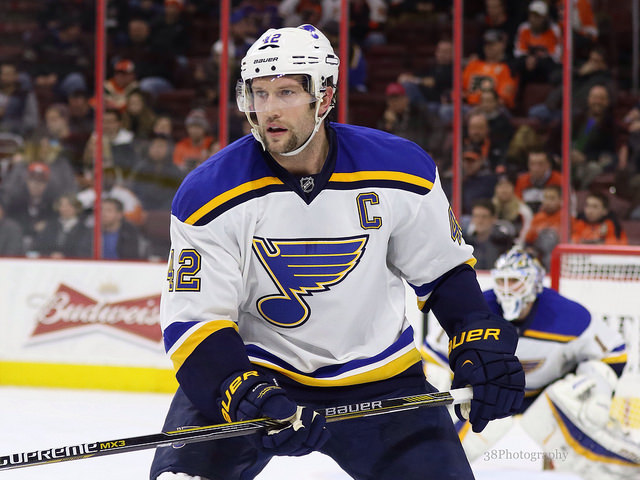 The Murky Cap Waters
As it stands right now the Blues have 12 players whose contracts expire at the end of this season, with the captain David Backes leading the way. Other notable players with contracts expiring at the conclusion of this year are Jaden Schwartz and Dmitrij Jaskin.. These are all key cogs to the Blues competitive puzzle, and they are all going to be seeking raises this summer. In addition to these Blues', regulars season rentals like Scottie Upshall, Kyle Brodziak, and Troy Brouwer are all one-year deals as well.
On top of that the Blues have another 7 players whose contracts expire at the end of the 2016-17 season, some of which have become staples to the team's success. Players like Alexander Steen, Kevin Shattenkirk, Patrik Berglund, and both goalies (Brian Elliott and Jake Allen) will also be looking for raises/new deals, so if Army hopes to avoid another rebuild he'll have to be sharp on his toes. That doesn't even include the young blue line stud, Colton Parayko, whose entry-level deal also expires at the end of next season. All of this puts Armstrong in quite the predicament heading into the final weeks before the deadline.
Options for the Blues Moving Forward
If Armstrong decides to stay quiet at the deadline he may risk losing a plethora of depth players for no return at season's end, which would require more prospects to step up next season. This may not be a terrible option considering those patiently awaiting their chance with the big club, but if they end up not being truly ready to play at the NHL level the Note could end up in a situation like the Edmonton Oilers, which no one wants. Young stars such as Ty Rattie, Petteri Lindbohm, Jordan Binnington, and even Jeremy Welsh have shown they can compete with the big boys, but can they do it consistently over an 82-game schedule? Other prospects like Jordan Schmaltz (D), Ivan Barbashev (C), Pat Cannone (C), and Danny Kristo (RW) are untested in the NHL but have shown great promise with AHL Chicago, but forcing them to play regular minutes too early could stifle their development (and spell big problems for a team in the toughest division in the entire league).
If Armstrong isn't fully confident in these youngsters quite yet he could very well decide to make a move at the deadline, but with so much depth already on the ice it would be hard to find a match that would help the club immediately. It has seemed to be a defensive market this season and one option that has been widely talked about is moving defensive standout Shattenkirk, and a young forward/prospect to get a top/middle-6 forward in return. This move could spell trouble for the Blues however, as Shatty has been a cornerstone of the power-play for a few years now, and he is the biggest offensive threat on the Blues' back end.
He is 2nd on the team in PP points (4G, 11A, 15P), and has a 16.67% shooting-% with the man advantage. Shatty is such a key to the Blues' PP that the team actually went 4 for 38 (10.5%) while he was injured over an 11 game span earlier this season, yet they still have the 12th best PP overall this season (19.2%). If Armstrong decides that Shatty is too valuable to the team's offense then next up on the block may be Alex Pietrangelo. This is because he has a lot more upside to potential trade partners than his counterpart Jay Bouwmeester or Carl Gunnarsson, and he would relieve the most cap space if he were to be moved (6.5M AAV).
However all trades come with a price, and losing Pietro may be too steep for Army to pay. Pietro leads the Blues with 26:45 of time on ice per game (4th overall in the NHL) and has blocked 99 shots so far this year (1st on the Blues, 20th overall). Though he's not really known for his offense anymore the Blues are 9-0-3 when he registers at least a point, and he has been showing a better, more consistent offensive side as of late. He plays top minutes against top competition and Shattenkirk or Parayko may not be ready to fill that void should Pietro be traded. At the end of the day if Army wants to make a deal he could package either Backes or Steen in with one of the aforementioned D-men, or a young prospect like Joel Edmundson, Robert Bortuzzo, or Peterri Lindbohm to get a solid return that would make the trade worthwhile.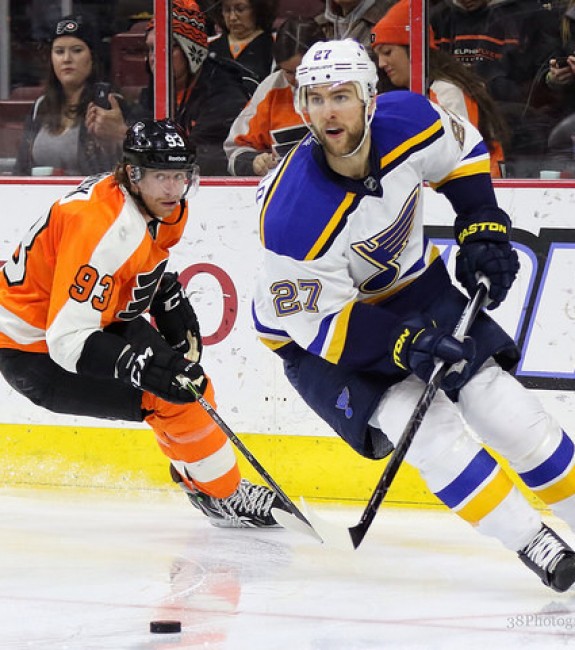 The Return
Since teams seem to be highly interested in the Blues defensive stars and prospects alike (Jordan Schmaltz name has come up in rumors as well) one of the above pieces would likely have to be moved to bring in a game-changing player to the team. The return from a Shatty or Pietro trade would likely garner a quality top-6 forward that could be the final piece to the Blues scoring puzzle, and could finally help them find the back of the net more frequently. Since their scoring has been down throughout this season (they are ranked 23rd overall with 2.4 goals per game; last season they were 5th at 2.91) this may very well be Army's best option to get the team deeper in the playoffs, especially since both goalies and other defensemen like Carl Gunnarsson and Colton Parayko have played extremely well in their own end this season (plus-9 and plus-18 respectively).
However, if the Blues forwards don't continue to tighten up their back-checking losing Pietro would come at a much greater overall cost (the Blues are 8th overall at 2.36 goals allowed per game). Whether or not a big trade is made remains to be seen as the market will dictate Army's moves from here on out. The best current options for a deal may very well still be with the Lightning, however it would be one of their younger stars like Alex Killorn or Nikita Kucherov instead of a Drouin or Stamkos. The Blues could also look elsewhere as the Bruins have been shopping Loui Eriksson, the Canes have been feeling out Eric Staal and Kris Versteeg, and the Isles have shopped Kyle Okposo as well.
Regardless of what Doug Armstrong decides to do it's going to be an interesting time in St. Louis moving forward. Hopefully the team can get and stay healthy, and any new members will gel immediately so the team can focus on getting past the 1st-round for the first time since 2011-12.
Like what you've just read? Follow me on Twitter: @pep30