In part one of this series we looked at some of the greatest centres in the history of the Maple Leafs. Sundin. Sittler. Keon. And Kennedy. All of them rounded out the top four players to play the centre position – to wear the Leafs crest and leave their mark on the franchise.
But building an all-time roster for a franchise with such a deep history doesn't stop there. In fact, to break the franchise down into four lines and two goalies isn't an easy one. But there are players that stand out more so than others.
Looking at a franchise that hasn't won a Cup since 1967, it's hard to pick out recent impact players. Historically, however, the Leafs have produced numerous assets worth recognizing when talking about an all-time roster.
We saw it in our constant analysis of Sundin over the years – the need for highly skilled and elite wingers. While it would've been easy to throw Paul Henderson and Dick Duff on the list of the greatest all-time Maple Leafs left wingers, these two fell just shy of cracking the top four spots. With that, here's a look at the left wingers on the Leafs all-time roster.
1st Line: Frank Mahovlich (1956-1968)
His career with the Maple Leafs started on the right foot when his 20-goal and 36-point season earned him the Calder Trophy as rookie of the year in 1957-58. From there, Frank Mahovlich continued his success in Toronto over parts of 12 seasons with the Leafs.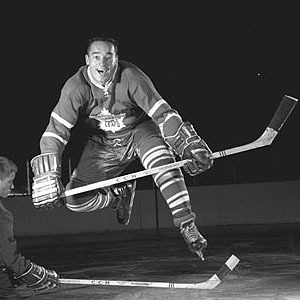 In 720 regular season games with the Leafs, Mahovlich notched 597 points (296g-301a). He helped the Leafs to the playoffs nine times and won the Cup four times with Toronto. He sits atop the Leafs all-time scoring list for left wingers – over 30 points higher than the next closest player and in 227 less regular season games played.
The fact that the Chicago Blackhawks were willing to pay $1-million to obtain Mahovlich from the Leafs following the expiration of his contract in 1962 exemplifies how skilled of a player he was. Aside from his relationship with Imlach (a trending topic when it comes to this particular Leafs GM) Mahovlich is an icon in Leafs history.
Inducted into the Hockey Hall of Fame in 1981, that was the icing on the cake that was Mahovlich's career. A Leafs legend, it only makes sense that he would sit atop this list on the left side on Toronto's all-time roster.
2nd Line: Wendel Clark (1985-1994, 1995-1998, 1999-2000)
When the Maple Leafs drafted Wendel Clark first overall in 1985, they were getting more than just a player with offensive prowess. During his playing days, Clark had the ability to take control of a game – both offensively and physically.
Now, Clark wasn't always a strong, burly left winger. In fact, when he played for the Saskatoon Blades, Clark platooned the blue line for his junior club. But his step up to the NHL in 1985 came with an immediate transformation – a move to left wing.
His physicality forced opponents to keep their heads up when they were playing against Clark. He rarely shied away from a fight or hit and opened up the game for his fellow Maple Leafs.
Clark captained the Leafs from 1991 to 1994. But it was during the Leafs 1993 playoff run that his true leadership was displayed. Down two games to Detroit, Clark was taking a lot of criticism for his lack of production and physical presence in the series – including shying away from Bob Probert. But as Scott Morrison writes for Sportsnet, it was then that Clark's ability as a true leader prevailed.
"Rather than respond, Clark kept his mouth shut and turned the tide in the series with big hits and a big goal in the third game. He also refused to defend his lack of interest in fighting Probert because it would have meant giving up a dressing room secret: Before the series started, Leafs coach Pat Burns had twice ordered Clark not to fight Probert. Clark wasn't going to alter the game plan or ease his burden by announcing it. That's what leadership is all about and Clark was a great leader."
On top of the leadership he brought to the locker room, Clark demonstrated offensive skills throughout his time with the Leafs. In 608 regular season games, he scored 260 goals and added 181 assists – helping the Leafs to seven playoff seasons. He's certainly a deserving candidate at left wing for the Leafs all-time roster.
3rd Line: Bob Pulford (1956-1970)
He was a Maple Leaf through the 1960s – arguably one of the best decades for Toronto's franchise. His 563 career regular season points (251g-312a) with the Leafs is second to only Mahovlich on the Leafs all-time left wingers list.
In 14 seasons with the Leafs, Pulford helped the club to 10 playoff appearances. He played 89 career playoff games in Maple Leafs blue and white adding 51 points (25g-26a).
While his offensive numbers weren't achieved at the same pace as some others on the Leafs all-time roster lists, his ability to play a two-way game is what drove opponents nuts. In fact, it was one of the game's greatest players who referred to Pulford as his own personal headache.
"Pulford is one of my private headaches," said Gordie Howe according to the Hockey Hall of Fame's official site, "because he has to be classed as one of hockey's greatest forecheckers. There's a deep knowledge of the game in his forechecking, hook, poke check, strength of arms, quickness, the whole bundle of wax."
Without him, the Leafs may have never scored in the second overtime of game three of the 1967 finals against Rogie Vachon and the Montreal Canadiens. He was inducted into the Hall of Fame in 1991 as a player – helping Pulford find himself on the Leafs all-time roster.
4th Line: Busher Jackson (1929-1939)
While it's hard to compare players from different eras, Busher Jackson is one former Leaf from the early years that has earned a spot among the Leafs all-time left wingers. Now, some might question why Jackson topped other former Toronto left wingers like Duff and Henderson. And to some extent it's a fair question.
Now, Jackson finished his Leafs career with 351 regular season points (186g-165a) – only nine more than Duff and 33 more than Henderson. He played in 150 less regular season games than Duff and only 24 more games than Henderson.
To the average fan, Jackson's name may not be as recognizable as Duff or Henderson. But his decade-long stint in Toronto left hime with 0.81 points per game in the regular season and nearly half a point per game in nine playoff seasons with the Leafs. He won one Stanley Cup with Toronto in 1932.
Jackson was considered one of the top left wingers in the league during his career and was posthumously inducted into the Hall of Fame in 1971 – joining former line mates Joe Primeau and Charlie Conacher (the famed Kid Line).
With that, we've got two positions filled on the Maple Leafs all-time roster. Left wingers from all eras top Toronto's all-time list and while there are more that could've made this list, unfortunately there's only room for four.
With right wingers, defensemen, goalies and coaches still to come, be sure to comment with your say or why you think someone should've made or missed the list.
ALSO READ:
For more, you can follow Andrew on Twitter at @AndrewGForbes or his column @Tape2TapeTHW.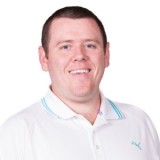 Andrew is in his 8th year reporting for The Hockey Writers covering the Toronto Maple Leafs. He began his broadcasting with CBC's Hockey Night in Canada team as well as being part of their coverage of the 2014 Winter Olympic Games in Sochi. He's the former play-by-play voice of the London Jr. Knights for Rogers TV and currently hosts the Sticks in the 6ix podcast. You can follow him on Twitter at @AndrewGForbes.