Looking back, the Toronto Maple Leafs are quite the storied franchise. Over the years, players have come and gone. Some have had lasting impact on the team while others have simply passed through Toronto on their NHL journey.
But when you break down the Leafs all-time best, it's becomes evident just how deep the team is historically. In part one of this short five-part series, we looked at some of the best centres to every lace them up in blue and white – with Sundin and Sittler leading the pack.
From there, we went to the left side in part two. Mahovlich was rivalled by no other Leaf. But he led the way for Clark, Pulford and Busher Jackson. Now, we move the right side – a wing so familiar to the recently traded Phil Kessel. And while Kessel would've made this list – as one of the best all-time Leafs right wingers – he came up just shy in comparison to the four listed below.
1st Line: George Armstrong (1949-1971)
One of the longer serving Leafs, it goes without question that George Armstrong was the best player to line up on the right side for this franchise. One of just two right wingers to play over 1,000 regular season games for Toronto, Armstrong is the highest scoring Leaf at that position.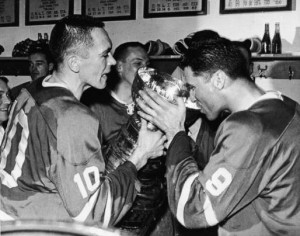 In 1,187 regular season games with the Leafs, Armstrong recorded 713 points (296g-417a). In the 1960s, he helped the Leafs to four Stanley Cups (1962, 1963, 1964 and 1967) scoring 60 points (26g-34a) in 110 playoff games along the way.
He was a seven-time NHL all-star and never played for another NHL franchise over his 21-year career. Armstrong was immortalized by the team with a statue erected in his honour on Legends Row in February 2015.
Armstrong captained the Leafs from 1957 to 1969 before handing the reins over to Dave Keon. For Armstrong, hockey wasn't just a game.
"Besides my family, hockey is my life," said the former captain in an interview with Mark Zwolinski.
2nd Line: Lanny McDonald (1973-1980)
He will always be a fan favourite in Toronto – even though he found the ultimate success during his days as a Calgary Flame. But having played parts of seven seasons with the Leafs, Lanny McDonald is still one of the most recognizable players to ever suit up for the franchise.
In an article by Sportsnet's Kristina Rutherford, former teammate Ron Ellis described McDonald as becoming "probably one of the best two-way players of all time." And it all started in a Leafs uniform.
He ranks fourth on the Leafs all-time right wingers list with 459 regular season points (219g-240a) – and 13th overall. He also sits 17th on the Leafs all-time playoff points list with 37 (20g-17a) in 45 career games with Toronto.
McDonald was part of the Ballard-Imlach-Eagleson controversy in Toronto when the Leafs seemingly traded any player with any association with Alan Eagleson.
His time in Toronto was simply the beginning to what became a Hall of Fame career. And while he never returned to the Leafs following the trade in 1979, one line tells you just how much Toronto meant to the iconic Leaf forward.
"That's one of those days you never forget," he said in the Rutherford piece. "I was devastated."
But McDonald still left his mark on the franchise. Leaf fans who were fortunate enough to watch McDonald play will remember him for scoring the series-winning goal in 1978 against the Islanders with a broken wrist and nose. It was a series the Leafs were never expected to win. But they did and on the heels of McDonald's unbelievable goal.
3rd Line: Charlie Conacher (1929-1938)
Remembered as one third of the Leafs 'Kid Line' from the 1930s, Charlie Conacher was said to have the hardest shot in hockey during his day. For that, he was nicknamed 'The Big Bomber' – a name that would stick with him during his NHL career.
Conacher played parts of nine seasons with the Leafs playing 326 regular season games for the blue and white and averaging almost a point per game with 200 goals and 324 points. He captained the Leafs for 19 games during the 1937-38 season and helped the Leafs to a Stanley Cup in 1932.
He won the Art Ross Trophy as the league's leading scorer twice as a member of the Leafs in 1933-34 (52 points in 42 games) and 1934-35 (57 points in 47 games). He finished with four seasons of 30 goals or more in a time when players only played between 40 and 50 games during the regular season.
4th Line: Ron Ellis (1963-1981)
It was hard not to go with guys like Rick Vaive and Gary Leeman, but Ron Ellis spent his entire 16-year career with the Maple Leafs – a feat that isn't accomplish very often in today's NHL. But from 1963 to 1981, Ellis donned the Leafs blue and white.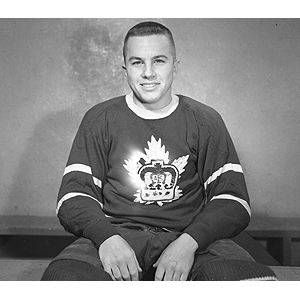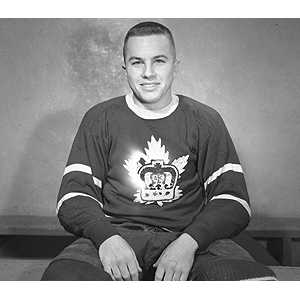 He played 1,034 regular season games for Toronto (second among right wingers to only Armstrong) and scored 332 goals and 640 points for the team. He played in 11 playoff seasons for the team – suiting up for 70 games and adding 26 points (18g-8a) – and helped the Leafs to their last Stanley Cup in 1967.
Ellis finished his career with 11 seasons of 20 goals or more – surpassing the 30-goal plateau twice. He was a player of habit offensively, but found a way to become a strong back-checking forward – a skill he prided himself on and one he passed on to future Leaf players.
"He was helpful in trying to explain what I needed to be successful," said McDonald in a piece by Dan Robson. "Even though he knew I would end up taking over his spot and his ice time. But that's the kind of guy he was."
And that's the kind of players all of these Leafs were. That's one of the many reasons they made this list as the best right wingers in franchise history.
With that, we've profiled the best forwards in to put on the Leafs crest. While numerous other players were on the bubble when it came to this list, it isn't an easy feat to cut a historical lineup down to just four players.
With defensemen, goalies and coaches still to come, be sure to comment on what you think of the Leafs all-time roster or why others should've made or missed the lists.
ALSO READ:
For more, you can follow Andrew on Twitter at @AndrewGForbes or his THW column at @Tape2TapeTHW.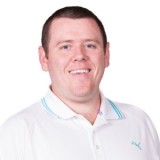 Andrew is in his 8th year reporting for The Hockey Writers covering the Toronto Maple Leafs. He began his broadcasting with CBC's Hockey Night in Canada team as well as being part of their coverage of the 2014 Winter Olympic Games in Sochi. He's the former play-by-play voice of the London Jr. Knights for Rogers TV and currently hosts the Sticks in the 6ix podcast. You can follow him on Twitter at @AndrewGForbes.