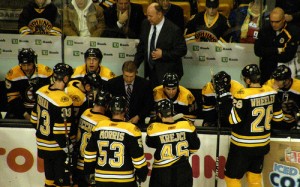 By Mike Miccoli, Boston Bruins correspondent
The Boston Bruins winning streak remains at four as the 2010 Winter Olympics in Vancouver pauses all NHL action.
Yes, you read that right. The Bruins are on a four-game winning streak; second longest in the NHL below the basement-dwelling Carolina Hurricanes' five-game streak, just as the Olympic break goes into effect.
And while maybe just one or two of the victories seemed legitimate, the Bruins were still able to secure an important eight points in four games (10, in six games, if you count the previous two overtime losses) placing them right in playoff contention in the 7th spot in the Eastern Conference. The big question for when play resumes in Boston on March 2 is how will the Bruins be able to carry over that same success seen in the previous few weeks?
I'm glad you asked because I have some ideas. As crazy as they may seem…
1) Getting Patrice Bergeron on the wing.
If Team Canada can do it, so can the Boston Bruins. Putting Bergeron on the top line next to Marc Savard could create a surplus of scoring chances otherwise untapped by the B's. It's been a carousel for Claude Julien rotating wingers that Savard could set up for goals on the top line and so far, there hasn't been much chemistry. Early on, it seemed playing Marco Sturm on the off-wing with Milan Lucic on the left side would be Boston's undisputed top line. But after injuries to both Lucic and Savard, Sturm was shifted down to play with Bergeron, his rightful centerman and teammate with whom he has the most chemistry with.
Here's what I propose–a top line of Savard centering Sturm on left wing and Bergeron on the right. You have one potential playmaker who, when healthy, could tally up 50+ assists; one potential 30+ goal-scorer, again, when healthy; and one that could be a potential happy-medium of both. The keyword? Potential. If this line clicked, all of the Bruins' issues become easily fixable. If not, well, the search continues.
Losing one of the best faceoff men in the NHL to a wing position might be a con, as well as a continuation of the logjam on the wings. Byron Bitz and Shawn Thornton get lost in the shuffle most likely as the odd men out barring any injuries. Lucic, Blake Wheeler, Mark Recchi, Daniel Paille, Miroslav Satan and Michael Ryder fill in the rest of the wings and suddenly, the center position is no longer the team's best strength. But if this worked, crazy as it may seem, the offseason would suddenly get even more interesting as a center spot opens up for Tyler Seguin or Taylor Hall. I'm not too picky.
2) Keeping Michael Ryder…for now.
Count me among those rooting for Michael Ryder. Since rumored to being put on the trading block, Ryder has gone 3-3-6 in the past six games and has seemed to found last season's chemistry with linemates David Krejci and Blake Wheeler. This a good thing, since Ryder put up 27-26-53 totals last year in 74 games, a similar showing to his first few years in Montreal, with the pair who each had impressive years on their own as well. An easy fix would be to tell Ryder that he's always on the trading block, but a more realistic solution is to see how Ryder finishes the season and revisit the situation again, if necessary, come June.
Although a $4 million cap hit seems a bit high for a scorer who can't put up 30+ goals like he once did, Ryder's speed and agility could be key as the playoffs inch closer. The former candidate for the Calder trophy is finally (maybe) hitting his stride. If Boston was to trade Ryder, what would the return possibly be? The whole problem for the Bruins is offense. Why trade someone who is finally starting to find his game? Beats me.
3) Shaking up the defense
Yes, the Bruins are ranked 3rd in the NHL on the penalty kill. Yes, the Bruins are also ranked 3rd in the league in goals allowed. And yes, for the most part, the defense hasn't been an issue for Boston with one or two individual exceptions. So for those following the 'if it's not broke, don't fix it' mentality, you can stop reading right here.
Once March 2 hits, Mark Stuart will be back on the ice leaving the Bruins with seven defenders. First, the untouchables…Zdeno Chara, Derek Morris and Stuart shouldn't even be a question as to whether the d-men dress. And although widely criticized this season, Matt Hunwick should also be on the blue line, leaving Johnny Boychuk, Dennis Wideman and Andrew Ference has the questionables. Right away, my vote goes to Boychuk along with a serious toss-up nod to Wideman dressing for the B's leaving Ference (and a now-demoted P-Bruin, Adam McQuaid) off of the ice.
Ference is an UFA after this season and may be able to fetch some value (or another defenseman) on the market. By adding a puck-moving defenseman, Boston continues to remedy the offense issue and gains that sense of urgency from the blue line that hasn't been seen enough during the season. My proposal is that come the trade deadline, the Bruins seek to acquire an offensive-minded defenseman, not a veteran forward. I'd even be okay with getting a cheap rental if necessary. See guys like Jordan Leopold from Florida, Dan Hamhuis from Nashville or even (if healthy) Rostislav Klesla from Columbus.
Peter Chiarelli should feel free to trade away Ference, Wideman (much to the chagrin of every B's fan), or even Hunwick if necessary. If the B's can re-sign him at the end of the season, my personal choice would be Hamhuis, a former first round pick with a current cap hit of $2.5 million, but Leopold might be the more suitable choice, especially if Ference and a pick is being dangled. Leopold is currently a -7 with seven goals and 18 points and a cap hit of $1.75 million.
Between turnovers and whiffed pucks, who knows, maybe an addition such as this could put the Bruins even closer to the top of the league defensively and even offensively.
Email Mike at bruinsmike@gmail.com with questions for an upcoming mailbag column. You can also follow Mike on Twitter at twitter.com/bruinsmike.