It has been a busy summer for just about every team in the National Hockey League. The management core of each franchise has been preparing for the draft, free agency and for the beginning of next season. Before each club is ready to take the ice next fall, key players must be signed and dealt with.
Many have already reached new and lucrative deals. But it's the other players that are heading towards arbitration that hold much greater interest. There are some important names slated for their hearings later this month. Each has played a huge part in their teams overall success.
Braden Holtby: Goaltender, Washington Capitals
Arbitration Date: July 23rd
Few netminders in the league had a season like Holtby did last year. The young goalie, who hails from Lloydminster, Saskatchewan, was a force for the Caps in both the regular season and the playoffs.
He put up excellent numbers by going 41-20-10 with a 2.22 goals against average and a.923 save percentage. Add to that nine shutouts and you have all the makings of a stellar season.
https://twitter.com/alex_prewitt/status/623498854890143744
Here's where things start to break down. Holtby is looking for 8 million per year, while the Capitals have responded with a one-year contract that would pay him $5.1 million. Those numbers are a substantial distance apart. It also needs to be said that Holtby's ask is more than likely a negotiating tactic that is designed to establish a middle ground. He may be asking for such a high amount while really looking for a deal around the $6-6.5 million range.
Holtby was a gigantic part of the Capitals success and as such has some serious bargaining power. If he were to receive a one season deal, it would once again make him a restricted free agent next season.
Jonathan Bernier: Goaltender, Toronto Maple Leafs
Arbitration Date: July 31st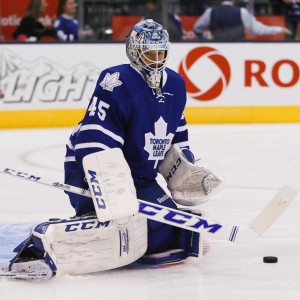 The Maple Leafs have been searching for their next franchise goaltender for some time now. They see great promise in Bernier, who has in turn shown flashes of the elite goaltender that he can become with the proper focus and environment.
The team elected to take the young goalie to arbitration. That gives them protection from a potential contract standoff. It also assures that in the worst case scenario, Bernier is given a one-year deal and gets a solid shot at proving himself to new Leafs head coach Mike Babcock.
For the Maple Leafs, a team with so many question marks heading into the season, having some measure of stability in net with Bernier may be the best case scenario.
Derek Stepan: Forward, New York Rangers
Arbitration Date: July 27th
The speedy Rangers forward is definitely in line for a solid raise. He was able to contribute 55 points, including 16 goals, in 68 games in 2014-15. He also added 12 points in 19 playoff games before the Rangers fell to the Tampa Bay Lightning.
Stepan earned and estimated $3.85 million last season. He's a big part of the Blueshirts offense and has been productive and consistent through his career in New York. The Rangers have to play this one smart. Stepan deserves a nice payday and will be looking for term. The Blueshirts need to find a way to keep him while also saving enough room for rising stars Chris Kreider and Kavin Hayes, who's contracts both expire next season.
For many teams, arbitration hearings are the only hurdle remaining before the focus shifts to the start of next season. One way or another, a deal will be reached. Teams will need to be smart, because in a salary cap world, every deal matters.