Hockey-related news over the past week has been full of reminders that the Canadian dollar isn't terribly strong. At 89 cents on the American dollar, the loony is weak enough that, should it drop much further, the projected raises on the salary cup will be in jeopardy as players' salaries are paid in American dollars. As such, the Rogers Media deal that was so feted for ushering in new salary cap highs may not be the solution many in the NHL thought it was.
But what does this mean for the Blackhawks' future? We know Chicago runs dangerously close to the top of the cap and therefore, some movement is inevitable.
Bowman and Quenneville have built a good, solid team around Kane and Toews, and a core of about eight players who rarely, if ever, let us down.
The last thing Chicago's front office would do is sell off their franchise-winning duo, even if it would leave them with enough room under the cap to buy a couple houses and about 15 NHL freshmen. There are, however, a number of other scenarios that could take place over the next summer.
1) The Hawks could jettison Bickell.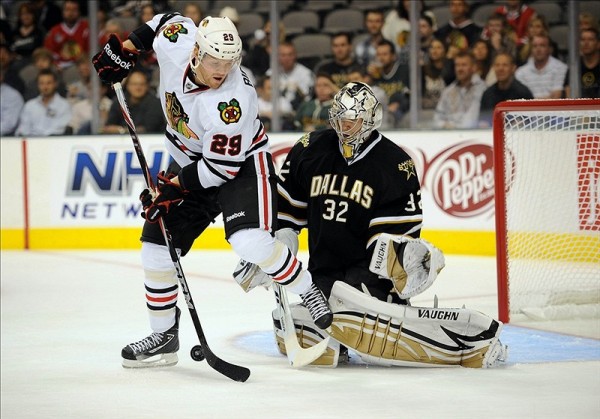 Yes, this was batted around regularly last year as Bickell's season-long production was close to nil, at 15 points over 59 games. His production this season at 6 points in 19 games played is on the low side when compared to the rest of his team, but it's a full 6% higher points-earned average than he achieved over the last regular season.
The Blackhawks are paying Bickell $4.5 million a year, with a cap hit of $4 million. Even if Bickell maintains the same level of improved performance over the season, he would still earn only 18 points over 59 games, and when you break down the numbers even further, most of those points come from assists rather than goals.
Chicago can find plenty of younger, cheaper versions of Bickell who would hit exactly the same numbers on-ice while requiring half (or less than half) of his salary. Both left wings Brandon Prust (currently with Montreal) or Matt Cook (of Minnesota fame) net a similar amount of points, but at half the price.
If Bowman were looking for a less-seasoned player the Blackhawks could bring up in their own likeness and image, a rookie like Jiri Sekac would be a good match. Sekac has played only 14 games in the NHL so far, but has matched Bickell in points, exceeded him in goals and in his plus/minus. At a cap hit of $925,000 a season, Sekac is a steal, and a fourth the price of Bickell.
While we know Quenneville values Bickell's physicality in the postseason, his use during the regular season seems somewhat limited. While it's true that Sekac does not have the same imposing on-ice presence as Bickell, his points production should more than make up for that.
2) Say goodbye to Saad and a couple other players we would miss, but not terribly.
While sending Saad away would not be my first choice, he will likely triple or quadruple his $925,000 entry-level salary (with a cap hit of $764,167) as his first contract in the NHL comes to an end over the summer. His production is high-quality, but he has neither the crash-the-net mentality we see in Shaw and Bickell that Quenneville likes so much, nor exceedingly high production numbers. In short, while Saad will probably be a great addition to any team, he's not irreplaceable.
Moving Saad would free up some cap room, but not enough. Versteeg might be traded off again, along with Carcillo, Nordstrom and Smith. These forwards are all strong on the ice, but don't affect production so much that the team would be devastated by their losses.
And while I might like Saad and Smith the most out of the five I mentioned, I've come to terms with the fact that I will, someday soon, probably like them on another team. Most likely the Panthers.
3) Adios, Sharp
It might seem like I have it out for left-wingers, but this season seems to be particularly unkind to this group. A possible trade for Sharp was the biggest story of the offseason, and while there was no movement out of Sharp, his leg injury slowing the beginning of his season down hasn't done him any favors. If anything, it's a reminder that he's aging out of his prime years for production as a forward in the NHL.
Sharp is a fast, high-production player at 78 points over 82 games played last season, with slightly more than half of those being assists. Sharp is a good team player who meshes well with his linemates (with particular respect paid to the time he spends with Patrick Kane) and would be very, very hard to replace. His no-movement clause has expired, however, and his age and status on the LTIR list might make his newest contract negotiations bumpier than planned.
While it's likely that Bowman might be looking around, I cannot see replacing Sharp as an easy task. Not only is he a fan favorite (he sells the fourth-most number of jerseys for Chicago behind Toews, Kane, and Hossa) he is a positive contributor on- and off-ice. Were Chicago to try to replace Sharp, their best choice would be a seasoned veteran who is a similarly gifted puck-handler.
Chris Kunitz is known to be a strong left wing whose best gift is that he improves the players around him, but it's highly unlikely Pittsburgh would ever give him up.
Jussi Jokinen, on the other hand, is a phenomenal left wing whose points would boost any line he joined. And, as a bonus, his contract is up at the end of this year.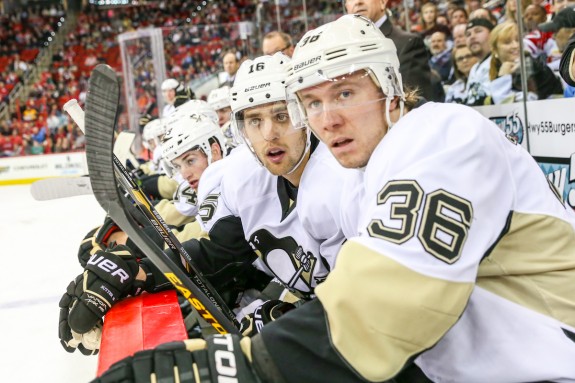 Jokinen was responsible for the majority of the Penguins' goals during the 2013-2014 postseason, and as a reward was sold down the river to the Panthers. He has continued a high level of production this season, at 12 points overall and a +5 rating. While he's older than the ideal replacement for Sharp at only a year younger than him, Jokinen's continued high-octane output looks would, at least, come close to matching what Chicago has with Sharp.
Even if Chicago decides to do a complete rebuild over next summer a lá Pittsburgh, and many of the players we know and love are sent to various ends of North America, we will still have our memories. At least, until the spacebots take even those from us.