For a team that was beginning to get written off heading into the 2015-16 season, the Vancouver Canucks have proven they are, without a doubt, still relevant.
Vancouver finished October with a 5-2-4 record, and their 14 points tied them for first in their division. Their on-ice performance likely was better than their record shows, as all of their losses were by one goal, and many nights the Canucks have looked like a fresh and exciting team.
There's been a lot of elements to this Canucks team to reasonably feel good about so far, and they were backed by some key contributors in the first month of their season. Here's the three stars for the team's first 11 games:
3. Jared McCann
Vancouver was among the top-10 NHL teams for goals-for per game in October, sitting at just under 2.90. No Canucks player has yet to score at a prolific rate by any means, but there was one player who stood out with five goals in his first nine NHL games: rookie Jared McCann.
Coach Willie Desjardins made it clear at the start of the year that nothing was going to be handed to the Canucks' rookies, and that speaks true for McCann, who, for the most part, played next to enforcers Brandon Prust and Derek Dorsett. The 19-year old only averaged 10:45 in ice time per game in October, which puts him among the lowest for players in the Western Conference and second lowest on the Canucks next to Jake Virtanen.
Despite his limited ice time, McCann's goal totals tied him for ninth of all players in the Western Conference, and no other Canuck had more than three. He has shown an ability to create scoring chances and space for himself in the offensive zone, and seems to have good awareness of where other players are on the ice.
McCann also had a plus-2 rating and a 31.3 shooting percentage, and averaged a point in every 19:21 of ice time – the 16th best total of Western Conference players with at least nine games played. It seems to be no surprise that the Canucks chose not to send McCann back to junior.
2. Alex Edler
Alex Edler was a jack of all trades on the Canucks' blue line in October, and played consistently strong hockey alongside defense partner Chris Tanev (an honorable mention for the Canucks' three stars). His dreadful campaign under coach John Tortorella in 2013-14 that saw Edler post an NHL-worst minus-39 rating seems worlds away from the Edler in Vancouver today.
The 29-year old put up two goals, three assists and a plus-4 rating in 10 games in October. He played in all situations for the Canucks, and averaged 24:58 in ice time, tying him for ninth among NHL defensemen. Throw in 23 shots on goal, 16 hits and 22 blocked shots in 10 games, and Edler's all-around stats suggest he has been one of the league's top blueliners in the early going.
Teams averaging 10.28 fewer even-strength shot attempts every 60 mins Edler is on ice. Ranks 7th in NHL among dmen. Tanev 13th. #Canucks

— Douglas MacDonald (@dmac5dmark2) October 22, 2015
1. Ryan Miller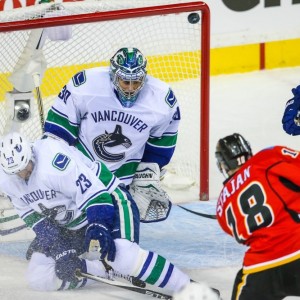 It's no secret that Ryan Miller was far and away Vancouver's best player in October. Miller was forced to be a workhorse in the Canucks' crease following an injury to Jacob Markstrom just before the start of the regular season, and he hasn't disappointed, despite question marks around how he would rebound following his knee injury in 2014-15.
Miller, who at 35-years old is the second oldest starting goalie in the league behind Roberto Luongo, went 4-2-4 in October, posting a 2.16 goals-against average and .923 save percentage with one shutout. Miller faced 286 shots in 10 games in October, more than any other Western Conference goalie. His 610 minutes for time on ice was the second most of NHL goalies – the only goalie who played more than Miller was Ben Bishop, who saw about 48 more minutes in 11 games compared to Miller's 10.
It's hard to say if Miller could maintain his efficiency through the course of a season if he was relied on as heavily, but with Markstrom set to return from injury, some of the weight will surely be alleviated on the Canucks starter. Regardless, the former 2010 Vezina Trophy winner was the Canucks' best performer to an extent that made him also one of the team's surprises, and is a large reason why Vancouver sits in first in their division following Monday night's 4-1 win over the Philadelphia Flyers.
@ColtonnDavies 1: Millertime, GAA just over 2 and Save % just shy of .930. Looking like vintage Ryan Miller. Main reason the nucks are 6-2-4

— Zach (@Z_Nielsen77) November 4, 2015