'Redemption'. I see that word a lot these days in the same sentence as 'San Jose Sharks.'
I've grown to hate it.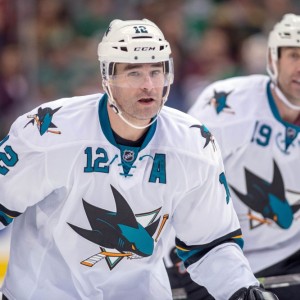 This Sharks team is this Sharks team. Not last year's or two year's ago or a decade ago. Does Joe Thornton, with nearly 1,500 NHL points between regular season and playoff games need redeeming? Not a chance. Does Patrick Marleau, with over 500 NHL goals need redeeming? No way.
The Stanley Cup chase is not the Wizard of Oz, where (spoiler alert) Dorothy learns she's always had the power to return home by clicking her ruby slippers three times and wishing she was home. Over the years, each Sharks team has had it in their power to be the best team they could be. Due to a variety of events and issues, Sharks teams have never won a Stanley Cup.
To win a Stanley Cup a team needs to be good and lucky. Last time San Jose was in the playoffs they had four key players either injured and out, or injured and playing well below their skill level. They lost to the eventual Cup winner. The last time the Sharks made it to the Western Conference Final, the primary assist on the series winning goal should have gone to a stanchion, the post that holds the panes of glass together. Good teams, but not lucky.
The people in the Sharks organization who deserve a redemption story are the folks upstairs. General manager Doug Wilson and the Sharks ownership toyed with the team in ways that were highly objectionable in the 2014-15 season. The fan base did have a bone to pick with them, and fans stayed away in droves this season. For the home game against Winnipeg on April 7, less than two months ago, it appeared the Shark Tank had under 10,000 people in the stands. There is a redemption story for Sharks management, who realized many errors from 2014-15 and made numerous changes for this season.
Redemption goes to people who did things wrong, not people who were good but unfortunate. The Sharks players do not need redemption for the most basic reason of all. They've never done anything that requires redeeming.
What they need to do is go into this series and give it their best effort to win a Cup. As long as Sharks players are interested in winning their next shift and not redemption, they'll be fine. Perhaps better than fine. They'll be champions. Victory is sweeter than redemption.
Who's In?
In order to win a Stanley Cup, teams need to be good and they need to be fortunate. This season, the Sharks have been good and fortunate. There is no other way to describe a team about to play its 101st game with only one player injured, a player who would be a candidate for being scratched, even if he was healthy. The player is forward Matt Nieto.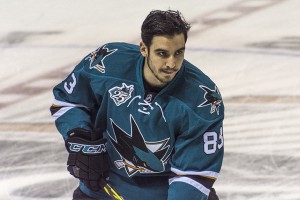 There is speculation that Nieto will be available at some point in the series, and speculation about whose lineup spot he might take. I'm not sure there is much urgency to getting Nieto in the lineup. Nieto, whose speed some think may be effective against a fast Penguins team, is the first name which comes to mind when considering a Sharks lineup change. All four Sharks lines are all showing good chemistry and unless Nieto adds something specific to a line, I'm not sure he'll be in the lineup.
The player I wonder about is Roman Polak, a big, strong defenseman. I can understand the choice to roll with him against bigger, heavier teams in the west. Against Pittsburgh, the forecheck is going to come quicker, not the ideal situation for the deliberate Polak. Will the Penguins try to force turnovers early in the series against the pairing of Polak and Brenden Dillon? I do expect Pittsburgh to make it a high priority. Sharks coach Peter DeBoer can turn to Dylan DeMelo, a far more mobile player and better puck mover compared to Polak. DeMelo had pretty good chemistry with Dillon this season. But it would be awkward to insert the rookie, having not played in nearly two months. Inserting a rusty and inexperienced player would be a bold move. It may be one the Sharks need.
A Lot of New
Who would have guessed?
In the Stanley Cup Final, the Sharks head coach is the longer-tenured coach with his team. Peter DeBoer was hired last summer to coach the Sharks. Mike Sullivan took the reigns in Pittsburgh two months into this season. While this might seem a highly unusual coaching matchup, it was just five years ago a similar scenario unfolded. DeBoer coached New Jersey to the Stanley Cup Final in his first season and faced off against the Kings midseason hire, Darryl Sutter.
Surprisingly, there is also a similar story in goal. Like DeBoer, Martin Jones joined San Jose in the offseason and became a full-time starter for the first time at the start of the season. In Pittsburgh, Matt Murray made his NHL debut in December. Both players are new to their team and new to their current roles.
Other Pens players who made their NHL debut in mid-season include Conor Sheary (December) and Tom Kuhnhackl (January). There is a lot of 'new' in this series.
ZEKE is a native of the DC area where he witnessed the birth of the Capitals franchise. After graduating from Cornell University, which had seen hockey glory before he arrived, he moved west to San Jose. There he witnessed the birth of the Sharks franchise. His wait to witness a Championship from any of these teams finally ended in 2018.