TheHockeyWriters sits down with "Old Time Hockey" Game Director, Karthik Venkateshan to discuss the game and its release on the PlayStation 4 on March 28. With its homage to games like Blades of Steel and the earliest EA Sports NHL Hockey games, "Old Time Hockey" will connect with older gamers who remember the classics that redefined the industry. However, with Xbox One and Switch versions on the way, as well as a story mode and a lot of research from the development team that captures the essence of the 1970s style of NHL play, "Old Time Hockey" has the potential for a strong release this Spring.
The Hockey Writers: How was this game born?
Karthik Venkateshan: Old Time Hockey has been a passion project we have been working on since the garage days of V7 Entertainment back in 2010. It started out as a small hockey fighting (only) experience as we felt the depth and difficulty of fighting on the ice warranted its own video game. That was the core thought process behind working on the title at the beginning – in hockey games fighting has traditionally been an afterthought, arguably underrepresented, and have no real consequences that carry over to the gameplay after the fights. But within a hockey fighting experience alone, we could not deliver that message. From there on, we built the hockey elements around it and our core messaging for the design of the game was playing hockey with aggression and intimidation which naturally led to fights, fatigued players, injured players, etc. The design choices naturally asked
Development
THW: What was development like?
Venkateshan: Fun, but brutal. Given we are a young and inexperienced team ("Who are these guys?") where most of us are taking on responsibilities and challenges that we have never handled before, it was an extremely stressful journey that tested the founders' perseverance beyond anything we have imagined. We are all big fans of "Slap Shot" here and we have watched the movie countless times that we routinely quoted lines from the movie which expressed our own toils of working on this game.
THW: Any fun stories or wild moments?
Venkateshan: Beer mode stories always stand out. So, when we were doing focus groups, outside of the workplace ones, I routinely took the game over to my buddy's to see how they liked any recent changes and what not. Once the Beer Mode was in, every single time I brought the game over, given I am the developer and they wanted to handicap me, they would force the Beer Mode on me and get me smashed. The Beer Mode is fun, but also hard especially if not everyone playing is on beer mode, as you are limited to just one hand and a couple buttons. Couple that with some cold ones and they are lighting you up!
THW: What are your favorite hockey games and how did they inspire this one?
Venkateshan: Mutant League Hockey, Blades of Steel, NHL 93 & 94. Old Time Hockey definitely has inspirations drawn from all of those games in varying capacities and we have paid our tribute to those iconic retro games in both the design and gameplay feel of Old Time Hockey. In some ways, OTH combines all the elements of those iconic retro games and adds a whole other dimension when it comes to the possibilities of line brawls, bench brawls, stick fights, and goalie fights which wasn't really possible in those old hockey games.
In terms of real hockey, we have watched a good number of 70s games in order to really mimic and bring that atmosphere in some capacity into our own universe of the Bush Hockey League. One game that always stands out to me personally from that era, you know it, the 1976 Flyers vs. Red Army game where the Flyers' notorious ways came as an unpleasant surprise to the visiting Red Army.
Gameplay and Goals
THW: There are 10 teams in the game, who are they inspired by?
Venkateshan: The teams in the Bush Hockey League are placed in towns where there is some historical connection to the game of hockey. Most of the towns represented are deemed the Birthplaces of Hockey. For instance, we chose Fort Edward Colonel John Hockey, based on whom the game of Hockey is named after, and served in Fort Edward. Also, the first ever hockey sticks were made in the region by the Mi'kmaq carvers. Cobalt is represented as they were one of the early teams to have paid their players to play hockey. If my memory serves me right, I remember reading that Cobalt's hockey team was so affluent and their desire to win their local rival game was so high that they brought in a ringer in the legendary Art Ross and paid him something like a $1000 back in the early 1900s to play one game.
Also, the first ever hockey sticks were made in the region by the Mi'kmaq carvers. Cobalt is represented as they were one of the early teams to have paid their players to play hockey. If my memory serves me right, I remember reading that Cobalt's hockey team was so affluent and their desire to win their local rival game was so high that they brought in a ringer in the legendary Art Ross and paid him something like a $1000, back in the early 1900s, to play one game.
THW: Talk about the play-by-play. How big of a factor is it in the overall feel of the game?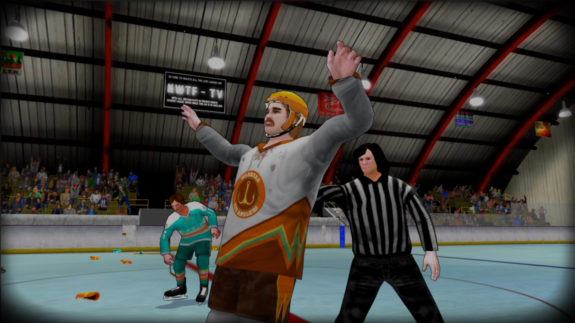 Venkateshan: We have play-by-play in the game courtesy of a local (Vancouver) radio host Matt Baker. We had to find the right line between not having any commentary versus having too much commentary. We really wanted to keep it simple like those old games, but not so bare bones that it just boils down to Blades of Steel like commentary. I think we managed to find that fine line and he has some funny lines here and there. My favorite line is when the game's scoreline gets out of control and the commentator goes: 'They are going to run out of electricity on the scoreboard tonight.'
THW: How does this game disrupt the hockey game landscape?
Venkateshan: If I could pick two things, it would be the brawls (line and bench brawls) and the Story Mode. Both aspects were never done before in a hockey video game ever and we hope we have added to the history of hockey video games by putting these features out.
THW: What's the Story Mode like?
Venkateshan: It's a lot of fun. It is a unique first take on what narratives in a season for Hockey would look and play like. You take hold of a team that is really down and out on its luck and you play through their journey of turning their fortunes around. We have placed some cool hockey references from the past and we hope core hockey fans get nostalgic and take a fun trip down the memory lane of how Hockey was back then.
The story itself is told through Newspaper clippings, written radio interviews, hockey trading cards, comic book style loading screens, and scripted games. The games themselves are filled with specific objectives to complete such as 'Get 20 hits,' or 'Get the starting goalie pulled,' or 'Win a stick fight,' etc. the completion of which helps boost your stats and make your team better.
THW: Who will enjoy this game the most?
Venkateshan: I think any hockey fan will love this take on a hockey video game. But any hockey fan who lived through and watched hockey games from the 1970s would get a great kick out of all the references and inspirations from the 70s we have thrown in there.
The Future
THW: What are your goals for the game?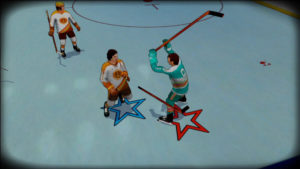 Venkateshan: It would mean a lot to us if Hockey fans genuinely enjoyed our delivery of the Story Mode and our overall representation of 'Never look at the puck, just take the body' mechanics. In terms of sales, we don't have crazy expectations but it would be great if we received enough support to be able to do another one. We have learned a lot through this experience and we realize there is a lot of room for improvement. We have so much more in mind in terms of how to take this to the next level, particularly with the Story Mode we want to do real cinematics with the characters talking and what not. We are also very aware that fans want online, create a player, and other familiar features that have become mandatory over the years in the video games industry.
THW: What's next?
Venkateshan: Getting the game released on Xbox One and Switch. Also, at least one DLC with 10 more teams. The farm teams to the Bush Hockey League.
Screenshots, Click to Enlarge:
Over the past ten years as a working journalist, Patrick Hickey Jr. has covered the New York Islanders, New York Rangers and New Jersey Devils, as well as the Brooklyn Aces of the former EPHL, contributing pieces and/or holding Editorial positions at NBC, New York Sports Day, NY Sportscene Magazine and the New York Times. During that time, he has interviewed NHL stars the likes of Brendan Shanahan, Bernie Nicholls, Bob Probert, Martin Brodeur and Zach Parise. He is also the first winner of the New York Islanders Blog of the Year Award, for his work on TheDriveForFive.com in 2008.