Hockey prospects can seem like Wall Street stocks come NHL draft weekend. Rising stocks. Fading stocks. GMs and scouting personnel could also be compared to poker players as they keep their cards close to their chest and strategically send out bluffs to the media in terms of what players they may be targeting or not so keen on. Many of these prospects may ultimately be dubbed wildcards. 
Despite this, hockey fans and pundits find it hard to resist the futile task of creating mock drafts. I'm no different and have just completed my 3 Round Final Countdown Edition 2015 NHL Mock Draft. As I've stated there and said before:
"Whether it be the Philadelphia Flyers going off the board to take Samuel Morin, the rapid rise of a Swedish blueliner's stock, or Anthony Duclair slip sliding to the third round, a mock draft can go off the rails quicker than Connor McDavid can execute a wraparound. This draft class could be one for the ages with many pundits comparing it to the revered class of 2003."
THN's prospect savvy Ryan Kennedy recently penned "The top 10 prospects who will wreck everyone's draft rankings". While it's a strong list, I think it's more about prospects who will be disruptors to mock drafts versus rankings. To clarify, draft rankings should be about compiling a list (big board, if you will), projecting who you think will develop into the best players 1 to 5 years or more down the road. It's not about guesstimating where NHL teams will draft these players. To be fair, in his lead in statement to the actual list he states: "the 10 players in this year's draft that are giving me fits as I prepare my final rankings". It is always rewarding, for those who generate such rankings, when a team seems to value a prospect similar to you. I have no doubt my Final Top 120 Rankings will look quite different from this weekend's draft selection board.
The purpose of mock drafts is to attempt to predict the unpredictable – take a shot in the dark at who NHL teams might select in the actual draft. Here are my draft weekend wildcard prospects bound to wreak havoc on NHL mock drafts everywhere. Because the majority of mocks project the first round only, the focus here is on prospects with the potential to be picked in the first round or slip slide to this Saturday of the draft. Of note, three players are common to this list as well as Kennedy's.
Top 10 NHL Mock Draft Disrupting Prospects
10. (tie)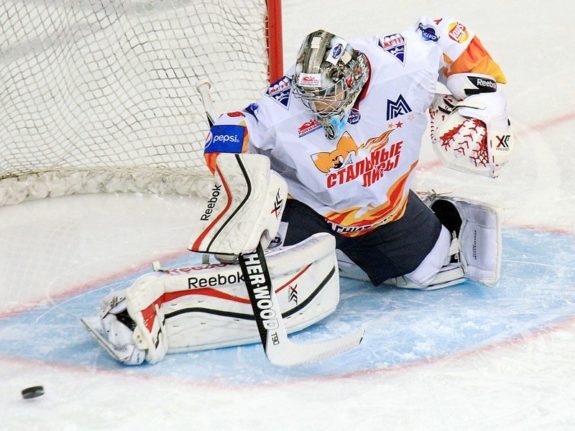 a) Ilya Samsonov
Ht/Wt: 6′ 3″/200 lbs
Position: G
Team: Magnitogorsk 2 (RUS-JR.)
Prospect Profiler Notes: Toolsy, confident, poised goaltender
https://twitter.com/NHLbyMatty/status/608640458261057536
b) Mackenzie Blackwood
Ht/Wt: 6′ 4″/205 lbs
Position: G
Team: Barrie (OHL)
Prospect Profiler Notes: Possesses the size, athleticism and tracking ability that you want in a potential franchise netminder. Some have dubbed him Luongo-esque.
Disruption Factor: I admittedly give the masked men a tough time in my annual rankings. Goalies are admittedly an easy target as potential mock draft disruptors. Will the Oilers snag one of these two netminders with their 16th overall pick? If not, will the Sabres nab one at 21st overall. Last year, no goalie was taken in the first, but when one went early second, others quickly went off the board. Buffalo's 31st pick and Edmonton's 33rd pick seem to slot in as logical picks for goalies to be taken if they escape the first round without being selected.
9. Anthony Beauvillier
Ht/Wt: 5'10″/173 lbs
Position: C/LW
Team: Shawinigan (QMJHL)
Prospect Profiler Notes: As East Coast hockey bird dog Eldon MacDonald sums him up: "Always on fire, wheels always a-turning; the Q's version of Nick Merkley."
Disruption Factor: I'm not the only one who feels Beauvillier deserves first round consideration, but I am in the minority. His non-stop motor, offensive upside, relentless and responsible game might just get his name called on Friday night.
8. Colin White
Ht/Wt: 6′ 0″/175 lbs
Position: C/RW
Team: USA U18 NTDP
Prospect Profiler Notes: Patrice Bergeron 2.0 – does all the small things coaches covet
Disruption Factor: White might just be one of the most underappreciated prospects of this draft class.  His ranking in various scouting services is all over the map. In the end, GMs and scouts alike may liken him to this year's version of Dylan Larkin or Curtis Lazar and not let him get past this middle of the first round. Here's where he has been ranked by various outlets:
7. Thomas Chabot
Ht/Wt: 6′ 2″/179 lbs
Position: D
Team: Saint John (QMJHL)
Prospect Profiler Notes: Blueliners' surging stock reminiscent of that of Travis Sanheim's in 2014.
Disruption Factor: There is the consensus three top defenseman of this draft class (Hanifin, Provorov and Werenski). Beyond those three, there is much debate as who the next defenseman off the board will be and at what point. Chabot is a late bloomer with intriguing upside.
http://t.co/XjymQcv3NG
#16 Thomas Chabot @ThomasChabot1
Smart puck-moving D who makes good decisions on the outlet – @Gregory_Hickman

— ISS Hockey (@ISShockey) May 20, 2015
6. Oliver Kylington
Ht/Wt: 6′ 0″/180 lbs
Position: D
Team: Farjestads BK (SHL)
Prospect Profiler Notes: Stock has taken a beating this season, but the tools remain – outstanding skating, puck-moving dman; youngest player to score a goal in the SHL.
Disruption Factor: A projected potential top 5 or 10 pick at the beginning of the season. Swedish prospect. Slipping stock. Falls to Red Wings. Will he make it past Ken Holland and pick number 19?
The anti Oliver Kylington bandwagon is filling fast, but I'm not on it. Not even close. My profile of the Swede: http://t.co/mF4U3PWswR

— Christian Roatis (@croatis) June 8, 2015
5. Pavel Zacha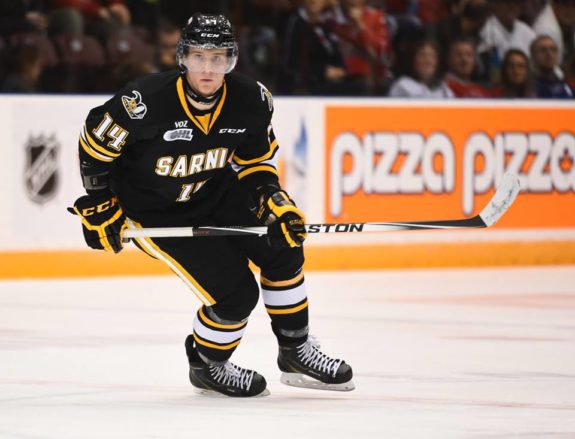 Ht/Wt: 6′ 3″/200 lbs
Position: C/LW
Team: Liberec (CZE)
Prospect Profiler Notes: Tantalizing combination of size, skill, shot & work ethic
Disruption Factor: Injuries played a role in his rather modest OHL production, but there is no question the ridiculous upside he possesses. How high in the top 10 might he land or will teams go for other prospects who they consider more safe, causing him to fall just outside (the top 10).
4. Jeremy Bracco
Ht/Wt: 5′ 9″/156 lbs
Position: C/RW
Team: USA U18 NTDP
Prospect Profiler Notes: Undersized but limitless offensive upside – creative, energetic, slick puck skills
Disruption Factor: Players like Johnny Gaudreau's success should help ease the size factor in the minds of scouts, with Bracco making his way in the back-end of the first round.
He probably doesn't go there but Jeremy Bracco should be a 1st. He's a dynamic player, equal part playmaker/finisher. Skills should adapt

— Sean Lafortune (@SeanLafortune) June 19, 2015
3. Denis Guryanov
Ht/Wt:6′ 2″/183 lbs
Position:RW
Team: Togliatti 2 (RUS-JR.)
Prospect Profiler Notes: Lethal offensive weapons; tantalizing combination of size and skill
Disruption Factor: A potential Russian Factor prospect would be a candidate for number one on this list in recent years, but the Russian Factor is much less of a deterrent these days and potentially giving way to the NCAA Factor. The Red Line Report has him ranked 8th overall:
"How many top-notch Russians have not come over? I don't think there should be any concern." Woodlief on Denis Guryanov. #2015NHLDraft

— Jason Gregor (@JasonGregor) June 8, 2015
2. Daniel Sprong
Ht/Wt: 5'11″/175 lbs
Position: RW
Team: Charlottetown (QMJHL)
Prospect Profiler Notes: Flying Dutchman; electrifying offensive spark plug originally from Amsterdam; has to continue to develop team game
Disruption Factor: No denying  the skill level of the Netherlands native, but will perceived off-ice issues deter teams?
1. Lawson Crouse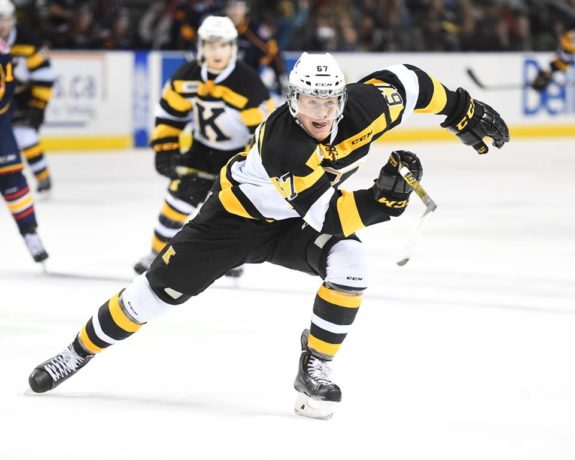 Ht/Wt: 6′ 3″/200 lbs
Position: LW
Team: Kingston (OHL)
Prospect Profiler Notes: Burgeoning power forward impressive as draft eligible prospect at World Juniors; he's Every Coach's Dream and possesses a unique brand of passing.
Disruption Factor: While coaches and scouts love this kid, mock draft creators seem to like to pick him as someone who might slip Friday night. Alternatively, some services have him ranked as high as 4th (ISS).
Watch #2015NHLdraft prospect Lawson Crouse crush a home run at Marlins Park (VIDEO) https://t.co/VXXaHi1fZm via @YahooEhGame #OHL

— Nathan Sager (@n8sager) June 25, 2015
Honourable Mentions
Some other prospects who are wildcard potentials this weekend:
Ht/Wt: 5′ 10″/182 lbs
Position: D
Team: Saginaw (OHL)
Prospect Profiler Notes: Versatile special teams demon; PPQB and can play forward on the PK. Though undersized, powerful and smooth skater, and is a visionary, creative offensive catalyst.
Ht/Wt: 6′ 4″/200 lbs
Position: C/RW 
Team: SKA-St.Petersburg (MHL)
Prospect Profiler Notes: A Russian Lawson Crouse (stick tap to Eldon MacDonald) and can score
Ht/Wt: 6′ 4″/183 lbs
Position: D
Team: Linkoping (SWE-JR.)
Prospect Profiler Notes: Smart shutdown defenseman with tremendous frame; keeps the game simple
Ht/Wt: 6′ 0″/209 lbs
Position: D
Team: Barrie (OHL)
Prospect Profiler Notes: Excellent offensive instincts; adventurous in his own zone; high upside
Ht/Wt: 6′ 5″/198 lbs
Position: D
Team: Tri-City (WHL)
Prospect Profiler Notes: Desirable monster sized defenseman who skates really well; understands defensive side of the puck, developing offensive side
Chris is THW's senior draft/prospect analyst and a Managing Editor. Watch for "The Next Ones" Prospect Profile series, exclusive rankings, mock drafts, as well as the annual THW NHL Entry Draft Guide. Follow @ChrisRalphYQ on Twitter as he infiltrates, dissects and analyzes all happenings of hockey prospects and the NHL entry draft. Email: cralph[at]thehockeywriters[dot]com