Anthony Beauvillier THW Close-Up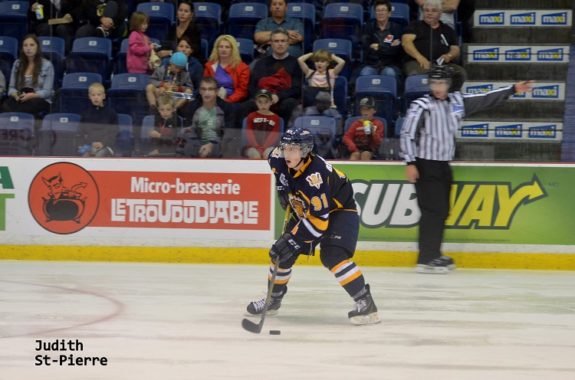 Team: Shawinigan Cataractes (QMJHL)
Birthdate: June 8, 1997
Hometown: Sorel-Tracy, QC, CAN
Height/Weight: 5-foot-10.8/170 pounds
Position: C/LW
Shoots: Left
NHL Draft Eligibility: 2015 first year eligible
Draft Rankings:
THW's The Next Ones (Chris's List): 29
THW's War Room: 40
NHL Central Scouting (Combined): 38
ISS Hockey: 35
McKeen's Hockey: NA
Future Considerations: 31
TSN Bob McKenzie: 43
TSN Craig Button: 18
Sportsnet: HM
Beauvillier is a slightly undersized offensive, intelligent forward who is tenacious and ultracompetitive. He is shifty quick, has a low centre of gravity and solid on his skates. With his speed and puck-rushing mentality he is an offensive weapon who prefers to shoot first and ask questions later. He is also very effective in the faceoff circle. His play away from the puck is to be commended as when his team is without it, he'll do everything in his power to retrieve it. THW's Eldon MacDonald summed his up nicely: "Always on fire, wheels always a-turning; the Q's version of Nick Merkley"
Scouts Honour:
"Anthony is a player who can play in multiple spots in your forward group, perhaps 11 of the 12, with No. 1 centre excluded. He's smart, adaptable and reads plays everywhere on the ice in all situations extremely well. He is quick in his head, hands and feet and he competes. Can complement so many different players and that is very valuable."
– Craig Button, TSN
"He definitely leads by example. There's an infectious attitude in the way he plays. He's similar to Robby Fabbri last year where he's really relentless on the puck, relentless on the play. He doesn't quit."
– Dan Marr, head of the NHL's Central Scouting Bureau (THN)
"Slippery undersized left winger from the Q who compact stride give him short areas rocket bursts in the attack zone. Plays with intensity and sneaks into the open spot to receive passes."
– Bill Placzek of DraftSite.com
Beauvillier's 1.48 points per game ranks him between the first two drafted QMJHL prospects in 2014 in their draft year's. Beauvillier uses strong puck-handling skills and a strong, low centre of gravity stride to beat his opponents, either coming off the left wing or down the middle.
– Scott Wheeler of McKeen's Hockey
My scouting report on Anthony Beauvillier was used in this @HabsEOTP profile from @MarcPDumont. Give it a read: http://t.co/8iywYYhpq4

— Scott Wheeler (@scottcwheeler) May 24, 2015
A dynamic scoring center with good hockey sense. Not very large in stature, but makes up for it in speed, skill, and cunning. A talented puck-handler with good hands: is equally efficient a passer as he is a goal scorer. All-in-all, an offensively minded center that can outplay the opposition in a number of different ways. Needs to work on discipline and getting stronger.
– Curtis Joe of Elite Prospects
Anthony Beauvillier has great stickhandling skills and the ability to create plays when it seems like nothing is there.  He protects the puck extremely well, and uses his quick hands and shiftiness to get defenders out of position and create passing or shooting lanes. Beauvillier also has excellent vision and playmaking abilities and is the type of player who can make his linemates better. He has a strong shot and a good release, and with him learning to rely on it more has added a new element to his game, making him extremely difficult to defend, and greatly adding to Beauvillier's breakthrough season. He's a little undersized as he's listed at just 5'11″ right now, but he is still just 17 and has time to grow as his brother Francis Beauvillier comes in at 6'1.  Beauvillier is not afraid to go into the corners, or to get to the front of the net.  He shows a gritty game, battling hard for position in front and loose pucks in the corners. 
– Ben Kerr, Last Word on Sports
Where He'll End Up in June:
Beauvillier has been pegged most as a second rounder, but could be another wildcard who a team steps up and takes in the latter third of the first round.
Statistics:
Playoff Stats: 7 GP-2 G-5 A-7 PTS
Regular Season Stats: 67 GP-42 G-52 A-94 PTS

Anthony Beauvillier had a higher age-adjusted pts/game rate this year than any draft-eligible CHLers not named McDavid, Marner or Strome.

— Fear the Fin (@fearthefin) April 17, 2015
Interview:
International Tournaments:
Won Gold Medal with Team Canada at the 2014-15 U18 Ivan Hlinka Memorial Tournament
Won Bronze Medal with Team Canada at the 2014-15 U18 WJC.
NHL ETA:
Risk/Reward Analysis:
NHL Potential:
2nd line offensive forward with two-way upside
Strengths:
Skating
Quickness
Shoot-first mentality
Leadership
Tenacity
Competiveness
On Shawinigan LW Anthony Beauvillier: "Boy can he shoot the puck; finds shooting lanes."

— Mike Morreale (@mikemorrealeNHL) March 27, 2015
Aspects He Needs to Work On:
Adding strength and muscle
"His decision-making and effectiveness isn't always great when he has the puck due to his size and inability to work through that deficit. If he can add more strength and play smarter, understanding his limitations, we like his upside."
– Future Considerations
Fantasy Potential:
Offensive: 8/10
Defensive: 7/10
NHL Stylistic Comparable:
– Jaden Schwartz
– A left-handed version of Patrice Bergeron.
Video
17 yr old Anthony Beauvillier is straw that stirs @Cataractes_Shaw drink. VIDEO – http://t.co/LxrFyAzDIU #QMJHL

— John Moore (@rinkrant) March 27, 2015
New vid time! Watch 2015 draft eligible player Anthony Beauvillier of @Cataractes_Shaw in a shift by shift video: https://t.co/5QYPN2amGG

— The Armchair Scout (@Davidenkness) May 23, 2015
****
THW's The Next Ones prospect profile template design architect: Chris Ralph