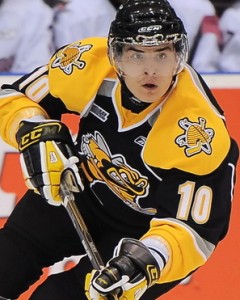 The Ontario Hockey League gives fans, coaches and management a chance to see how their current and future prospects are progressing and with another season set to begin tonight, I would like to look at who some of the top players to watch in the OHL this year will be.
Keep in mind that the list does not include many star players who may or may not be returning to their junior clubs so if you are looking for the likes of Gabriel Landeskog, Ryan Strome, Mark Scheifele, Dougie Hamilton or Ryan Murphy then you will have to look elsewhere.
10. (+1) Michael Sgarbossa (C) Sudbury Wolves: Last year Jason Akeson of the Kitchener Rangers came out of nowhere to win the OHL scoring title and Sgarbossa has a chance to be that type of player this year. While he may not win the scoring title Sgarbossa has the ability to be a big time point producer, and as a veteran player on a young team, he will be counted on to provide a large bulk of the scoring while logging a ton of minutes.
Last year the diminutive center scored 36 goals and totalled 82 points in 63 games split between the Saginaw Spirit and the Sudbury Wolves and continued to impress in the playoffs registering 14 points in only eight games. The un-drafted Sgarbossa was signed by the San Jose Sharks and if he can improve upon his excellent season a year ago, his stock within the organization will continue to rise.
10. Stefan Noesen (RW) Plymouth Whalers: In his first full season in the OHL Noesen proved to be a dominating force on the wing for the Plymouth Whalers. A native of the hockey hot bed that is Plano, Texas, Noesen led the Whalers with 34 goals and tied for the team lead with 77 points, but it was the way in which he did it that made his draft stock rise considerably.
At 6'1 and closing in on 200 lbs Noesen used his strong frame to be a punishing force along the boards and around the net. His combination of size and straight-line speed caught the eye of the Ottawa Senators who selected him with the second of the club's three first-round picks. With Plymouth listed as the 5th best team in the season opening CHL rankings, Noesen is certain to have some help as he and his Whaler team-mates embark on their quest for OHL supremacy.
9. Nick Ebert (D) Windsor Spitfires: One of the highest rated defensemen for the upcoming 2012 NHL Draft, Ebert will now have the spotlight to himself as he enters his sophomore season with the Windsor Spitfires. With the highly decorated Ryan Ellis moving on to bigger things, Ebert will have to carry the torch as the next great Spitfires rear-guard and help anchor a defense that will need to be strong in order to survive in the stacked Western Conference.
The 17-year-old is two-way defender who brings some impressive physical attributes to the table. At 6'1 and 205 lbs Ebert is already a physical specimen possessing excellent athleticism, speed and strength. While not as offensively gifted as his former team-mate Ellis, Ebert has the tools to make that type of impact and is projected as a possible top 5 pick in next year's draft.
8. Mattia Marcantuoni (C) Kitchener Rangers: Marcantuoni is one player who can be expected to improve greatly on his rookie season. Playing on a Kitchener team loaded with offensive stars, Marcantuoni had to take a backseat while the of likes Jason Akeson, Gabriel Landeskog, Tobias Rieder and Ryan Murphy lit up the scoreboard. The 17-year-old had a modest season production wise with 11 goals and 27 points but glimpses of his high-end skill were clearly evident. He will now have the chance to show why he is being talked about as a potential first-rounder as he will look to set the OHL on fire with his blazing speed.
7. Matt Puempel (LW) Peterborough Petes: The CHL rookie of the year in 2009-2010, Puempel surpassed his impressive rookie totals before suffering a hip injury which forced him to miss the last month of the season. The injury caused his draft stock to fall a tad but he was still taken in the first-round by the Ottawa Senators who selected the left-winger with their third first-round pick of the draft at 24th overall.
This year the 18-year-old should be busy as he will not only be counted on to lead the Petes out of the Eastern Conference cellar, but he will also be in contention to crack team Canada's roster for the World Junior Hockey Championships. As of right now he is likely on the outside looking in, but if the sniping winger can get off to a hot start, his chances will be greatly increased.
6. Mark Visentin (G) Niagara IceDogs: Visentin took center stage a year ago when he led the IceDogs to a surprise start out of the gate which caught the eyes of the team Canada brass. The Waterdown, Ontario native was one of the two goalies pegged to play for Canada at the WJHC where he quickly became the number one goalie. He led the Canadians to the gold medal game and appeared to be on his way to gold before surrendering five third period goals to the Russians who erased a 3-0 third-period deficit. Visentin refused to let that disappointment bring him down for long and he helped lead Niagara to the Eastern Conference Finals before being ousted byMississauga.
The 19-year-old will have a shot at redemption in both cases as he will look to lead the IceDogs to the OHL title and avenge last year's crushing gold medal defeat forCanadaat the World Juniors.
5. Jamie Oleksiak (D) Saginaw Spirit: For those looking to find the new guy that everyone has been talking about joining the Saginaw Spirit this year; he certainly won't be hard to miss. 6'7, 240 pound Jamie Oleksiak decided to join the Sprit for the upcoming season after playing one year at Northeastern  University. The monstrous blue-liner was a first-round, 14th overall selection of the Dallas Stars in this year's draft and figures to quickly become one of the most dominate defensemen in all of junior hockey.
A dual-citizen of both Canada and theUnited States, Oleksiak decided to pursue playing for team Canada at the WJHC and with his enormous size and physical presence he is a good bet to make the squad. The 18-year-old doesn't quite have the skating ability of Tyler Myers but does play with more of a mean streak than the Buffalo star; something that is sure to make Canadian fans everywhere happy that he chose to don the maple leaf rather than stars and stripes.
4. Jack Campbell (G) Windsor Spitfires: While his play internationally has been anything but, Campbell's performance in his first OHL season was somewhat of a disappointment. World Junior gold and bronze to his credit, Campbell struggled through much of the year in Windsor finishing with a 3.80 GAA and a 0.88 save percentage. He was able to up his game in the playoffs leading the Spitfires to an upset series win over Saginaw in the second round before being ousted by eventual league champion Owen Sound in the Western Conference Final.
Campbell will need to be rock solid in goal for Windsor this year as the club does not have enough talent to compete with the likes of conference rivals Sarnia, Plymouth and London. If he can somehow keep his team at the top of the standings he will have a shot at being the league's MVP, and oh yeah, the 19-year-old will also be back-stopping the Americans at the WJHC for an unprecedented third time.
3. Alex Galchenyuk (C) Sarnia Sting: Had it not been for his team-mate Galchenyuk would have certainly been the rookie of the year, and although he is likely to be overshadowed again this year, the young center figures to be one of the top offensive players in the OHL this season. With 31 goals and 83 points in his rookie year, Galchenyuk is an elite-level playmaker with excellent vision and hockey sense. He also possesses the ability to hold on to the puck and create scoring chances for himself and is a very capable finisher.
Another star player with dual-citizenship, Galchenyuk still has not made it clear whether he will play for his birth country (U.S.) or stick with his Russian heritage for the World Juniors. Regardless of whom he chooses there is no doubting that the 17-year-old is one of the top draft eligible hockey players in the world.
2. Aaron Ekblad (D) Barrie Colts: Only once before has a player been granted the title of being an "exceptional player" and been allowed to play in the OHL a year earlier than what is regularly allowed. Only John Tavares before him was given this exception so to say that it is a rarity is an understatement. Enter Aaron Ekblad, a 6'3, 205 pound, 15-year-old wunderkind from Belle River, Ontario. While other kids his age are entering their second year of high-school and still adjusting to their teeanage lives, Ekblad is getting ready to play in the best amateur hockey league in the world against players that will be up to 6 years his senior.
Already possessing NHL size, Ekblad has drawn comparisons to a former star of the Peterborough Petes, Chris Pronger. His size, maturity, mobility, natural instincts and skill are something rarely seen in a player his age. Whether or not he is able to meet the lofty expectations placed upon his very young shoulders, one thing is for sure, Aaron Ekblad will be one of the biggest ticket draws in the OHL this year.
1. Nail Yakupov (RW) Sarnia Sting: What can a player who scored 49 goals and 101 points in his first season do for an encore? That is the question Nail Yakupov of the Sarnia Sting will try to answer this year and the answer will probably be simpler than one might expect. The immensely talented Yakupov is likely to improve on both of those totals and prove that he is not only the top draft eligible player in the world but also the best and most exciting player in all of the CHL.
If you are looking for a comparison to the young Russian, OHL fans need only to think back a year or so to when Taylor Hall was leading the Windsor Spitfires to back-to-back Memorial Cup championships. Yakupov plays like Hall in that he is an electrifying, game-breaking player with the puck and in one-on-one situations. He has the ability to dominate the game simply by having the puck more than anyone else and turning what might appear to be nothing into dynamic solo rushes.
Forming what should the best 1-2 punch in junior hockey with line-mate Alex Galchenyuk, Yakupov and the Sting are considered to be one of the teams to beat in the OHL's Western Conference, and easily the most entertaining team to watch thanks largely in part to this talented young hockey player.
Resident of Windsor, Ontario. Extensive knowledge of both the NHL and junior hockey in Canada, particularly the OHL. Writer for THW covering the Winnipeg Jets and the OHL as well as covering Phoenix Coyotes prospects for Hockey's Future.