Some teams in the NHL have already played as many as six games so far this season and although it's still pretty early, we're seeing a lot of changes from coast to coast. The New Jersey Devils are probably seeing the biggest and most impressive changes, as they've won four of their first five games. The new and improved Devils are now playing a faster-paced game and it's great to finally see Pavel Zacha score multiple goals in a single game.
Unfortunately for some teams, like the Dallas Stars, positive change has yet to come their way, having lost three out of five games so far. It was only as recently as the 2015-16 season when this team finished the regular season in second place overall, managing to accumulate 109 points. Their crash and burn is nearly comparable to the Los Angeles Kings', who also faced a quick downhill dive after their second Stanley Cup victory in 2014.
Of course, each team's success, or lack thereof, can be attributed to every player's overall effort and their ability to work with each other. When teams can work together, they can cultivate an opportunistic environment for not just overall success but for individual success as well — the Devils are a perfect example of this.
Although they've only played five games this season, winger Jesper Bratt and defenseman Will Butcher are both leading all rookies in points right now and that's pretty surprising since Bratt is a seventh-round pick from the 2016 Draft and Butcher is a fifth-round pick from the 2013 Draft.
Breaking Out
The Devils are giving the NHL more evidence that this parity league is providing new competitive advantages, one of them being size and speed — and by size, I mean players under 6-feet tall.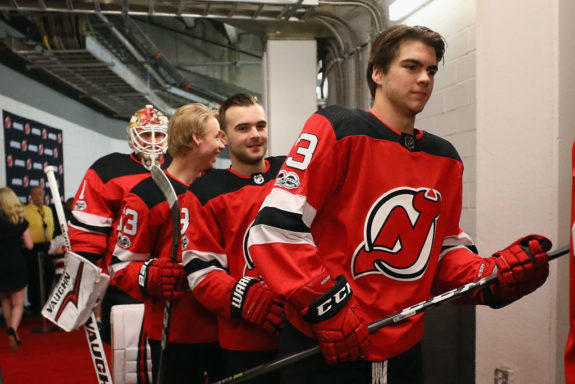 You see, Bratt is 5-foot-10 and so is Butcher. Over the last two years especially, we've seen guys at this height dominate in ways that no one could have predicted. Look at Artemi Panarin for example, who's now with the Columbus Blue Jackets, or Conor Sheary of the Pittsburgh Penguins. Both are short in comparison to the typical NHL standard and both went undrafted in the 2010 Draft. Now they're some of the league's most prolific point producers.
This trend is becoming increasingly common with defensemen as the 'hybrid blueliner' continues to evolve the game of hockey. No longer is defending a defenseman's sole and only responsibility. Now they're tasked with scoring, making plays and moving the puck, and sometimes doing this can be much easier when you're center of gravity is closer to the ground.
Look at the Boston Bruins' Torey Krug and Ryan Spooner for instance. Or the Minnesota Wilds' Jared Spurgeon, or the Nashville Predators' Ryan Ellis or the Philadelphia Flyers' Shayne Gostisbehere. All of these men are under six-feet-tall and they're all breaking out with the puck and breaking down stereotypical barriers that have historically prevented shorter players from cracking an NHL roster.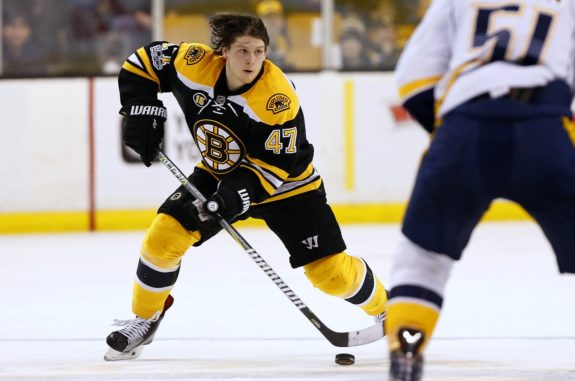 With the changing dynamics of NHL team's styles-of-play and the tightening salary cap, teams are beginning to play their odds on guys they wouldn't have considered a decade ago. And with so much at stake, taking risks on defensemen is becoming an art form. That's why no underestimated defenseman should go undervalued and so I've taken the liberty of listing the season's top 10 most surprisingly impressive defensemen of the 2017-18 regular season so far.
Top 10 Most Surprisingly Impressive Defensemen
1. Will Butcher, New Jersey Devils
As previously mentioned, the Devils' Butcher is leading all rookies for most points, with eight assists in his first five NHL games. On top of that, he's tied for first out of all defensemen for most points and is also tied for first for most assists of all defensemen.
As the last season's post-season's most coveted free agent, winner of the 2017 Hobey Baker award, captain of the 2017 Frozen Four championship team, winner of the NCHC Offensive Defenseman of the Year award and was named as USA Hockey's College Player of the Year, he was expected to do well — but perhaps not this well. For a guy who could literally pick and choose whatever team he wanted, Butcher seems to have picked the team that was best for him. Talk about visionary.
2. Samuel Girard, Nashville Predators
Samuel Girard is one of the younger and smaller blueliners of today's game. The 19-year-old, 5-foot-10 and 161-pound Quebec native was drafted in 2016 during the second round at number 47 overall. After playing five playoff games for the QMJHL's Shawinigan Cataracts last year and scoring nine points, he went on to play in two more playoff games for the Milwaukee Admirals, the Predators' AHL-affiliate team. Although he didn't score any points there, he's been showing off his skills to Predators' head coach Peter Laviolette, as he's already scored three points in his first three games as an NHL rookie.
3. Nikita Zaitsev, Toronto Maple Leafs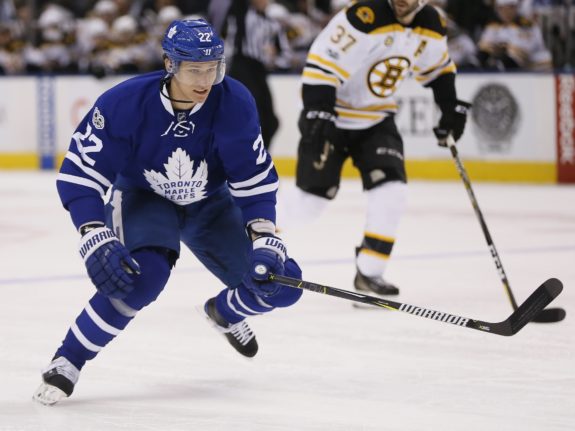 Nikita Zaitsev is a good defenseman and we saw that with his 36 points as a 24-year-old rookie from Russia last season. The 6-foot-2, 194-pound undrafted blueliner had spent five full seasons playing in the KHL before crossing the pond and joining the Maple Leafs' defensive corps. For the Leafs, it was a no-brainer to offer him a seven-year contract worth $31.5 million. That being said, he wasn't really considered a sniper — just someone who could rack up the assists — so in 82 games played in 2016-17 he managed to only score four times. Somehow, though, in this season's first five games, he's scored twice already and notched another three assists.
4. Tyson Barrie, Colorado Avalanche
Tyson Barrie was drafted by the Colorado Avalanche in 2009 in the third round at number 64. The 5-foot-10, 190-pound defenseman has quite the impressive resume for someone who was drafted in the third round, having played in the World Juniors once and the World Championships twice — and contributing more and more to the scoreboard with each appearance. Barrie also served as his WHL team's captain in his final year of major junior hockey. He's been playing for one of the league's worst teams for the last five years, but with more fortunate events — like the Avs winning three out of six games so far — Barrie's managed to notch two goals and three assists.
5. Chris Wideman, Ottawa Senators
This isn't Chris Wideman's first season in the NHL. After his first year of playing in the NCAA for Miami University (Ohio), the Ottawa Senators drafted Wideman in 2009 during the fourth round at number 100. The 5-foot-10, 181-pound defenseman went on to play a full five years in the NCAA and created a reputation for himself as an offensive defenseman with good vision and hockey sense.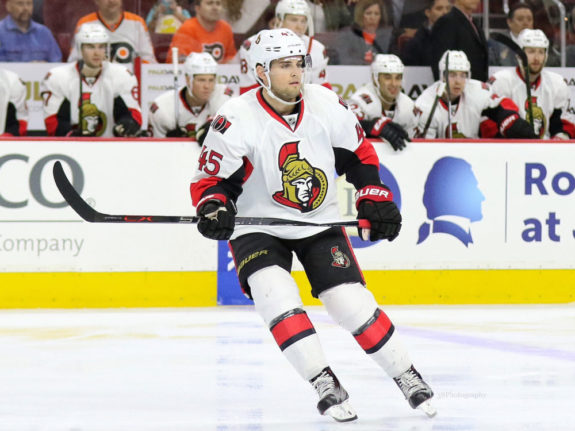 In his final year playing for the Senators' AHL-affiliate, the Binghamton Senators, he served as an alternate captain and notched a record-high 19 goals and 42 assists in 75 games. Now at the age of 27, the Missouri native has entered his third season in the NHL and already has three goals and an assist in his first five games.
6. Nate Schmidt, Vegas Golden Knights
Nate Schmidt of the NHL's newest franchise, the Vegas Golden Knights, is another undrafted player who's finding success. The 6-feet-tall, 192-pound Minnesota-native had spent the last two seasons playing for the Washington Capitals before the Golden Knights got their hands on him. Schmidt has never been much of a goal-scorer but has now played in 29 playoff games and registered 14 points along the way — perhaps that's become a confidence booster as he's already scored three points in his first four games this year.
7. Charlie McAvoy, Boston Bruins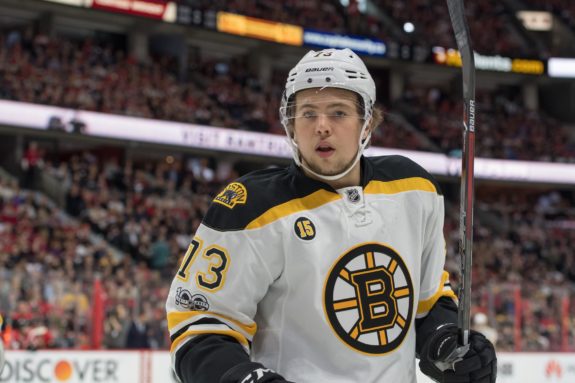 Charlie McAvoy has always been projected to be a strong, puck-moving defensemen when the time came for him to finally crack an NHL roster. Drafted in 2016 at the number 14 selection, the 6-foot, 207-pound right-shot has already won two gold medals at the World Junior Championship and started playing for the Boston Bruins one year after getting drafted.
Although he's not super big, McAvoy plays a physical game and likes to make great hits. After his first four games in his NHL rookie season, he's already notched three points and six penalty infraction minutes on his belt.
8. Slater Koekkoek, Tampa Bay Lightning
Slater Koekkoek may be considered one of those late-blooming defensemen, as he was selected at number 10 in the 2012 Draft by the Tampa Bay Lightning. Each year since the 2014-15 season, the Lightning have been slowly introducing him to the NHL, having played between three and 29 NHL games over the last three seasons. However, he's not been able to do much in terms of point production.
Playing with the Syracuse Crunch, the Lightnings' AHL-affiliate team, Koekkoek has managed to score a decent number of assists but he's never been much of a big goal-scorer. Now having played in three games for the Lightning this year, he's already scored twice. That's pretty unexpected yet surprisingly impressive none the less.
9. Christian Djoos, Washington Capitals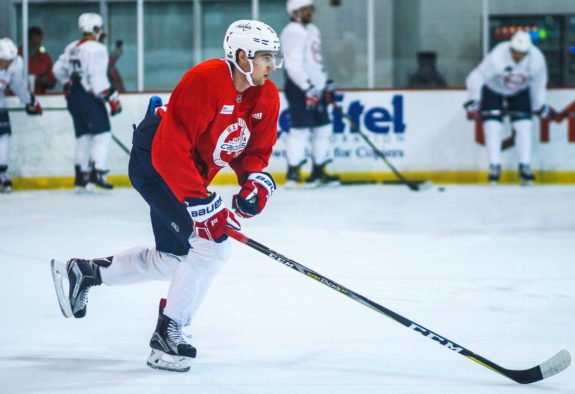 Christian Djoos was drafted by the Washington Capitals in 2012 in the seventh round at number 195. The 6-foot, 168-pound defenseman played in the Swedish Hockey League (SHL) for three seasons before crossing the pond to join the Capitals' AHL-affiliate team, the Hershey Bears. The 23-year-old lightweight registered an astounding 58 points in 66 games for the Bears last season and has since cracked his NHL roster. He's already scored a goal and an assist for the Capitals in his first three games this year.
10. Jan Rutta, Chicago Blackhawks
The Chicago Blackhawks may have found their next Panarin in the form of a defenseman. Jan Rutta is no young gun but the 2017-18 season is his rookie year as a 27-year-old from the Czech Republic. Although it's pretty early to determine his long-term impact on the Blackhawks' backend, the 6-foot-3, 198-pound undrafted defenseman has played in six games so far and already has two goals and two assists.