The development of players in various amateur leagues carries some ebbs and flows. As reflected in the annual National Hockey League entry draft, some leagues are more represented than others each year. The Western Hockey League has been subject to some pronounced ebbs and flows over the past few seasons.
In the 2016 NHL Draft, only four WHLers were taken in the first round, the fewest since 2006, and just nine players were selected in the first two rounds, the least since 2011. However, the development cycles of many clubs and players have synced up nicely and there's a strong chance that the 2017 draft class could be one of the deepest WHL groups in decades. The group is led by presumptive first overall selection Nolan Patrick, but there are several exciting players to choose from throughout the first few rounds of the draft.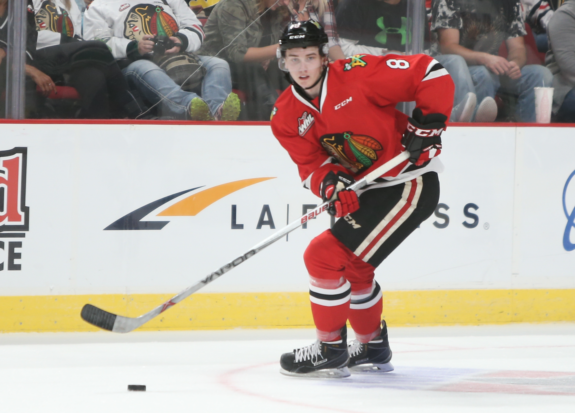 Top 20 WHLers In 2017 Draft
Four WHLers went in the first round of the 2016 Draft – Jake Bean, Brett Howden, Lucas Johansen and Sam Steel – and it seems like 2017 should double that. Patrick, Glass, Rasmussen, Valimaki, Foote, Lind, Yamamoto and Jokiharju all seem like safe bets to go in the first 31 picks of the draft. Anderson-Dolan could potentially squeeze into the first round, but might slide into the second.
From there, things will probably get a bit chaotic. Given the disparity between how players are ranked between ranking outlets – probably a reflection of a draft where 31 teams will have 31 very different lists – it's difficult to anticipate when the remaining players will go. The next eight WHLers on the list (Popugaev, Mattheos, Fleury, Heponiemi, Tsyzka, Leschyshyn, Geekie and Henry) seem safe bets to go in the second round, though a couple of them – and it could really be any of them – could slide into the third.
The higher end WHL prospects in this draft class all boast one or two elite attributes, Patrick with several of them, while the secondary prospects are lacking in elite aspects but are overall strong junior players that could translate well to the NHL level given some time. Patrick is closer to a fully-formed pro player at this point (and he's been a strong WHLer since he was 16), but much of the first round group could be good pros within a couple seasons.
Overall, it looks to be a good year for offensive-minded centers and puck-moving defensemen from the WHL. It's also a strong year for European imports, though a weaker year for goaltenders compared to recent drafts – there's nobody as good as Carter Hart, for example.
Honourable Mentions
In addition to the Top 20, here are ten more players that almost made the cut (in alphabetical order). These players are likely to be selected somewhere between the third and fifth rounds.
G Dylan Ferguson, Kamloops Blazers
RW Andrei Grishakov, Calgary Hitmen
C Ty Lewis, Brandon Wheat Kings
RW Sami Moilinen, Seattle Thunderbirds
C Kyle Olson, Tri-City Americans
RW Austin Pratt, Red Deer Rebels
G Ian Scott, Prince Albert Raiders
C Mason Shaw, Medicine Hat Tigers
C Tyler Steenbergen, Swift Current Broncos
RW Lane Zablocki, Red Deer Rebels
Scott and Shaw narrowly missed the cut for the Top 20. Ferguson is arguably the biggest reach on this list, as he spent the year as Kamloops' backup. That said, his career arc so far somewhat resembles that of current Edmonton Oilers backup Laurent Brossoit (drafted in similar circumstances in 2011) and so he squeezes onto this list.