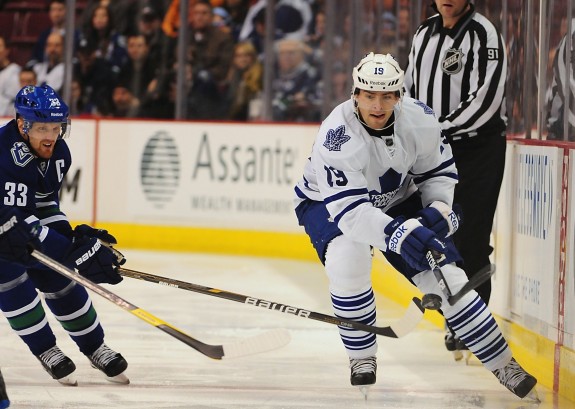 It was a season to remember if you're a fan of any NHL team except the Toronto Maple Leafs, one that has teed up their most interesting off-season in recent memory with multiple players likely on the move.
That, of course, does not come from any close "source" nor does it have fact behind it. Media and fans are simply led to believe, or hope, that the Maple Leafs will make changes this summer. Big ones.
In fact, the changes have already begun in Toronto. The hiring of Brendan Shanahan was somewhat unexpected. Not the reasoning behind it — the need for a switch in culture and direction — but rather the person who was chosen to hold the job. But what may have been an even bigger change was the thought crawling around every Leaf fan's brain which has changed from "yeah, he'll probably get canned" to "…uh oh, Dave Nonis is staying."
Depending on who you talk to, that may or may not be a knock on Dave Nonis' abilities as a NHL general manager. Besides, whether you like it or not, he's the one who will decide which of the players below will be around next season.
Joffrey Lupul
Joffrey Lupul's sub-par performance during the 2013-14 season (22 goals, 44 points, 69 games) already has some writers thinking about potential destinations for the 30-year-old winger. Does a drop-off in offensive production mean Lupul's time in Toronto should be cut off though?
Let's remember there is a difference between culture change and a complete overhaul. A new coach and change in depth players, maybe even a new GM and, in this case, a new team president, can create the change in culture a team sometimes needs. Once you start playing with the big guns, you could be in for some serious trouble.
Like it or not, Joffrey Lupul is a top-six winger who has been a big part of the Leafs' roster for more than three years. He has produced very well with the Maple Leafs with 147 points in 179 regular season games and that's including what you might call an "off season."
Try two answer these two questions:
If Phil Kessel's offensive production dropped by about 20 points in one season, would you be crying for the Leafs to trade him?
What makes you think Joffrey Lupul can't rebound?
Dion Phaneuf
It wasn't too long ago that fans of the Toronto Maple Leafs were essentially campaigning for the 'C' to be removed from Dion Phaneuf's jersey.
Not what you expect from a $7 mill per year captain… Dion Phaneuf -19 in last 18 games for the #Leafs including three -3 games.

— John Horn (@SportsHorn) April 11, 2014
@timandsid #TimAndSid @tim_micallef talk about the leadership of dion phaneuf. And how a captain can be your worst player the last 2 months

— gilbo (@g1lbo11) April 14, 2014
@chrisfarah34 @JamesRennick @Leafs_Suck_Bro how does it feel to have dion phaneuf as your teams captain?

— Tom Bondo (@bondo_t) April 16, 2014
Those are just a few things Leaf and non-Leaf followers had to say about Dion Phaneuf, all of which were fairly nice. If you did a little more digging though, or if you recall correctly, you'd remember the nasty things that were being said about Phaneuf as fans demanded he be stripped of the 'C' or even traded.
Here's the real truth: Dion Phaneuf is a top-notch defenceman who is overworked and overplayed because the remainder of the Maple Leafs' defence corps isn't exactly up to snuff. Perhaps a change in coaching would fix that issue, but for now, how do you tab a guy as the worst player in the league when he has no positional support?
Give him the right coach. Give him support. Whether or not he is given these things in Toronto remains to be seen but fans of the Maple Leafs should hope that is the case.
Dave Bolland
Unless it's his rights at the NHL Entry Draft, it's unlikely Dave Bolland will be traded this summer. That doesn't mean he won't switch teams, however; in fact, far from it.
Bolland was brought to Toronto last summer with one year remaining on his contract. How did he make use of that year? By sitting in the press box with the same injury for all but 23 games. A role player who appears in just 23 games over one season but has had a rock solid history in the NHL makes for an extremely difficult contract to negotiate.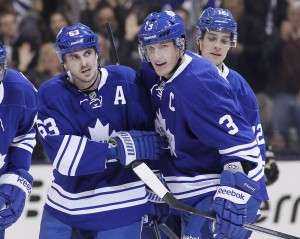 Bolland played well in his 23 appearances. He was reliable and managed to contribute offensively with 12 points. Let's also not forget that he is extremely versatile; Bolland can play anywhere from the No.1 centre slot to the same position on the fourth line.
The two Daves, Nonis and Bolland, better be negotiating as the post-season rolls on or you might be better off wondering how they will fill his spot rather than how much money he will earn.
Nikolai Kulemin
Let's face it, we all know Nikolai Kulemin is leaving the Toronto Maple Leafs. This is about as sure-fire as it gets.
The 27-year-old forward is set to hit free agency and it couldn't be more clear that he and the Maple Leafs organization don't quite see eye-to-eye. The team wants him in a checking role, but you can't help but wonder if Kulemin would like his best shot at reliving his one-time success of a 30-goal season in 2010-11.
Kulemin, who has carried a cap hit of $2.8 million for the last two season, will surely be looking for a raise whether he plays a scoring role with his new team or not. Rightfully so, that's not money Dave Nonis is prepared to hand Nikolai Kulemin, who the Leafs would rather see take a pay cut.
Jake Gardiner and James Reimer — Will they or won't they?
It is a question that has surrounded Jake Gardiner and James Reimer for more than a year.
Trade speculation has been the focus of attention when it comes to Toronto's goaltending for a number of seasons. For whatever reason, the Maple Leafs don't seem comfortable with Reimer in net. They brought in Jonathan Bernier prior to the 2013-14 season, a move that paid dividends but also seemed to burn Reimer.
It's pretty safe to say this isn't good…
Reimer isn't the only one who has had a rocky relationship with Randy Carlyle. A number of players have quietly butted heads with the current Maple Leafs coach, including Jake Gardiner.
Gardiner's play has visibly declined under Carlyle when compared to his performance while playing for Ron Wilson. Perhaps he just happened to thrive under Wilson or maybe it really is Carlyle holding Gardiner back. I tend to believe in the ladder.
Right now, you can bet your house, car, job, boat and just about anything else you might own: James Reimer will not play for the Toronto Maple Leafs in 2014-15. Although Leaf fans hope the opposite, you very well could say the same for Jake Gardiner now that Randy Carlyle is set to return as head coach for the next two seasons.
A summer of change
The summer of change has already begun for the Toronto Maple Leafs — Brendan Shanahan is in as President and we await word on Randy Carlyle's future. But it most certainly won't stop there.
Get ready for it, Leaf fans. Things are about to get wild in Toronto.
Twitter: @LukasHardonk | Email: lukas.hardonk@gmail.com | Lukas' archive