We are one month away from the 2017 NHL Trade Deadline and it will be an interesting one for the Toronto Maple Leafs. Last season, the plan was simple: sell off as many pieces as possible and acquire prospects and picks. This season, it will be more intriguing.
The Leafs have a good chance of making the playoffs this season, either as a wild card or as one of the top three teams in the Atlantic Division. So if the Leafs want to increase their chances they won't be selling many of their players. That being said, the Leafs might make a move or two. They have a couple of players set to become unrestricted free agents. There's also a couple of players that the Leafs could move because their trade value might never be higher.
Here are the four players that will hear their name bandied about leading up to the trade deadline:
Nazem Kadri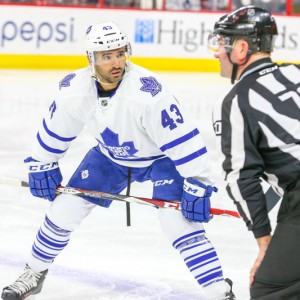 At this time last season and a long time beforehand, Kadri's name was thrown everywhere. Everybody wanted him moved. Well, that didn't happen. He signed a six-year deal with a cap hit of $4.5 million in the offseason, pretty much securing his long-term future with the team.
He has lived up to that new contract and more. The "Kadri for Selke" movement has grown this season as he has become adept at shutting down the opposition's best players. Who would have thought that Kadri's wheelhouse would be as a defensive forward while still chipping in with offense.
Don't expect Kadri to be traded. However, there will be rumors and speculation because his trade value has skyrocketed. What people don't think about is that his value to the team has increased as well.
William Nylander
Trading Nylander would be controversial. The young Swede seems to have taken over Kadri's role as the guy who supposedly doesn't work hard enough. As such, rumors and speculation have risen regarding him.
Out of the Leafs' three young stars, Nylander  is the one most likely to be moved. However, that should not happen. The asking price would be far too high for other teams, so someone would have to be really desperate in order to acquire him. With teams being so close in the standings, the chances of that type of trade decrease dramatically.
James van Riemsdyk
This is the big one. JVR is quietly tied for the Leafs' scoring lead with all the attention on the Leafs' young stars. With a year left on his contract after this one, his value might be at it's highest. It would take a lot for the Leafs to trade him except if another team blows them away with an offer. With the Leafs fighting to make the playoffs, any decision to trade him would require an intense discussion.
Frank Corrado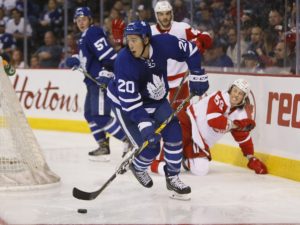 Someone, give this guy a chance. He needs playing time. Please, rescue him.
Roman Polak
Last season, the Leafs pulled off some magic. They received a second-round pick from the San Jose Sharks in return for Polak. There were other pieces involved but none of them warranted the Leafs getting a second-rounder. Polak didn't perform well for San Jose and returned to the Leafs in the offseason. Can lightning strike twice for the Leafs? Probably not, but it's a safe bet that at least one of Polak or Matt Hunwick will be traded before the deadline.