Whoever said that nerves affected one's performance never met Toronto Maple Leafs' defensive prospect Travis Dermott.
Well, on Saturday, the 21-year-old defenceman made his NHL debut on Hockey Night in Canada as his Leafs took on the Vancouver Canucks in a game they eventually won in a shootout.
While the win itself was surely a headline for some, the young defenceman's debut should be the focal point for Leafs followers and fans. After all, nerves didn't look like they affected the young man's game and he looked as though he fit right in.
From Erie to Toronto
Dermott starred in OHL for three seasons as a member of the Erie Otters. Over that time, he collected 17 goals and 116 points in 179 regular season games for the Otters. It was no wonder that teams were interested in the smaller-sized defenceman.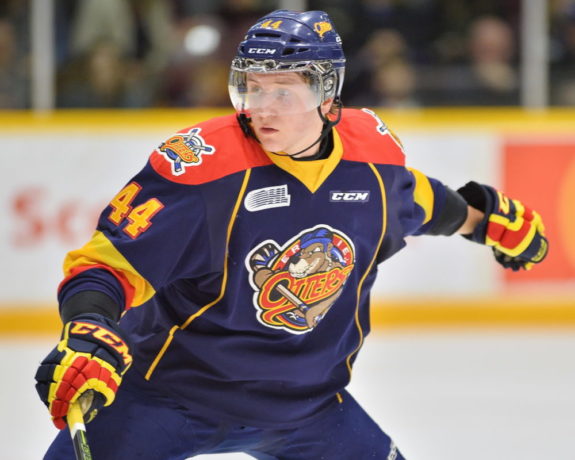 But at six-feet and just over 200 pounds, the Leafs drafted the Otters' product in the second round of the 2015 NHL Draft and it wasn't long before they had him joining their ranks.
He played his first game for the AHL's Toronto Marlies during the 2015-16 playoffs. He played one game, but it gave him a taste of the next level. The following season he was a mainstay with the Marlies.
In 2016-17 he played 59 games for the Leafs affiliate, scoring five goals and 24 points. He added five points in 11 playoff games and showed the Leafs' brass that he can play at the AHL level.
Chatter following camp prior to the 2017-18 season led some to believe that Dermott was the next in line on the Leafs blue line. He impressed the team's management, but there were just too many others ahead of him for the top six positions on the Leafs' back end.
So, he started with the Marlies again this season raking in 17 points in just 26 games before his call up. Those kind of numbers left no choice for the Leafs who called him up for his first taste of NHL action.
#Leafs defenceman Travis Dermott sent a text to his dad when he found out he'd be making his NHL debut. pic.twitter.com/rIrXYxZf3u

— Sportsnet (@Sportsnet) January 6, 2018
Dermott's Dazzling Debut
He didn't standout for any misplays or poor decision, rather for his ability to move the puck up the ice and skate it out of his own zone. His passes were crisp. His head was up while he looked for the next play and you could see the confidence brewing in the young defenceman as the game went along.
He played just 12 minutes in his debut with the Leafs, but it was 12 solid minutes. Coach Mike Babcock showed confidence in the rookie by even putting him on the ice during the penalty kill. Sure it was just 15 seconds, but that an important 15 seconds for the defenceman and his team.
He made plays that were safe, but helpful to his club and one of them even led to his first career NHL point – an assist on Bozak's tying goal.
A pass across to his defensive partner in his own zone led to Morgan Rielly's lead pass that gave Bozak the opportunity.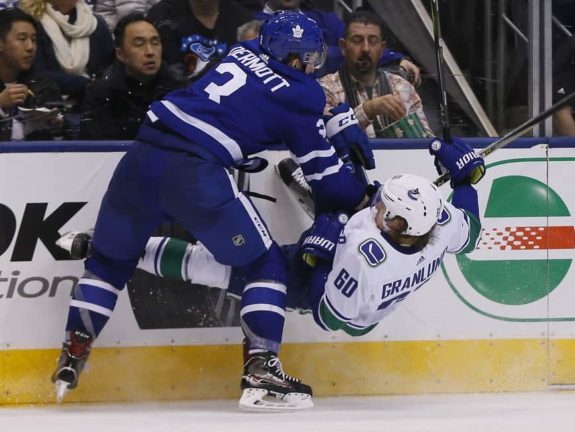 The assist added to a stat line that already included a shot on goal, a plus-one rating and two hits – one that landed Markus Granlund on his backside. On top of that, while it was only one game, Dermott finished with a 59.1 Corsi For Percentage (CF%).
But forget the numbers for a second, how did his team feel about the rookie's play in his debut?
"I thought he was confident, moved the puck, skated good," said Babcock to the Globe and Mail. "He looks like he's got good hockey sense. It looked like the situation didn't intimidate him at all."
What's Next For Dermott?
Considering he didn't stand out for any bad plays, it's not a stretch to assume that Dermott will stick with the big club for at least a short period of time.
In fact, as Jonas Siegel reports, it looks as though Dermott will get another shot with the big club as they look to take on the Blue Jackets in Toronto on Monday – playing the right side with Jake Gardiner.
Time to see if Dermott is ready for his NHL encore.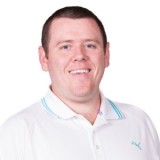 Andrew is in his 8th year reporting for The Hockey Writers covering the Toronto Maple Leafs. He began his broadcasting with CBC's Hockey Night in Canada team as well as being part of their coverage of the 2014 Winter Olympic Games in Sochi. He's the former play-by-play voice of the London Jr. Knights for Rogers TV and currently hosts the Sticks in the 6ix podcast. You can follow him on Twitter at @AndrewGForbes.