Following a season of disappointment, the Calgary Flames have been one of the most active teams this off-season. They've overhauled their coaching staff. They've made big trades. They've signed high-profile free agents.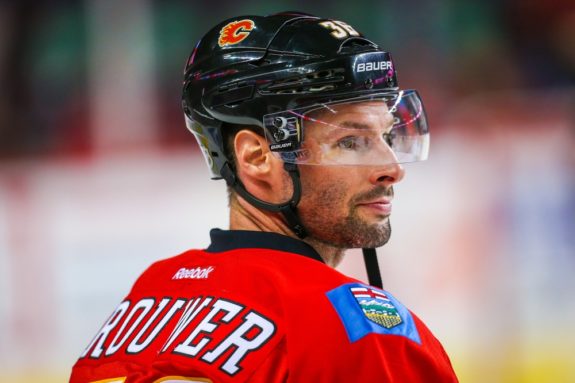 The Flames' summer of change came to its logical conclusion this past week, as the club waived and bought out the contract of veteran winger Troy Brouwer. The move caps a busy few months for the Flames and is arguably the biggest signal that the team is committed to having a better year in 2018-19.
Expectations and Reality
The Flames originally signed Brouwer in July 2016 during the annual free agent frenzy. The club was coming off a season that saw them fall sort of the playoffs and the perception was that the club had been pushed around a lot and lacked some fortitude in close games.
As a Western Canada product with a Stanley Cup ring from 2010, Brouwer seemed like a logical fit; he had just come off a pair of lengthy playoff runs in consecutive springs, and his crash-and-bang style seemed like a good complement to the Flames' skilled young core. He was made an alternate captain prior to the season beginning – before he had played a regular season game.
I'll take a more human stance: it wasn't Troy Brouwer's fault he was way overpaid for his role. He was held personally responsible by all of us for a contract we all would've signed. That's on the #Flames.

Having said that, CGY needed to do this given their cap situation. https://t.co/YqHHIoPFuv

— Christian Roatis (@croatis) August 2, 2018
But the Flames' best laid plans didn't come to fruition. Brouwer wasn't a fit with Johnny Gaudreau and Sean Monahan on the top line – his speed and scoring touch never quite made it to Calgary – and he slid down the rotation, eventually ending up in the bottom six when Matthew Tkachuk, Mikael Backlund and Michael Frolik found chemistry on the second line. In two seasons with the Flames playing primarily in their bottom six Brouwer had seasons of 22 and 25 points, his two least productive seasons as an NHLer.
A Crowded Roster
Speaking to the Sporting News, Flames general manager Brad Treliving shed some light on the decision-making process behind this hefty buyout.
"We talked at the end of the year about his role," Treliving said. "We didn't know at the end of the year, we had certainly ideas of things that we wanted to do, but we had talked about if it looked like his role was going to be a reduced role or something like that, that probably doesn't work for him. From a financial perspective, it doesn't work for us."
Brouwer spent 2017-18 as the Flames' fourth line right wing, behind Micheal Ferland, Frolik and Garnet Hathaway. Since the regular season ended in April, Treliving added James Neal, Elias Lindholm and Austin Czarnik (and moved out Ferland). Barring a remarkable turnaround, Brouwer would've been the team's sixth-best right wing (and making $4.5 million for that distinction). Something had to give.
Summer of Changes
Brouwer's exit is part of several changes that Treliving has made to the Flames over the past several months.
Compared to the club's 2017-18 opening day roster, the Flames are a much different group:
Out are head coach Glen Gulutzan, assistant coaches Dave Cameron and Paul Jerrard, goaltender Eddie Lack, defensemen Dougie Hamilton and Matt Bartkowski, and forwards Brouwer, Ferland, Matt Stajan, Tanner Glass, Kris Versteeg and Freddie Hamilton.
In are head coach Bill Peters, associate coach Geoff Ward, assistant coach Ryan Huska, one of goaltenders Jon Gillies or David Rittich, defensemen Dalton Prout and Noah Hanifin, and forwards Neal, Czarnik, Lindholm, Hathaway, Derek Ryan and Mark Jankowski.
Hockey is a results-based business and after a season that saw the Flames finish 11 points out of the playoffs, Treliving had to make changes. Now it's up to the new faces to get better results than the ones they're replacing.