Every team has at least one game or moment that serves as a turning point for their season. It can start a surge towards the playoffs or mark the beginning of their downfall. Unfortunately for the Arizona Coyotes, the game that sticks out the most as their turning point was more toward the latter. The Coyotes were in the middle of a surprising campaign that had them in the early considerations for a postseason bid. However, their run began to unravel following a heartbreaking overtime loss in Glendale against the Detroit Red Wings.
The Setup
The Coyotes had put together an impressive first half of the 2015-16 season. Through 42 games, Arizona had compiled a 22-16-4 record for 48 points and second place in the Pacific Division. The Coyotes had started January by collecting nine out of 10 points through their first five games, including winning the first two games of their season-long seven-game homestand. Arizona was coming off a dramatic 4-3 overtime win against the Edmonton Oilers as they entered their game on January 14 against the Red Wings. The Coyotes looked to continue their winning ways and avenge their 5-1 loss in Detroit on December 3.
The Game
Unlike the first game of the season series where the Red Wings dominated, it was the Coyotes getting the advantage in the second period with goals from Oliver Ekman-Larsson and Shane Doan. Meanwhile, goaltender Louis Domingue and Arizona's defense kept Detroit off the board for almost 52 minutes. However, the Coyotes ran into penalty trouble, allowing Detroit to tie the game with a pair of power-play goals. Danny DeKeyser would score in overtime to complete the 3-2 comeback for the Red Wings.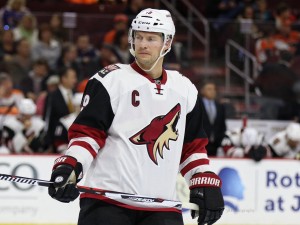 The Aftermath
The Coyotes began to plummet down the standings following the loss. Arizona posted the worst record of any team after January 15, going 13-23-3 for 29 points in that stretch. In that run, the Coyotes were in the bottom third of the league in goals, goals against, power play and penalty kill.
Perhaps it was a young team that started hot and ran out of steam in the second half or it could have even been a dose of bad karma from the controversial John Scott trade which occurred the day after this game.
Whatever caused Arizona's fall from the playoff picture after this loss will serve as fuel for the young Coyotes to rise to the next level in the 2016-17 season. With a more experienced team and a new group of young talent ready to take the ice, Arizona will look to finish what this year started and return to the postseason.