The last time we saw our beloved Pittsburgh Penguins, they were giving their all in a 1-0 Game 4 loss to the Boston Bruins in the Eastern Conference Final.
That was roughly three months ago.
Fast forward to September 10th, the day before the Penguins' 54 invitees are to arrive at training camp for the 2013-2014 season; and you'll find that not much has changed with this team. Dan Bylsma and the entire coaching staff (minus former goaltending coach Gilles Meloche, who took a less active position with the team) not only had their services retained after a fourth straight disappointing end to a season, but were awarded contract extensions.
And speaking of contract extensions, former Art Ross, Hart Memorial, and Conn Smythe trophies winner Evgeni Malkin was given his extension to the tune of 8 years and $76  million (a cap-friendly hit of $9.5 million/year). That locks up arguably the game's most talented player through the 2022 season, at which time Malkin would be 36 years old.
Add to Malkin's extension that of Norris Trophy candidate Kris Letang's, which kicks in on July 1, 2014, with yet another cap-friendly hit of 7.25 million/season.
General Manager Ray Shero was also able to lock up forwards Pascal Dupuis and Chris Kunitz to contract extensions worth 4 years/$15 million and 3 years/$11.55 million respectively.
In terms of new faces, Shero was able to bring back an old "piece" of the puzzle in defenseman Rob Scuderi on a 4-year/$13.5 million deal, and utility forward Matt D'Agostini was brought in a 1-year deal worth the league minimum of $550K.
Although there won't be many new faces on this team this season, it will be a couple of the "old" faces not being around that may take some getting used to for fans. Tyler Kennedy was traded to the San Jose Sharks on draft day for a 2nd-round pick (which the Pens used on Edmonton Oil Kings goalie Tristan Jarry), and Matt Cooke's services were not retained. He opted to sign with the Minnesota Wild.
Looking Ahead: Forwards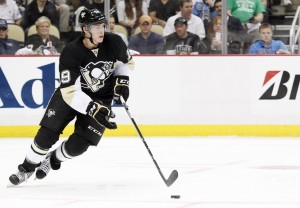 As training camp gets set to kick off, there are a few story lines for Penguins' fans to follow. The first of which lies within the forward group. Matt Cooke's tenacity and agitation skills will be missed. Who steps in to that role for the Pens?
And where does 21-year old former first-round draft choice Beau "Sunny" Bennett fit with this group? Bennett showed last season that he's more than comfortable at the NHL level. But most of his time was spent playing on the Pens' third line with center Brandon Sutter and the aforementioned Cooke. It seems only logical that Sunny (his given nickname since he's from California) would step into a top-6 role with the team this season. Perhaps the best fit would be on Sidney Crosby's right wing, moving Pascal Dupuis to Crosby's left, and Chris Kunitz down with Evgeni Malkin and sharp-shooting James Neal.
Another big question mark for the Penguins will be depth at forward. If any of the top-6 go down due to injury, who will be the next man up, and will that man be able to fill the void in terms of scoring productivity. Chris Conner was brought back in to the mix to add some depth, and D'Agostini was signed in the off-season to give the Pens another Jussi Jokinen-like forward (a guy who can play all three forward positions, and can fill many roles, including scoring). Two forwards to keep an eye on during camp, in my opinion, will be Jayson Megna and Tom Kuhnhackl.
Megna has absolutely sick hands, which would serve the Penguins well in terms of shootouts and breakaways. But the knock on Megna has been his ability to score in regular game situations. In 56 games last season with the Wilkes-Barre/Scranton Penguins, Megna only tallied five goals and twelve points total. Kuhnhackl on the other hand, has been a player high on the radar for the past three seasons. Unfortunately for the big German, injuries have riddled him the past two seasons, thus delaying his progression to the big club.
Other names to focus on in terms of bottom-six depth/role players are Adam Payerl, Zach Sill, Paul Thompson, and the well-traveled Tom Kostopoulos.
Over the next few days I'll take a look at the defensemen, without a doubt the deepest, most talented position within the entire organization, the goalies, and I'll wrap it up with the coaching staff and front office personnel.
It's been a long three months, but now the countdown can officially begin, as we're now just 22 days away from the drop of the puck on the 2013-14 NHL season.