There is one Buffalo Sabre that needs to seriously step up his game before the All-Star break. It's not Ryan Miller. It's not Ville Leino. Although, those two guys are certainly candidates. No, this player is the big elephant in the room nobody wants to bring up. We're talking about Buffalo Sabres defenseman, Tyler Myers.
Myers' production has worryingly dropped since his Calder Trophy winning rookie season in 2009-2010. In 2010-2011, his slight (yet noticeable) performance decline was casually brushed aside as a "sophomore slump." His goals went from 11 to 10, assists from 37 to 27, points from 48 to 37, and +/- from +13 to an even 0. Although, his game winning goals jumped from 1 to 5 and his shots increased from 104 to 122.
Unfortunately, so far this young season it appears as if Tyler Myers has only regressed more, much to the concern of everyone who cheers for the Blue and Gold. In his last five contests Myers has 3 points and a -6 rating. On the season, he has only 2 goals, 4 assists, 6 points and a -3 rating in 17 games. If this trend continues, his numbers will only be slightly worse than last year. However, the cause for concern in Myers' production isn't what shows up on paper, but what is showing up on the ice.
Myers looks slow, confused, and very out of sync with his game. He doesn't hustle after the puck, he's sluggish moving through the zone, and he's more often than not getting beat by the forwards he's supposed to be stopping. His puck handling has been horrendous, his passes careless, and what once used to be a trusty point blast on the power play has instead turned into fumbling the puck at the blue line and far too many off-target shots. He's also making mental errors, forgetting certain rules; he recently cleared a stick on the ice to play the puck, which resulted in a minor penalty (rules 53.2 & 56.2). A junior defenseman should know better.
Tyler Myers' most glaringly erroneous game was last Saturday on the road against division rivals, the Boston Bruins, where the Sabres had a 1-0 lead, but ended up losing 6-2. Errors by Myers led to two game changing goals, and his performance in that contest earned him a spot in the press box the following game against the Montreal Canadiens. The Sabres won that one, 3-2.
Perhaps the worst moment of that Bruins game weren't his turnovers that led to goals, but his forced pass that led to a concussion to Buffalo Sabres All-Star goalie, Ryan Miller. In the offensive zone, Myers force fed the puck to the point, leading to a breakaway by Boston Bruin, and known instigator, Milan Lucic. Miller played the puck, and Lucic proceeded to plow over him, ending the goalie's night a short time thereafter, and putting him out of commission as the Sabres starter for the foreseeable future. It also gave the Bruins some serious momentum while the Sabres still had the lead.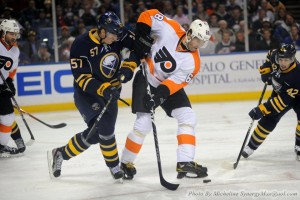 While this incident cannot entirely be chalked up to Myers' poor decision making, something that can be pinned on him is a lack of response by the young, sizeable defenseman to any Boston player after that incident went down. Following the hit on his goalie, Myers slowly skated to Lucic and did absolutely nothing. Of all the Buffalo players on the ice, he was the biggest and he should have stood up to the Bruins' goon immediately. He should have been in Lucic's face for that move, yet he casually skated into the scrum and… that's it.
Is Tyler Myers going soft?
It's definitely a concern. He doesn't have many hits to his credit this year, and while that may be due to his size and not wanting to murder anyone (he's 6′ 8″, 227 lbs. – could you image him hitting Nathan Gerbe at full speed?), his physical presence on the ice this season has been strictly visual, as it has rarely translated into something significant during a game. Like this play in the aforementioned Boston contest, where Myers let the offensive player skate around him in the crease, as opposed to just knocking him out of the play.
This type of non-committal play by Myers has happened more often than not lately, and his disappointing start to the 2011-2012 campaign is undeniably contributing to the rough stretch Ryan Miller has been going through in net. Actually, Miller's shaken confidence can be attributed to a majority of Buffalo's defense playing soft in front, but Tyler Myers is supposed to be one of the stars (and the future) of this hockey club, so he bears a majority of that burden. Although you'll never hear Ryan Miller say that; despite his colorful post-game interviews, he has never thrown his teammates under the bus.
Despite all this, there is light at the end of the tunnel, and fans should not lose faith in Tyler Myers. Buffalo Sabres Head Coach, Lindy Ruff surely hasn't:
"The history of young players is they go through tough stretches. He's had some good games, but recently a couple we'd like to improve on."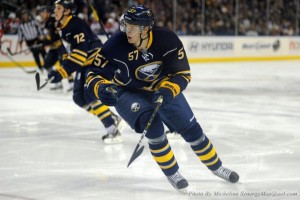 Ruff employed some tough love on Myers immediately following the loss to the Bruins, making him a healthy scratch in the game against the Canadiens. As mentioned, the Sabres were victorious in that contest, but Ruff put Myers back on the ice against the New Jersey Devils one game later, and the young defenseman responded with a vengeance. While the Sabres lost 5-3, and Myers ended up with a +/- 0 rating, he netted his first 2 goals of the season, one of them on the power play, and had a controversial hit on ex-Buffalo Sabre, Dainius Zubrus, which gave the home crowd something to cheer about.
Said Myers on the play, "I didn't intend to injure him. I think it was just one of those where he had the mind-set of playing the puck and I had the mind-set of playing the body. I don't think he was ready for it. I caught him pretty good. Obviously, it's good to see him bounce back with no serious injury."
While this electric response by Myers to his being benched shows promise, a single game isn't enough to forgive and forget his horrible play in the prior 16. But it's certainly a start. Sabres' team owner Terry Pegula invested a significant sum in Tyler Myers this past September, signing him to a 7 year contract extension worth $38.5 million. Starting defenseman Toni Lydman and Henrik Tallinder were released from Buffalo prior to the start of last season in favor of Myers taking their place, but he hasn't yet lived up to expectations. He's young, only 21 years old, and there's no doubt he showed great brilliance his rookie season, and even now it's difficult to deny the talent is still there. However, since Myers became a top line D man, and not a wide-eyed rookie, he's only proven that he has a lot left to prove.
Even so, if Lindy Ruff and Terry Pegula put their faith in Tyler Myers, so should Sabres Nation. There's plenty of time to turn things around, and Ruff knows how to bring out the best in players who aren't performing as well as they should be.
Just ask Drew Stafford.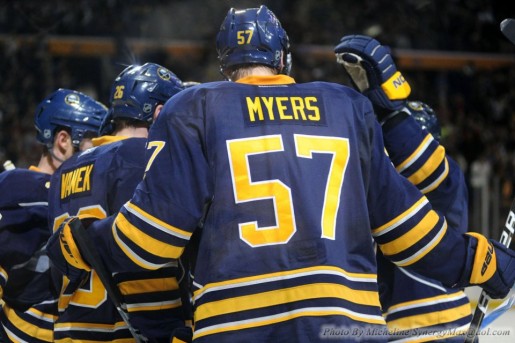 Email: andy@comicattack.net // Twitter: @yourfriendandy // Sources: NHL.com, WGR550.com, BuffaloNews.com & links cited above // All photos courtesy of Micheline (synergymax@aol.com)
Lived in Buffalo, now resides in Los Angeles. Sometimes sports a mustache. Owns an actual sabre and knows how to use it. Also cheers for the Buffalo Bills & Atlanta Falcons. Likes comics, too.